Two years ago I answered a reader's question about the tech tools I use in my daily life in Top 25 Tech Tools I Use in My Daily Life! Since that time, many of the tech tools I use daily have changed leaving that article a bit outdated.
As I consider what tech I use, I realize that much had changed in two years in my tech world. Sometimes updates to existing tech changed the way I used tech. Sometimes I upgrades devices I was using frequently. Sometime new tech enticed me.
With all of these changes, I decided it's time to share a current glimpse at the tech tools this polygadgetist uses daily.
Tech Services
Google Photos
I've become a big fan of Google Photos, not only because of the unlimited storage, but also for how they help me with my photos.
Google Photos automatically backs up my photos on my phone so I don't have to remember to do that. I can also access my photos from any device using Google Photos.
The Assistant has created beautiful images based on my photos. It has also organized my photos into albums I can share with others.
The search feature of Google Photos lets me find photos by date, location and subject and the results seem amazingly accurate.
I also like the delete feature of Google Photos, that deletes images across all of my devices.
=> See, Think You Deleted Your Photos? Photos You Send to Trash May Still Be on Your Phone.
IFTTT
IFTTT is an incredibly handy tool in so many ways. If two different tech services aren't connected, IFTTT can often connect them.
I also use IFTTT to alert me when an important contact sends me an email. I get a text message from IFTTT when the email is received so I can respond quickly.
=> Learn more at IFTTT- Tech to Make Your Life Easier!
Momentum
The choice of what you see when you open a new tab is an important one. You may want to open a favorite page, your email or a search page.
I use Momentum, a Google Chrome extension, that greets me with an inspirational quote and stunning photo of an exotic land when I open a new tab. For an instant I am visually transported to a new place that gives a welcome respite to my day.
Momentum is also informational, providing a ToDo list, the time and local weather conditions. You can customize Momentum to hide features if you don't want to see them.
For my full review of Momentum, check out: Momentum Lets You Make the Most of Your New Tabs.
Google News
Google News has become my go-to source for a check of the news. The site and app show a wide range of topics in general news. The "For You" section helps me find stories of interest to me. I also like how stories are marked, such as "Opinion", "Fact Check", or "Highly Cited".

Like my previous favorite go-to news app Zite, Google News lets me vote up or down on topics of interest to me, which makes the news more relevant to me.
I also like how Google News updates the news if I leave the tab open so I can see what's current without refreshing the page.
Twitter Moments
Twitter added a new feature called Moments that I check daily. This feature takes Twitter trends and presents them in a visual way that is more engaging than just reading tweets.
Moments is available on Twitter's website and app. You can learn more at: Moments – A New Way to Make the Most of Twitter.
Phone Tools
Gboard
I added Gboard, Google's virtual keyboard, to my iPhone and iPad and now use it as my primary keyboard.
I like Gboard because of its accuracy in suggesting words as I type. I also like the ability to search for emojis.
But my favorite feature of Gboard is the ability to add GIFs directly from the keyboard, without having to open another app.
=> Don't miss: Gboard: The Keyboard with (Almost) Everything You Could Want.
Google Maps, NoWait and Yelp
The busier I get the less tolerant I am for waiting in line. Luckily, I now have tech tools to help me anticipate busy times and avoid them.
Google Maps has a feature that can show you traditionally busy times at shops, restaurants and attractions. I use this to plan what times to visit and what times to avoid. Sometimes showing up 1/2 hour earlier at a restaurant can make a big difference in how long you have to wait!
=> See, 11 Top Tips for Using Google Maps to Make the Most of Any Trip
If we're deciding where to eat at the last minute, I check with the apps NoWait and Yelp to see whether there is a wait at a restaurant. Even if Google Maps says that a time is traditionally busy, I still may have a chance of getting a table against the odds if, for some reason the restaurant isn't busy.
I check NoWait and Yelp to see if there is a wait at a restaurant. I've had good luck finding places to eat without waiting by using these apps. So far, they haven't let me down and I have been surprised at finding availability during traditionally busy times.
=> Learn more at Nowait: Never Wait Around for a Restaurant Table Again
Night Shift
I use my phone before I go to sleep, so I have scheduled Night Shift to come on each night and go off in the morning. Night Shift filters the blue light on my phone to help me sleep better.
Night Shift is a free feature for iPhone and iPad that was introduced in an update to iOS last year. You can read more about it at Want Better Sleep? Blue Light Filters Can Help!
PicMonkey App
PicMonkey has been my go-to website for photo editing, but the PicMonkey app has been a game-changer. Now I can edit photos on my phone using PicMonkey.
Not all the tools on PicMonkey's website are available in the app, but many are. When I want to edit a photo on my phone, the PicMonkey app is the one I use.
=> Learn more at: PicMonkey's New App and Hub Making the Most of Your Photos.
Audible
In addition to audiobooks, I'm now also listening to Channels on Audible. When I want to listen to something but don't want to commit the time to an entire audiobook, I check out what's on Audible Channels.
The content is free for Audible members and Amazon Prime members so I can listen as much as I want. The stories are fascinating and keep me entertained.
=> See, Audible Channels – A New Way to Discover Short Listens.
Games
Games are a great way to take a short mental break and keep your mind sharp. I play Word Streak (formerly Scramble), Monkey Wrench, 7 Little Words, 1010! and Sudoku2Pro.
Until I published, 5 Fun and Addictive Game Apps to Keep You Sharp! I could say that I was doing research for an article while I played…
Wi-Fi Calling
Since I last wrote about tech tools, AT&T, my cellular provider, has started offering Wi-Fi calling. I immediately enabled this feature on my phone to take advantage of its benefits.
The cell phone signal at my home is quite weak, I rarely get even two bars of coverage. By adding Wi-Fi calling, I no longer have connection problems when talking on my phone at home.
=> See, Wi-Fi Calling: What It Is and Why You Want It.
Gadgets
MacBook Pro 13″
I still use my 17″ MacBook Pro (late 2011 model), having replaced its hard drive with an SSD so it's speedy quick now and feels like a new computer.
But my large laptop, a/k/a The Beast, truly is a beast. I found traveling with it to be cumbersome and unwieldy. I needed to supplement it with a lighter model.
In January, a week before I was leaving on a 2 1/2 week trip I broke my foot, which meant that I really needed something lighter. Lo and behold, Best Buy was having a one-day-only sale on the 13″ MacBook Pro. I scurried to the store (as quickly as one can scurry with a broken foot) and checked out the computer.
I was especially impressed with the quality of the MacBook Pro screen, the speed of the operations and its very light weight.
I'm typing this article on it now and am not bothered by reducing the screen size significantly from The Beast. I still prefer the Beast, but this Mac (a/k/a "Mini Mac"), is a handy substitute.
iPhone 7 Plus
I switched to an iPhone 7 Plus in September last year to upgrade from the 6 Plus. I do make use of the better camera and still enjoy having the large screen size.
I miss the headphone jack though as often I like to charge my phone as I listen with headphones. I also have lost the dongle a couple of times that connects headphones to the lightning port on the phone.
Beats Solo3 Headphones
Because I got the iPhone 7 Plus and because I kept losing the dongle to connect headphones to the phone, I asked for and received Bluetooth headphones for Christmas. I got the Beats Solo3 headphones in rose gold to match the phone.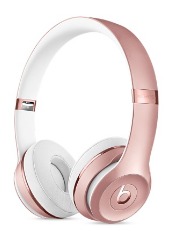 I do like the freedom from cords in using the headphones and can easily pause and play music/audiobooks/podcasts by tapping on a button on the headphones. The charge of the headphones lasts a long time, at least the 40 hours that is claimed.
The biggest drawback of these headphones is that they don't work in cold weather. Below 35° F/1.67 °C these headphones turn off after about five minutes.
As I got these headphones for Christmas and used them to walk my dog outside in the winter weather, I was pretty sure I got a defective pair when they kept turning off.
I did some research and discovered that the headphones don't work in cold weather. Now that the weather is warmer they work fine, but that limitation is still annoying.
Apple Watch
I'm still using the same Apple Watch as two years ago, but I am using it in different ways. The new Breathe feature prompts me to take breaks during my day and relax with cleansing breaths. Often I ignore the prompts, but when I do take the break, I feel calmer.
I am also using my Apple Watch for other things, such as locking my car, raising and lowering the blinds in my house and controlling music. The more companies are developing apps for the Apple Watch, the more useful it becomes.
=> Check out, The 8 Surprising Ways I'm Using My Apple Watch.
Bose SoundTouch
I moved to a house with a whole-house sound system that was set up when CD's were the cutting-edge music format. Wanting to take advantage of the system without investing a fortune in new tech, I followed the advice of my friend Dan who recommended the Bose SoundTouch.
I got one, hooked it up to my system, and it worked like a charm. Now I can blast Pandora, SiriusXM, Amazon Music, and stream from my phone or computer throughout the house.
As mentioned above, I can even control what I'm playing, and the volume, from my Apple Watch. It's a cool party trick to be able to control music in your house from your watch.
I enjoy the Bose SoundTouch so much that I included it as one of the 8 Excellent Father's Day Tech Gifts for 2017!.
Kindle Voyage
Enough family members were borrowing my Kindle Paperwhite that I felt a need to add another Kindle ereader to our collection. I got the Kindle Voyage because of its high-quality display.
The screen is bright and the text is sharp, making it easy to read. I got the Origami cover with it so I can prop up the Kindle when I read it.
Apple TV
Moving to a new house, I got an Apple TV. The latest one has voice control, which makes it easier to search for shows. I'm also excited that Amazon Video will be coming to the Apple TV soon.
The remote is difficult to use, though because the touch screen on it is small and the remote isn't lit. Instead, I use the Apple TV Remote app on my iPhone, which makes the Apple TV easier to control.
Amazon Echo Show
My Amazon Echo Show arrived a week and a half ago and already is a family favorite. The screen makes the Show more engaging. People who ignored the Echo speaker in our house are now interacting with Alexa using the Echo Show.
Even when the request is something that could be accomplished on the speaker, such as playing a song, the Show makes the task more fun by showing the lyrics as the song plays.
For my full review, check out Echo Show Review – How a Screen Makes Alexa More Useful.
What I'm Not Using Anymore
I'm no longer using some of the tech tools mentioned in my previous tech tools article.
Zite, my go-to app, was bought by Flipboard and retired. Google News is now the source for my news.
My iPhone 6 Plus has been replaced by my iPhone 7 Plus.
I don't use Timehop any more because both Facebook and Google Photos remind me of what happened on previous days.
In my previous article, I included a section on the tech tools I use for blogging. I still use those tools and haven't added any new significant new tools so am not including a blogging section in this article.
Your Thoughts
Have you changed the tech you use in your daily life within the past two years? Which new tech are you using? Have updates to existing tech changed the ways you've used tech?
Share your thoughts in the Comments section below!
* Images 1, 3, 4 and 9 in collage used via Creative Commons courtesy of contributors to Unsplash
---
Amazon Prime Day
Amazon is having a Black Friday sale in July. Prime Day begins tonight at 9 pm EDT/6 pm PDT with bargains throughout the site.
Look for deals on gadgets, including:
Save 50% on Echo smart speaker $89.99
Save $15 on Echo Dot $34.00
Save $50 on Echo Tap $79.99
Save $30 on Kindle for Kids Bundles $69.99
Save $30 on the All-New Fire 7 Kids Edition tablet $69.99
Kid-Proof Cases are on sale for $19.99 and Essentials Bundles are $35 off,  $82.97
Save $40 on the newly released Fire HD 8 Kids Edition tablet, $89.99 – also available as a two-pack for $149.99
Kid-Proof Cases for the Fire HD 8 Kids Edition tablet are on sale for$24.99 and Essentials Bundles are $45 off, $102.97
Happy shopping!