If you're in the market for a new Android phone, you may quickly become overwhelmed with the many choices. Be sure to check out the Moto Z 2 Play, which is a mid-priced phone with impressive features.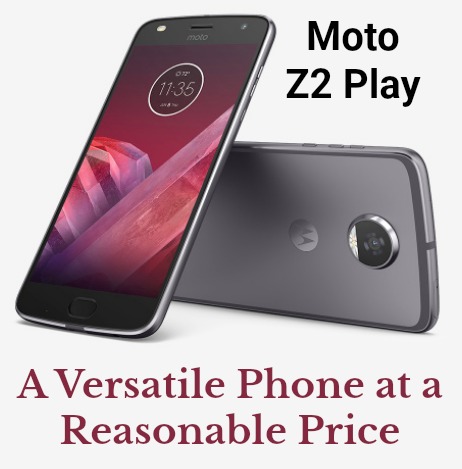 Design
The design of the phone is elegant, with curved corners and tapered edges. The back of the phone is brushed aluminum and comes in either Lunar Gray or Fine Gold. Verizon provided me with a Fine Gold model for testing (yes, I will be returning it and no compensation was provided for my review of this phone).
The phone is large, with a 5.5 inch (139.7mm) screen, but is also thin, measuring just 5.99 mm (0.24 inches) in depth.
A fingerprint sensor button lets you unlock the phone by touching the button. The button can also be used for navigating between screens.
A headphone jack will delight those not ready to make the leap to Bluetooth headphones.
The phone has a special coating to make it water repellant. You shouldn't have a problem if you splash on it, but don't use it for underwater photography.
You can get either 32 or 64 GB of storage on the phone and increase the capacity with a microSD card with up to 2 TB of storage (1 TB = 1000 GB).
While the phone feels sleek in the hand, the camera lens protrudes from the back which takes away from the design of the phone. When you rest your phone on a table, the bulge of the camera lens means that the phone does not lay flat. This could probably be solved by a case, but be aware if you rest your phone on a surface that the phone can be wobbly.
Mods (discussed below) or a case may solve the issue of the bulging camera lens.
Screen
The AMOLED screen of the phone is bright and sharp, made of sturdy Gorilla Glass. It can display over 16 million colors in 1080p. Watching videos, viewing photos and playing games are enjoyable with this brilliant screen.
Battery
The Moto Z 2 Play has a 3000 mAh battery that will last up to 30 hours of use, and 12.76 days of standby, according to the manufacturer.
In my test the battery lasted a very long time under heavy use. When I forgot to charge it after more than a week, I was surprised to find I still had about 26% battery remaining.
Charging the Moto Z 2 Play is quick too. The TurboPower feature powers the phone for 8 hours of use in 15 minutes of charging. In only 30 minutes the phone can charge up to 50% of full battery life.
Charge Cord
The phone charges not with a micro USB charger, but with a USB-C cable. This allows for faster charging but may be less convenient for those who have lots of micro USB cords around. This is the future of charging but not many people have extra USB-C cables handy.
What is handy, though, is that you can plug in a USB-C cable without having to worry about whether it is up or down. It's reversible and plugs in both ways.
Camera
Many people base their phone decisions on the quality of the camera. The Moto Z 2 Play has a high quality camera, especially for the price of the phone.
The 12MP rear camera has Laser Autofocus up to 5 meters and Auto Night mode to adjust to changing light. You can zoom up to 8x and shoot HDR photos. The camera comes with Beautification software to enhance your photos. You can shoot in Professional mode, slow motion, panorama or video.
The 5MP front camera and the rear camera both have LED flashes, pleasing those who like to take selfies. The flashes also work as a flashlight, so you can have a flashlight for the front and back of the phone.
Here's a Flickr album of photos I took with the Moto Z 2 Play:
You can also view these photos on Flickr in my Moto Z2 Play album.
Moto Mods
A very cool feature of this phone is that it is compatible with Moto Mods, which are snap on accessories. These mods let you do things such as turn your phone into a projector, add an external battery, increase the camera zoom up to 10x, or add a stereo speaker.
Add a Mod that will instantly print out your photos. Or add a Mod speaker you can use with Amazon's Alexa digital assistant. Or add a Mod that's a game controller.
Learn more about available Mods at the Motorola Moto Mods page.
These mods click on to the back of the phone easily so you can change them quickly. They are sold separately from the phone.
Moto Actions
The Moto Z 2 Play has handy gestures called Moto Actions you can use to control the phone. Twist your wrist twice to open the camera from any screen.
Make a chopping motion with your hand to turn on the flashlight. Learn about more gestures at the Moto Actions page.
Availability
The 32 GB is exclusive to Verizon and is available for $408 from Verizon or Motorola. The 64 GB phone is unlocked and available from Motorola for $499.
Your Thoughts
Which features do you like best about the Moto Z 2 Play? Do you like the idea of Moto Mods? Do you like having a phone that can charge quickly?
Share your thoughts in the Comments section below!