Eating healthy and staying fit can be a challenge. You want to eat right without sacrificing deliciousness or spending a fortune. You want to stay motivated to exercise and stay in shape.
The good news is that tech can help. Handy apps can help you plan meals that are healthy, delicious and nutritious. Using these apps you can find recipes, check out nutrition information, plan grocery lists, schedule meal plans, track your exercise and more.
This infographic shows 11 highly rated apps that can help you eat healthier and stay fit more easily.
Apps for Planning Meals
Paprika
Paprika is an app filled with features to help you plan meals, shop and cook. You can save recipes from websites and from other apps to Paprika and have them sync to other devices and your computer.
Keep track of what's in your pantry and refrigerator with Paprika so when you go shopping you know what you already have.
The calendar feature lets you plan meals for the week or month.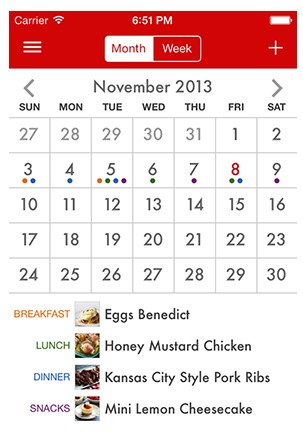 After you plan your meals, Paprika can generate a shopping list for you. If you plan for multiple recipes that include the same ingredient, Paprika will add the quantities together so you will see "4 potatoes" instead of "1 potato" and "3 potatoes."
The app lets you have multiple recipes open so you can switch back and forth between them. You can adjust the settings to keep the phone on so it doesn't go in sleep mode while you're trying to cook.
You can set multiple timers in the app. The app even detects from the recipe what the time should be on the timer.
Paprika is available for $4.99 for iPhone/iPad, Android, Amazon Fire tablets, Mac and Windows. Learn more about Paprika and get links to the app at the Paprika website.
Mealime
Don't have much time for cooking? Mealime has recipes that take under 30 minutes to cook. You can also set your preferences for how many people you're cooking for and any allergies and aversions.
Don't like kale? Want vegan meals that are gluten-free? This app can filter recipes for you and plan meals that meet your needs.
The app can also generate a shopping list from the recipes you choose.
Mealime is free and a paid subscription is available that lets you see more nutritional information, save favorite recipes, gives you early access to recipes and gives access to more features.
Links to the Mealime app for iPhone/iPad and Android are available at the Mealime website.
MealBoard
MealBoard is another app that can suggest recipes and help you plan meals.
No matter how carefully you plan your meals, you'll probably end up with leftover ingredients. MealBoard can suggest recipes based on the ingredients you already have in your home.
Keep track of what you have in your pantry using the MealBoard app. When you run out of something, move that item to the shopping list, then move it back again after you buy it.
This app lets you scan barcodes to add items to your list. You can even keep track of expiration dates using this app.
You can save recipes within the app by importing them from websites and have those recipes sync to other devices. The app lets you keep your recipes organized by category and lets you search recipes by ingredient.
MealBoard is available for iPhone and iPad for $3.99.
Eat This Much
Eat This Much is an app that can help you stick to your diet by learning your eating goals and preferences, then suggesting recipes based on your input.
Tell the app how many calories you want to eat and how many meals per day you want to eat (up to 9 meals/day). Then tell the app what you like to eat: anything, vegetarian, Atkins, etc.
The app will suggest meal plans for you and give you recipes so you can stick to those plans. The app will create a shopping list for you based on the recipes you select.
Eat This Much recently introduced a home delivery service for groceries so you don't even have to leave home to shop.
This video shows you how Eat This Much works:
Eat This Much is a free app for iPhone/iPad and Android. A paid subscription is available with more advanced features. Links to the app and more information is available at the Eat This Much website.
Pepperplate
Pepperplate is a free app that helps organize your meals. You can import recipes from websites, or add your own recipes to the app. Recipes will sync between devices so you can have them handy wherever you are.
The app lets you add recipes to a calendar so you can plan your meals for up to a month at a time. Pepperplate also will generate a shopping list for you.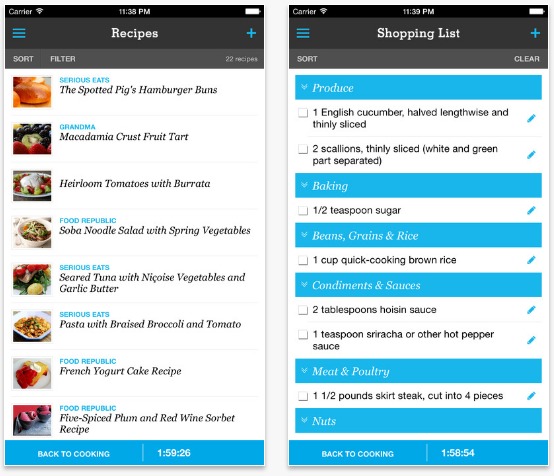 The app is free for iPhone/iPad, Android, Amazon Fire tablet, Nook and Windows. Links to the app are available at the Pepperplate website.
Apps for Nutrition and Calorie Counting
IEatWell
The IEatWell app encourages healthy eating by giving you rewards for eating the right foods. If you're motivated by earning rewards for achieving your goals, IEatWell may give you just the encouragement you need to live a healthier life.
Instead of focusing on the quantity of what you eat, IEatWell measures the quality of what you eat. Tell the app what you're eating for your meal. You can even add a photo.
The app will analyze what you're eating and rate how healthy your meal is, Then IEatWell will reward you with badges for eating healthy, assuming that's what you're doing. You can also see a countdown of what you need to do to earn future badges.
IEatWell is available free for:
Lose It!
Lose It! is an app that helps you track your calories and exercise to help you lose weight. You can set a goal, then record what you eat and how much you exercise.
Entering the food you eat can be done by searching the Lose It! database in the app or scanning the barcode of packaged food. The app just added a new feature called Snap It that lets you enter food by taking a photo.
Lose It! also has a community feature so you can get support and discuss with others your weight loss challenges, achievements, tips and more.
Lose It! is a free app and a premium subscription is available that removes ads, gives nutritional analysis, recipe recommendations and more.
Links to the Lose It! app for iPhone/iPad, Android and Amazon Fire tablet are available at the Lose It! website.
MyFitnessPal
MyFitnessPal is an app that helps you keep track of your calories, both what you eat and how much you exercise. The app has over 5 million foods in its database to make it easier to enter food into the app. Searchable foods include meals at popular restaurants, including nutritional information on their websites.
You can save recipes and meals that you eat frequently to make adding them faster. The app lets you swipe right to add yesterday's breakfast, just in case you're in the habit of eating the same thing every morning.
You can also read inspirational articles within the app from the MyFitnessPal blog. One recent article: "A Healthy Hack on Ice Cream for Breakfast."
This video introduces MyFitnessPal:
The app is free and a premium subscription is available to remove ads, get more nutritional information and access additional features.
=> Also see my full review of MyFitnessPal as part of the Tech + Fitness series.
Fooducate
Want to learn more about the packaged foods you eat? Fooducate may hold some surprises for you. The foods you think are healthy may not be that healthy at all.
Fooducate is an app that helps you track calories and grades the foods you eat based on their nutritional value. Get straight A's for eating well. Get F's if you're eating junk food. The app can recommend the healthiest foods for you to help you improve your grades.
The app also inspires you with a community feature that lets you share your eating experience with others. Find suggested recipes from the app and from others in the community. Get Diet Tidbits with pointers for easier ways to eat healthy.
Fooducate is available free for iPhone/iPad and Android. In-app purchases are available to remove ads and add features.
Links to download the Fooducate app are available at the Fooducate website.
My Diet Diary
My Diet Diary is another app to help you track your calories and exercise. This app emphasizes nutrition and helps you make sure your diet is balanced. You can keep track of your daily intake of calories, vitamins and other nutrients, and get reminders to stay on track.
The app syncs its data with the Apple Healthkit app and Fitbit to keep better track of your fitness. It also has a forum for you to ask questions and get answers about nutrition and weight loss.
App for Fitness
Fitbit App
If you think you need a Fitbit to track your fitness, think again. You can actually use the Fitbit app on your phone to monitor your movements throughout the day.
Use the MobileTrack feature of the app to use your phone as a fitness tracker. The app will record the number of steps, calories burned and distance you move. Of course, you must have your phone on you for MobileTrack to work.
The app also works with a Fitbit fitness tracker to keep track of your movement throughout the day and analyze your workouts.
The Fitbit app is available free for iPhone/iPad and Android with links at the Fitbit app website.
Your Thoughts
Have you ever used a meal planning, nutrition or fitness app to stay healthy? Have you used any of the apps mentioned in this article? Do you have any apps you recommend to help you eat healthy and stay fit?
Share your thoughts in the Comments section below!
*Infographic used with permission of Lakeshore Convention Center