When you want to find out about the news, you don't want to have to sift through articles of little importance to you. Ideally, you'd like to see news that is relevant, accurate and covering topics you're interested in.
Since the death of my favorite news app, Zite, I have been looking for a news aggregator that could figure out what news I wanted to read so I wouldn't have to sift through stories that held no interest for me. See, Zite – My Go-To App!
I checked multiple apps but none of them seemed to hone in on articles I was interested in. Flipboard bought Zite in 2014 but never seemed to integrate its skills for figuring out what readers liked.
But now I've found my go-to news app. The good news is that it's also a website so, unlike Zite, I can access it on my computer too.
That news app is Google News.
Google News is a news aggregator that shows articles, photos and videos from over 75,000 sources. It's available both an app and a website.
It curates stories of interest to you and shows them to you in a well-organized design. You can add or delete those interests to make Google News even more relevant to you.
This summer, Google News was redesigned with a new look that includes cards to make the site easier to navigate. When both the design and the content work well, that's a winning combination. See, Google Blog Redesigning Google News for everyone.
Google News works in 60 countries and dozens of different languages around the world. You can set which country and language you'd like to use in the Settings section of the website and app.
As you might expect, Google News is free to use. Some news sources might be behind a paywall, requiring you to pay money after you have read a certain number of articles.
Using Google News
On your computer, go to the Google News website. On a mobile device, download the Google News app:
At the top of the Google News screen on the website and at the bottom of the app, you'll see tabs with choices including Headlines, Local and For You. You can also search Google News for keywords, regions or sources to find articles of interest for you.
Headlines
Headlines are the top news for the world and your country. Below those are news items in categories such as Business, Science, Sports, Entertainment and (everyone's favorite) Technology.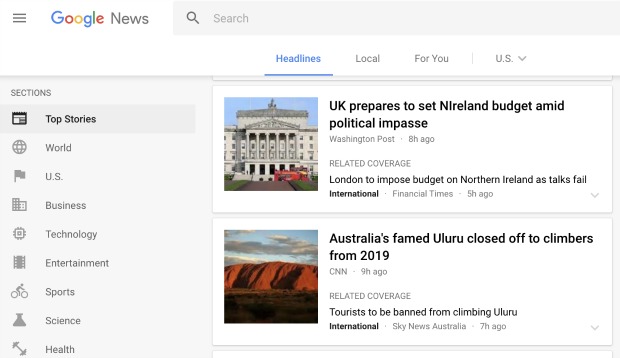 Some headline news stories have labels, such as Local Source, Most Referenced, Opinion, or Fact Check, to help you understand what an article's perspective is before you click on the link. On the website, Google News shows a Fact Check section in the right column so you can see which articles Google regards as accurate.
=> See, Google Fact Check Helps You Decide — Fact or Fiction?
Local
Local is a handy place to keep up with what's going on close to you and far away as well. This section gives news stories about municipalities, local neighborhoods, and sections of larger cities.
If you give Google News Location permission, it will find out where you are and show you local news stories.
But you can also add locations you want Google News to cover. Tap or click "Manage Locations" in the left column on the website, or Local Sections in Settings on the app. There you can add a local place you want to follow, such as an area you're visiting on vacation, the town you grew up in, or a place where you're moving.
For You
You can tell Google News your interests so it can show you articles on topics you want to read about. If you click or tap the For You section, you'll see Suggested for You with topics you've said you were interested in.
Click or tap on any of those interests to read article on that topic.
If you want to change your interests, click "Manage Interests" at the bottom of the left column on the website, or "Your interests" in Settings on the app.
Your Thoughts
Have you ever used Google News? Do you use a news aggregator to see news from different sources? Do you miss Zite too?
Share your thoughts in the Comments section below!