Google started its annual I/O Developers Conference yesterday by announcing new tech that takes us into the future. Many of these announcements involve updates to existing tech, making the tech you already have more useful.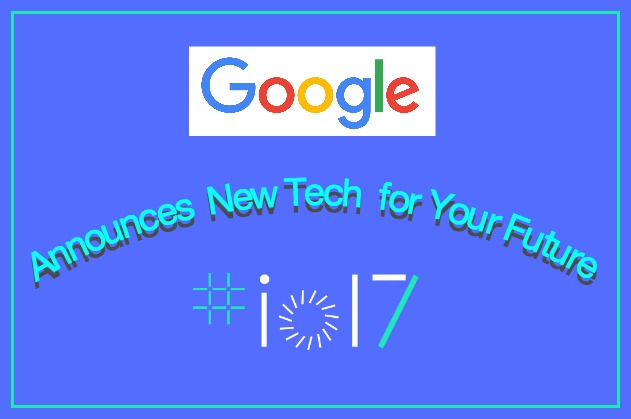 At the conference, Google announced that Android has over 2 billion monthly active devices now. Google made this fun video celebrating its accomplishment:
Google also introduced smarter tech to make life easier for you.
Gmail Smart Reply
Google is adding a feature to Gmail that makes it much easier to reply to emails. Smart Reply learns how you write and suggests three short replies to emails you receive. You can choose one and send it or add text to the Smart Reply.

Smart Reply will be offered in English and will expand to Spanish later this year.
Google Assistant Updates
Google Assistant, the digital assistant from Google, is getting updates with new features and with new availability. You'll be able to use Google Assistant to do more things on more devices.
Google Assistant on the iPhone
Google Assistant is coming to the iPhone. If you've been wanting Google Assistant on your phone, but didn't want to switch from iPhone to Android, you're in luck.
The Google Assistant app will be arriving in the iTunes App Store so you can start using it on your iPhone. Unlike Siri though, Google Assistant can't be summoned by pressing the Home button on the iPhone. Instead, you must go into the app to use Google Assistant.
Google Assistant New Features
Google Assistant is learning to read. You will be able to type questions to Google Assistant on your phone in addition to using your voice.
History will be added to Google Assistant so you'll be able to see what you asked before.
Google Assistant can help make your home smarter as it now pairs with over 70 smart home partners. Use your voice to command your smart home devices with Google Home.
Google Home
Google is making its Google Home smart speaker more useful, perhaps in direct competition to Amazon's Echo devices. Google Home works with Google Assistant and will be able to alert you to information, such as flight delays and traffic snarls that may delay your travels, even without you asking. Google Home will light up to alert you, then you must ask Google Home what the alert is.
You can now use Google Home to set calendar appointments and reminders that will appear across your devices.
Similar to Alexa Calling on Amazon's Echo, Google Home will be able to make phone calls. You can use your voice to place calls and talk on the phone using Google Home.
Google Home will learn your voice so when you say, "Call Mom" your mother will be called, not your spouse's mom. Google Home calls will be free to mobile phones and landlines in the US and Canada.
Google Home will be getting Bluetooth so you can stream your music, podcasts and audiobooks to it. You will also be able to play music directly from services such as Spotify, Soundcloud and Deezer.
If you have a Chromecast, you'll be able to use your TV as a screen for Google Home. If you connect your Google Home to your Chromecast, you'll be able to see Google Home's answers to your questions on your TV. This feature will be added later in 2017.
Here's a look at Google Home's new features:
Google Lens
Google is expanding its image recognition capabilities. With Google Lens you can point your camera at a poster for an event and choose from options such as adding an event to your calendar, buying tickets to the event or finding out more about it.
With Google Lens, your smartphone camera won't just see what you see, but will also understand what you see to help you take action. #io17 pic.twitter.com/viOmWFjqk1

— Google (@Google) May 17, 2017
You can also use Google Lens to point your phone's camera at a restaurant and get the reviews. Focus on a flower and Google Lens can tell you the species and suggest a local florist.
But the coolest trick of Google Lens may be one involving your router. Point the camera at a router's password code and Google Lens will automatically log you into the network. But won't we miss typing in that long passcode????
Google Lens shows the increasing importance of image search to Google.
Learn more at: Google and Pinterest Offer New Image Search Options.
In a tweet, Pinterest acknowledged the competition in image recognition is heating up from Google:
Google Photos
If you're a fan of Google Photos you'll want to know about its handy new features.
Suggested Photos
Sharing is caring and Suggested Photos makes sharing easier. Google Photos Suggested Photos feature will identify people in your photos and suggest that you send them the photos of them. You can even set Suggested Photos to send the photos of them automatically without the suggestion.
Shared Libraries
If sharing is caring, then sharing all of your Google Photos must be True Love. Share your entire Google Photos library, or large parts of it, with others using Shared Libraries.
Why bother sharing individual photos when you can share all of them with others? No more pesky texts from your loved ones, reminding you to share photos with them. They can have all of them!
Photo Books
Tired of looking at your photos on a screen? Would you rather see them printed out in photo books? Google has you covered.
You'll soon be able to order printed books of your Google Photos. Google will select your best photos or you can choose them yourself. Google Photos will make sure there are no duplicates and that you're choosing the best shot.
Photo Books start with 20 pages at $9.99 for soft cover and $19.99 for hard cover. The books will be available in the US first and expand to other countries later this year.
Your Thoughts
Are you excited about the new announcements from Google? Which new tech are you most eager to try?
Share your thoughts in the Comments section below!
---
Voice of America Learning English
Learn about technology and English when you check out my personal technology column at Voice of America Learning English. This week's article is: How to Protect Yourself from 'Ransomware'.