If you're a fan of emojis, then you probably enjoy using them to make your messages, posts and tweets more fun.
Bu you know how emojis can be even more fun?
With Bitmojis!
Bitmojis are emojis that feature you. Unlike regular emojis that look the same for everyone, Bitmojis are unique to you because they are you.
You can create a Bitmoji to look like you. If you've ever created an avatar for yourself, you get the idea. You can make your Bitmoji look just like you, what you want to look like, or something a bit crazy.
Bitmojis can be used in text messages, email, social media and more. You can use them on your phone, tablet and computer.
And they're free to create and use.
This video shows how Bitmojis work:
Tip => you may want to try Bitmoji when you have time for some fun. It's easy to get lost in the fun and spend more time with it than you planned.
See, Fast Company Why Your Bitmoji Looks So Much Like Your Actual Face
Getting Started with Bitmoji
Getting started with Bitmoji is easy. Sign up for an account at the:
Bitmoji is the younger sibling of
Bitstrips
, so if you have an account with Bitstrips, you already have created a Bitmoji. But you may want to change it to use with Bitmoji.
Learn more about Bitstrips at Bitstrips — Create Your Own Comics Starring You!
Creating Your Bitmoji
The app and the website will guide you through designing your Bitmoji. Create your Bitmoji by choosing the shape of your face and other facial features, such as your nose, eyes, hair, eyeglasses and other features that make you you.
You can choose the actual color of your hair and eyes to reflect the real you or go wild to become what you aspire to be.
Then choose what clothes you want to wear, by color or how dressy you want to be. Add accessories such as a hat or hairband. The app gives more choices of outfits than the website does, but you'll have plenty to choose from either way.
You can dress up your Bitmoji in the uniform of your favorite team, as a superhero, or in a Halloween costume. You can even put designer outfits on your Bitmoji if you're feeling fashionable.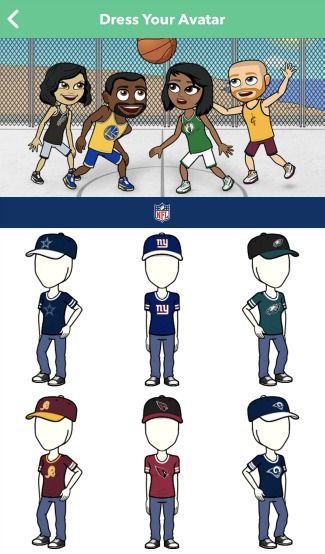 You may even want to dress as your Bitmoji for Halloween!
It's a great day to dress up like my @Bitmoji! pic.twitter.com/t1nuiRp5xC

— Nina Duong (@sillybanina) August 27, 2017
When you're satisfied with what you've created, save it so you can start using it and sharing it with others.
Changing your Bitmoji is easy, at the website or on the app.
Using Bitmojis
After you've created your Bitmoji, you'll want to start using it. You can use your Bitmoji by logging into your account on your computer and in the app.
Using Bitmoji Apps
After you download the app, log into your Bitmoji account to see your character. You can choose from different outfits or change the look altogether.
The app will show you Bitmojis you've used recently and others you may want to use. You can look through categories, such as New, Love, Funny, Sad, and Celebrations. You can also search by keywords for a Bitmoji you want to use.
iPhone Bitmoji App
After you select a Bitmoji in the app, the sharing screen will appear.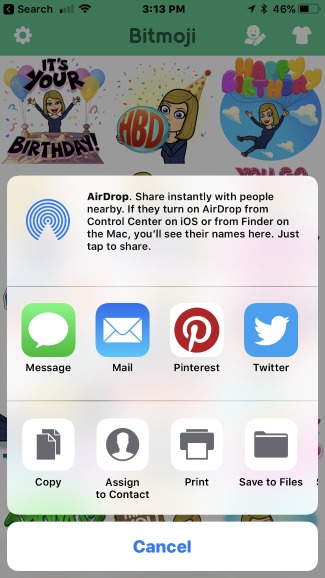 Tap where you want to use the Bitmoji to share directly from the app. You can use this to share on sites like Twitter and Facebook, or add a Bitmoji to a text or email message.
You can also tap Copy on the sharing screen, to share it somewhere else, or Assign to Contact.
Bitmojis can also be added using the Bitmoji Keyboard and iMessage stickers. More on that below.
Android Bitmoji App
After you add the Bitmoji app and log into your account, you'll see your Bitmojis in the app. Tap the one you want to use and sharing options will appear at the bottom of the screen. You can share on social media, add the Bitmoji to email and text messages, and save the Bitmoji.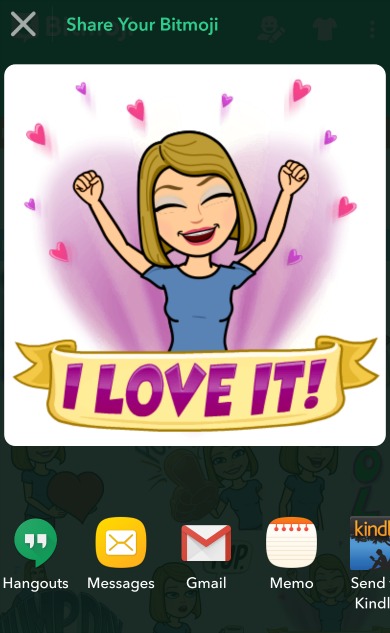 Bitmoji Keyboards
Bitmoji apps include keyboards to make adding Bitmojis even easier.
iPhone and iPad Keyboard
On the iPhone or iPad, go to Settings => General => Keyboard => Add New Keyboard. Choose Bitmoji, then tap on it to grant full access.
When you want to add a Bitmoji, tap on the Globe key on your keyboard until you see the Bitmoji keyboard. Choose the Bitmoji you want to add by tapping on it. That copies the Bitmoji image.
Then tap where you want to add the Bitmoji and paste it.
Android Keyboard
You can use the Bitmoji keyboard on Android devices too. In the Settings app, go to Language and input =>  Keyboard and input preferences => Default Keyboard. Tap Set up Input preferences to turn on the Bitmoji keyboard.
On Android phones using Gboard, Google's keyboard, Bitmojis are available within the keyboard so you don't have to switch keyboards. Tap the emoji icon (a smiley face), then tap the Bitmoji icon to reveal the Bitmojis.
Tap the Bitmoji you want to use and it will be inserted into your message.
Bitmoji iMessage Stickers
You can also add Bitmojis in the iMessage app on iPhones and iPads. Tap the A symbol to the left of the text box to see your stickers. Tap the Bitmoji icon to open your stickers, then choose the Bitmoji you want to use.
Tap the sticker to add it to your message.
Bitmoji Chrome Extension
If you use Chrome as your Internet browser, you can add the Bitmoji extension. Then, when you want to add a Bitmoji from your computer, you'll have them handy.
After you add the extension and sign into your Bitmoji account, you'll see the Bitmoji icon in your toolbar to the right of the address box in Chrome.
Tap on that icon when you want to add your Bitmoji. Select your Bitmoji, then right-click to copy and paste it into your text.
The extension can also add a Bitmoji icon directly into Gmail to make it easier to add Bitmojis to your Gmail messages.
Your Thoughts
Have you created a Bitmoji for yourself? Where do you like to use Bitmojis? Do you like getting messages with Bitmojis?
Share your thoughts in the Comments section below!