This week is WWDC, Apple's annual conference for developers that gives a sneak peek at what's ahead for Apple. Whether or not you're a developer, you can get a glimpse of the future for Apple's tech.
Apple announced not only new devices, but also free updates to existing devices that will make your iPhone, iPad and Mac computer more useful. These free updates will bring new features that may make your life easier, safer and more fun.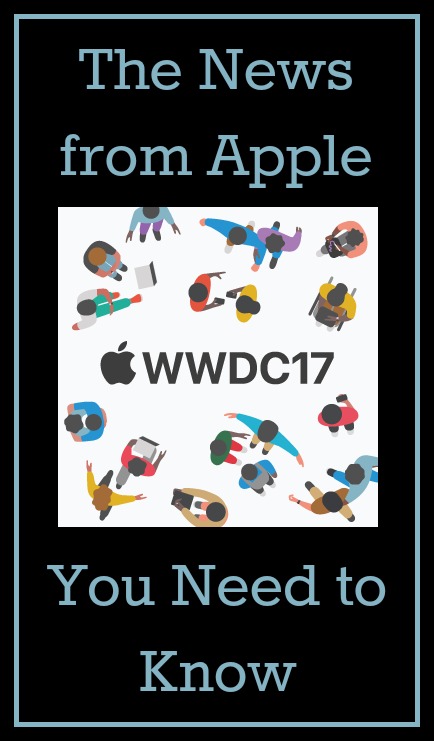 iOS 11
iOS 11 will be launched in the fall as a free update for iPhones and iPads.

One of the potentially most important updates in iOS 11 is the Do Not Disturb While Driving feature which may make driving safer. When you turn on this feature in Settings, your phone will realize when you're driving. You won't get notifications and if you try to turn on the phone, you will get a reminder that you're driving.
People who try to contact you while you're driving will get a message that you're driving and you will get back to them when you reach your destination. People will have the option to try again, marking the message as urgent to get through to you in case of emergency.
Apple is giving developers new tools to create augmented and virtual reality apps. A demonstration was shown about how to create a Star Wars game using sophisticated VR graphics.
OMG. Star Wars demo creation in VR! #WWDC #Apple pic.twitter.com/l5qx6ktfAz

— VRScout (@VRScout) June 5, 2017
A new file system will be introduced in iOS 11 to make it easier for you to find documents, photos, videos and other files. With this new system, you'll be able to access files from your iPhone, iPad, Mac computer and files from other services such as Dropbox and Box.
iOS 11 will add other handy features, such as person-to-person payments in Apple Pay.
Siri gets a new job as a translator. Speak to Siri in one language and have her speak the same phrase back in a different language. Initially, Siri will only be able to translate English to Chinese, French, German, Italian, and Spanish. Additional languages will be added later.
Control Center will have a new look with more controls on one page. Press a section to perform tasks such as changing the volume of music or the brightness of your screen.
The Notes app will get a document scanner that lets you take a photo of a document. Notes will then crop the document and let you sign it, then send it off via Mail or Messages.
Speaking of Messages, the Messages app will have a dock so you can easily access your favorite stickers and apps and include them in your messages.
Messages will sync across iPhone, iPad and Mac computers so that when you delete a message in iMessage, it will be deleted on all of your devices.
Apple Maps
Apple Maps will be improved with more information about the inside of shopping malls and airports. Lane guidance will also be provided during navigation to let you know which lane you should be in to prepare for a turn.
Maps in iOS 11 will show you the posted speed limit for the road you are on.
Apple Music
Music will get more social again, you'll be able to see what your friends are listening to and you can share what you're hearing in Apple Music. (I'm thinking this is probably an opt-in feature, just in case you want to keep your music tastes private.)
Siri will also learn your preferences so when you ask her to "play some music" she will play your favorite songs and suggest new tunes you may like.
iTunes App Store
The iTunes App Store gets an extreme makeover with a new look and better organization. Games will be separate from apps, with different categories and rankings within each section.
There will also be a Today section so you can discover the latest apps released that day.
MacOS High Sierra
Apple will be updating its MacOS operating system for Mac computers in the fall.
The new file system in iOS 11 will be coming to MacOS Sierra so you can manage files on your Mac computer and your iPhone/iPad and keep them in sync.
You will be able to edit your Live Photos from your iPhone in the Photos app on your Mac.
Safari will be updated to make it the fastest Internet browser. It also will let you turn off autoplay for videos on websites. (Yea!)
You will be able to use Siri on your Mac to play your music.
Spotlight search will be able to do more, including flight information and gate numbers for airlines.
The Notes app will be updated so you can pin your most important notes to the top to access them easily. You'll also be able to add tables and charts to notes.
iPad Pro
Apple is updating its lineup of iPads with a new size. The iPad Pro is now being offered in a 10.5″ version that replaces the 9.7″ iPad Pro. The new model comes with advanced graphics and a processor that is 30% faster than the older model. The screen is almost 20% larger than the previous iPad Pro, allowing room for a full-sized on-screen keyboard.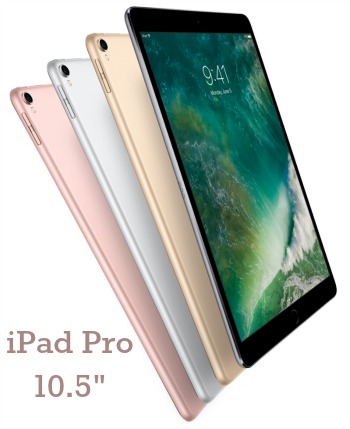 iOS 11 will take advantage of the new larger size iPad Pro by adding new features such as drag-and-drop for files, links and photos.
This model has a 10-hour battery life, the same as its predecessor, in spite of its increased screen size.
The Pencil will be able to do new things on the iPad Pro in iOS 11, such as opening Notes when you tap on the lock screen with the Pencil.
TvOS
The Apple TV will finally be getting Amazon Video so Prime members can watch their favorites shows on it, such as Mozart in the Jungle, Transparent, and Man in the High Castle.
Apple Watch
WatchOS, the operating system for Apple Watch, will be updated to version 4 in the fall. This version will have new faces, including a Siri smart face that will show information according to the time of day.
In the morning the Siri face may show your calendar appointments, weather and traffic to work. In the evening it may show the time of the sunset, closing stock prices and an alarm you have set for the next day.
Other new watch faces include kaleidoscope and characters from the movie Toy Story.
iOS 4 adds a flashlight mode for night time runs.
The Apple Watch will also become a more accurate fitness tracker with the 4.0 update.
With the update, Apple Watches will be able to connect to fitness equipment at the gym to sync your workout stats for a more accurate calculation of calories expended. The Watch and gym equipment will exchange data such as heart rate, speed and distance to analyze your workout.
Workouts can also be more fun. You can set a playlist to start playing automatically when you begin your workout. You'll also get rewards when you meet your goals.
WatchOS 4.0 will be released in the fall.
HomePod
Apple introduced a new smart speaker called HomePod that will have Siri and a sophisticated music speaker.
This rival to Amazon's Echo and Google Home will please privacy fans. No information will be transmitted to Apple until HomePod hears "Hey, Siri." All information will be encrypted.
The HomePod is about 7 inches tall, as tall as an iPhone.
How big is the #Apple HomePod?About as tall as an #iPhone7 Plus. #wwdc #mediawatch # #WWDC17 pic.twitter.com/fxyLNt0PB3 pic.twitter.com/BkhtEv89Jz

— Justin Drew Red (@40MilliCent) June 5, 2017
Some people on Twitter loved HomePod:
HomPod is awesome!! #WWDC #WWDC17 #HomePod #Apple pic.twitter.com/NqLlJAri42

— earth.lukas (@earthlukas) June 5, 2017
While others thought it bore an uncanny resemblance to a certain chapeau:
Apple's new homepod is going to be just $349! #WWDC17 #homepod pic.twitter.com/XxU1L5oD4D

— Izzy Piyale-Sheard (@izzydoesizzy) June 5, 2017
HomePod will sync with Apple Music and can play podcasts. You can play Apple Music directly from the HomePod without connecting your phone. Ask Siri to play your favorite playlist or songs from an artist you like. Siri will be able to hear you even if the music is blasting in the room.
The HomePod will be available in December for the US, UK and Australia and in more countries next year. The price will be $349.
Your Thoughts
Which of Apple's announcements were the most interesting to you? What else would you have liked to see from Apple?
Share your thoughts in the Comments section below!
---
STEM Fair for Young Innovators
If you are in the Philadelphia area this weekend and have children, be sure to check out the Young Innovators Fair. From the organizers of the event:
Science, Technology, Engineering and Math: The Young Innovators Fair will bring STEM to life on a massive scale at the Greater Philadelphia Expo Center in Oaks, PA, June 10-11, with more than four football fields of hands-on experiences that immerse children K-12 and their families.
Last year more than 20,000 kids and their families attended the inaugural Young Innovators Fair, right here in Philadelphia, and attendance is expected to grow this year. Watch the video.
Learn to fly drones
Launch rockets
Meet a 7-year-old coding prodigy & young inventors
Interact with robots
Race custom trikes
Discover STEM relics
Meet young inventors
Mod Minecraft
Witness explosive science demonstrations
Explore our Maker Space
Join a live show with Dr. Kiki and This Week In Science
"STEM disciplines are essential for student success and are the building blocks of innovation," says Young Innovators Fair co-founder Chad Collins, a Northeast Philadelphia native who lives in Bucks County. "It's one thing to view science experiments on YouTube or build virtual worlds on an iPad. But when kids get to experience science first hand, their imaginations are ignited. They can latch onto a talent they never knew they had and find a path not only for tomorrow or next week, but potentially for a lifetime to come."
"Our goal is for kids to come back to us one day and say, 'That was the moment when I decided to become a neuroscientist.' We get to change many young lives in one weekend," says Young Innovators Fair co-founder Gabe Young, also a Northeast Philadelphia native who lives in Bucks County.
Young Innovators Fair's 130 attractions and shows are divided into 10 Innovation Worlds, each offers a unique, STEM-inspired experience waiting for kids to explore.
Builders Boulevard
Some kids like to use their minds while others like to use their hands. This world mashes them together! The young innovator gets to be creative with what they want to build and then has an opportunity to make it real. Fans of construction toys are in heaven here.
Pilots Pad
Dreams of flying are never in short supply, especially with children. The Pilots Pad is all about air and space so your future aviator or astronaut has an outlet to soar.
Lab-Rats Lair
What kid wouldn't want to see the explosion when you put Mentos in Coke? In the Lab-Rats Lair, we conduct safe, and sometimes gooey, experiments that strange science fans of all ages can enjoy.
Robots Retreat
Being able to watch a robot in action is nice, but it's hard to beat the satisfaction of building and controlling a life-like machine for yourself!
Numbers Nation
Build brainpower tackling the challenges you meet at Numbers Nation. If you want a place to discover new mathematical ideas, investigate with friends and experts, and hone your knowledge of the universe's common language, then this is the place for you.
Performers Paradise
STEAM is STEM with the addition of arts and music. Learning and exploring the arts tunes children into their creative side by engaging them in the most right-brained arena of the fair. Be entertained or discover your calling to be the world's next superstar!
Sorcerers Square
Step into this portal to discover our science fiction and fantasy world. Whether you're a fan of Star Wars, World of Warcraft or Harry Potter, this is one place where you can feel right at home. No offense to lovers of the real world.
Conservationists Corner
Creative advocates of air, water, natural resources and more will be amazed by today's energy advances. In other words, this environment is for the environment.
Hackers Hideout
It's chic to be geek these days. For those who crave technology, this is where you can ride the wave of the future and push technology to its limits! Innovators of hardware and software are welcome.
Biologists Bay
Lovers of cats, spiders, dolphins, tulips and even velociraptors will have a chance to immerse themselves in all that is living (or was alive at some point!)
WHEN: Saturday, June 10, 2017, 10am-5pm
Sunday, June 11, 2017, 10am-5pm
(VIP ticket access begins at 9am on both days)
WHERE: Greater Philadelphia Expo Center, 100 Station Avenue, Oaks, PA 19456
Tickets available starting at $24 at http://younginnovatorsfair.com/ VIP tickets available starting at $34. Free admission for children age two and under.
---
Voice of America Learning English
If you are learning English and enjoy tech, check out my personal technology column at Voice of America Learning English, including a podcast to help with pronouncing words.
This week's article is Dubai Gets Its First Robot Cop.