If you have children who misbehave…Wait, let me re-phrase…If you have children, you need to grab Wheel of Doom from the iTunes App Store. As iReward Chart, The Best App Ever!, is a great motivational app for your children's positive behavior, Wheel of Doom is an effective app to address their negative behavior.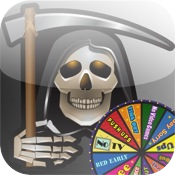 Wheel of Doom is a roulette wheel that you spin to choose the punishment for your children. If your child misbehaves and deserves to be punished, you spin the wheel and see where it lands. The punishments range from the mild: Say Sorry, to the severe: Push Ups, Sit Ups, No TV, No Video Games, etc.
Wheel of Doom has a merciful side, though. One of the spaces is Free, meaning your child gets off the hook. But there is only a 1 in 12 chance of hitting that space, so no one counts on getting the free pass.
Spinning the wheel is fun, so when you first use the app your kids might want to misbehave so they get to spin the wheel. At least that's what happened in my home. You can learn from my mistake though and refuse to let your kids spin the wheel. Either way, it will only take a few spins before your child learns that Wheel of Doom isn't fun at all. In fact, Wheel of Doom is to be avoided at all costs!
The app isn't perfect. Unlike iReward Chart, Wheel of Doom doesn't let you customize the results. You are stuck with the punishments that are on the app. If you want, you could sit down with your kids to figure out what are fair punishments and then make a list to post on the fridge.
The app also has another section, Wheel of Choice. This gives you options for making decisions. Like Wheel of Doom, you spin a roulette-type wheel which can land on spaces such as Rock, Paper, Scissors, Flip coin, Thumb War, etc.
This feature of the app could be fun. I wouldn't know. We have an odd number of children in our family so we never have a tie when voting on our choices. Wheel of Choice must be meant for families with even numbers of children. But if you find your family is having a tough time deciding between two options, then this might be a valuable feature of the app for you.
Wheel of Doom is a potent app. When I looked for this app to review it for this blog post, I found that I had deleted it from my iPhone. I don't remember deleting it, but I didn't realize that I had because I don't actually have to use the app. Because the app is so effective, after the beginning you don't need to spin the wheel. The Wheel of Doom works so well as a threat that your children stop misbehaving at the mere mention of the app.
Picture this:
Your child is beginning to act up. You take out your iPhone.
You: "Don't make me have to use the Wheel of Doom."
Your child: "No, not that! Anything but that! I'm sorry, I'll be better."
You smile and tuck your iPhone back in your pocket. Now that's an effective app!
Need more convincing? Check out this video demonstrating both Wheel of Doom and Wheel of Choice: