Happy Boxing Day! You may be recovering from holiday hoopla, hitting the malls or post office to return presents, or back at work as usual. Are you basking in the joy of receiving the gift of a new gadget? Are you delighted at your new device or scratching your head trying to figure out how to use it?
Did you get the tech toy you were craving? Were you surprised by a tech gift? Were you hoping for a gadget buy were disappointed that it didn't appear?
Take today's Wonder of Tech poll and let us know whether you get a tech gift this holiday season. If you don't celebrate the holidays this time of year, you can still take the poll – just let us know if you got a tech gift this past year.
Note, if you're driving/piloting your flying car now, please pull over/land before voting in this poll!
At least one person thought she was getting tech, but received something unexpected instead. Her boyfriend put a diamond engagement ring in an iPad box that he tooled to transform into a jewelry box. When she opened the iPad box, she saw the ring with a marriage proposal instead of an iPad. Good news all around, she accepted his proposal and later got an iPad from her fiance!
When they tell their happy story to their grandchildren, I wonder if those kids will know what an iPad is.
Are you happy with the tech gifts you received? Did you received the tech that was on your 2012 holiday wish list? Are you figuring out how to use your tech? Would you have preferred a diamond ring or an iPad? Let us know in the Comments section below!
*****************
Tech gifts don't have to stop just because Christmas is over. Apple is giving away gifts with its 12 Days of Christmas App (link to UK app). From December 26 to January 6, you can get a free app from iTunes. Download the free 12 Days of Christmas App for your iPhone, iPad or iPod Touch from iTunes and log in each day to get a free app, song, movie, iBook or other gift from Apple. You have only 24 hours each day to grab your gift so log in every day to make sure you don't miss out!
Note that this app (and the free gifts) are only available in European, Australian and Canadian iTunes stores.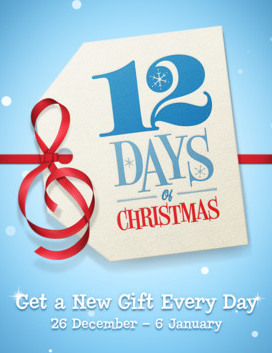 * Tech Toy Box image by Northeast Kansas Library System