Whether you're planning a trip to the beach or a summer picnic, checking the weather report can be vital to your holiday plans. You may see a prediction of scattered thunderstorms, but how can you tell whether those storms will affect you?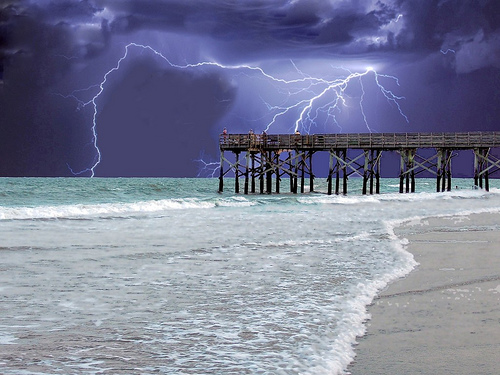 Tech the answer. Websites and apps can help you quickly see what the weather conditions are now and will be soon. Smartphone apps can instantly determine your location and show you local weather to see how you will be affected. On both apps and websites you can enter location information to be shown the current weather conditions and forecasts for areas around the globe.
Here are the best weather apps and websites to help you find out the weather near or far. Be sure to check out the handy chart at the end of the article highlighting the best features of each weather service.
The Weather Channel
This free app harnesses the power of The Weather Channel for worldwide weather data. The app shows you weather in multiple formats, including text, radar maps and embedded videos from The Weather Channel TV network. You can view videos for local/US, World, and on other weather-related topics.
On the radar map you can see moving animation of weather conditions, both future and past. You can save multiple favorite locations and set notifications for pollen, severe weather and other events.
You can see layers of information on your weather app, including clouds, radar, rainfall and other information. You can also see the predicted times for the start and finish of precipitation.
The app provides detailed information, such as sunrise and sunset times, wind speed and direction, humidity, visibility and more. You can save travel routes to see the weather conditions on your journey.
Here's a video demonstrating the Android version of the app:
The Weather Channel is available free on its website and as an app for:
Accuweather
AccuWeather gives you current weather conditions as well as the forecast for the next 15 days in 2.7 million locations around the world. You can see hourly and forecasts in text and graphics as well as in a graph format. You can share weather information in social media from within the app.
AccuWeather provides detailed information about humidity, air pressure, UV index and the times of sunrise and sunset in addition to loads of other information. The app also has weather video and news that are updated every 15 minutes.
The app will also notify you of severe weather alerts in your area. Check out the Lifestyle section which will tell you whether the weather is ideal for activities such as a barbeque, walking the dog, flying a kite or having a good hair day.
Accuweather also has health forecasts with alerts for allergies, pollen, migraines, asthma and more.
Accuweather is available at the website and as an app for:
Weather Underground
Weather Underground gives you detailed weather information in many formats, including maps, photos, and climate change indicators. Join the Community discussion and check out blogs from leading meteorologists on the Weather Underground website. Weather Underground will even help you start your own weather blog.
The app can show you the weather in your area with a grid map. You can add layers, such as satellite images and radar. You can also view local webcams to see the weather conditions in real time. The app can also alert you to severe weather conditions in your area.
Weather Underground is available as a website and as a free app for:
iPhone, iPad and iPod Touch
Android
SkyMotion
SkyMotion is a hyperlocal app that gives you weather conditions and forecasts for precise locations. When you need to know what the weather is for a specific area, SkyMotion is where you should turn.
I first reviewed SkyMotion in October, (see, SkyMotion – Never Get Caught in the Rain Again!) and since then the developer has been busy improving the service. With a recent update you can see Nowcasts that show you exact weather conditions within an 0.6 square mile radius, with over 16 million locations monitored. Nowcasts are currently available for North America and European Nowcasts are due to be available soon.
You can see the weather where you are and save an unlimited number of locations to SkyMotion. You can also share Nowcasts with others on social media directly from the app.
SkyMotion also now collects user observations to help refine the accuracy of reported conditions. You can report weather conditions for your area directly from the app to contribute to worldwide crowd-sourced weather data.
SkyMotion can also alert you to extreme weather, including smoke conditions from forest fires.
SkyMotion is free on its website and as an app for:
iPhone, iPad and iPod Touch
Android
Windows Phone
A BlackBerry app is due soon.
Weather Bug
Weather Bug gives you a lot of information on its website and from within the apps. You can see current, hourly and seven day forecasts as well as weather news. What makes Weather Bug especially helpful is its Live Camera feature, showing you real-time and time lapse photos of weather conditions.
If a thunderstorm is in your area, check out Spark, a new feature of the WeatherBug app that tells you how far you are from a lightning strike. The app advises that if the closest strike is less than 10 miles away, you should remain indoors.
WeatherBug also has radar maps with moving animation, showing you the predicted path of storms. You can add layers to the map with radar and satellite images, as well as additional information such as temperature, heat index, etc.
Here is a video demonstrating some of the features of Weather Bug for the iPhone:
WeatherBug is available free as a website and as an app for:
Kindle Fire and other Android devices
An ad-free app, WeatherBug Elite is available for $2.99 for
iPhone, iPad,and iPod Touch
Kindle Fire and other Android devices
Outside
Want a simple way to see the weather conditions and forecast? Check out Outside, a weather app that's easy to use. This app is simple. When you open the app it shows you the current weather in lovely animation as if you were looking out your window. You don't need to add your location, it figures out where you are. Swipe to the left to see the weather ahead. Information on the home screen is large and colorful so you may not need your glasses to see the weather forecast.
Swipe down to see more information about current weather conditions, such as the wind speed and direction, humidity, UV index and more. You can add locations to find out weather conditions in other areas.
You can set up notifications for very cold and/or warm weather as well as when the UV index is above 6. You can set the temperature and time of day when you want to be notified.
Outside is available for $2.99 for the iPhone, iPad and iPod Touch.
Apps and Websites at a Glance
Here's a chart to help you see which weather apps and websites are best for you:
Your Thoughts
What tech do you use to find out the weather forecasts? Do you use apps or websites more? Have you ever been alerted to severe weather conditions by an app? Let us know in the Comments section below!
* Lightning image by Southern Hearts