You're at a store's checkout counter buying something when you're asked:
"What's your email address?"
Do you hand over your email address along with your cash? You don't want to miss out on exclusive coupons, discounts and sales! So you give your email address and the next thing you know your inbox gets fuller and fuller with news about deals you never use.
You're not alone. Even people who record tv shows to be able to fast forward through commercials are lured to disclose their email address when offered the promise of exclusive email offers from their favorite stores.
When your inbox gets flooded with subscription emails, your important emails can get lost in an ocean of advertisements. Your email discount of "Buy One Get One Half Off Today Only!" doesn't seem very important if it makes you miss an email from a prospective client.
Weeding through these emails and unsubscribing is one way of clearing out your inbox, but if you've subscribed to a lot of notices that method may take more time than you have.
Unroll.me is a free service designed to make the task of managing your email subscriptions easier. In just a few clicks you will have your inbox much better managed and be able to sift through your emails in a fraction of the time it took you to do that task yesterday.
Here's a video showing how unroll.me works:
Unroll.me works with:
Outlook.com (including Hotmail, MSN, & Windows Live)
Gmail
Google Apps
Yahoo! Mail
AOL Mail
iCloud
How to Use Unroll.me
To get started go to the unroll.me website and click on Get Started Now.
Enter your email address in the box provided.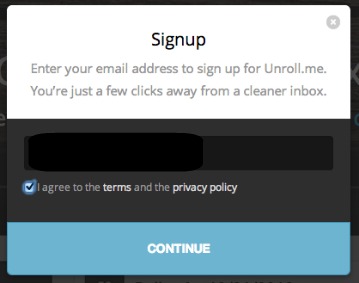 You'll need to provide your email password so if you're have a fear of sharing this information with others, then you won't want to be availing yourself of this service.
After unroll.me connects with your email account it begins scanning your inbox to find subscriptions. If your inbox is pristine, this scan may not take very long. But if your inbox hasn't been purged this century, you may have quite a few subscriptions and the scan could take a while to complete. You can sign up for an email notice to be alerted when the process is complete if you don't want to hang around and wait.
After unroll.me has finished scanning your inbox to find your subscriptions, you find out how many subscriptions you actually have signed up for. I had a whopping 274 email subscriptions. Yikes! Time to clean up!
Unroll.me then gives you choices of what to do with your subscriptions:
1. Unsubscribe
2. Add them to your Daily Rollup
3. Leave them alone so the email subscriptions still appear separately in your inbox.
You will be shown a list of your subscriptions in alphabetical order. You can click on Add to rollup or unsubscribe.
You can also choose to keep important email subscriptions out of the Daily Rollup by checking neither option. Notifications from your workplace, bank, children's school and social media accounts may deserve to have a place directly in your inbox instead of appearing in your Daily Rollup.
Unsubscribe
Unroll.me makes the process of unsubscribing about as easy as it can be. Instead of unsubscribing to each email notification individually, you can do a blanket unsubscription of multiple emails at once. Just a few clicks and you won't get any more emails from companies you no longer want to contact you.
Good-bye unwanted emails!
Daily Rollup
You likely will want to keep some favorite email notifications and this is where unroll.me comes in especially handy. Choose which emails you still want to receive and unroll.me will compile them into one daily email for you, called a Rollup. Instead of dozens of emails a day you'll get just one, the Rollup. You can peruse your Rollup to find the emails you desire and then delete it, keeping your inbox under control.
If you realize later that you made a mistake and want to unsubscribe from email notifications, you can do that from within the Daily Rollup. You can also easily remove a subscription from within the Rollup so you receive the notification separately.
Setting Up Your Daily Rollup
After your email account is scanned, you are shown a list of your email subscriptions with the option of adding the subscription to your Rollup or unsubscribing. You can quickly click through the list, choosing whether you want to hear from companies within your Daily Rollup or not at all.
Unroll.me not only lets you control which email notifications are in your Rollup, you can also set the time of day when you receive your Rollup, morning, afternoon or evening. You can edit the time later if you find your set time doesn't work as well for you as you had expected.
You can also add an email subscription to your Rollup by forwarding the email to rollup@unroll.me. You can unsubscribe by forwarding a subscription email to unsubscribe@unroll.me.
If you change your mind or click on the wrong link by mistake, just edit your subscriptions from the unroll.me edit page.
Earning Your Unroll.me
After you have made 5 elections to add subscriptions to your Daily Rollup, you must earn the rest. You can choose to tweet about Daily Rollup or Like their Facebook page. You only have to do this once and it's a small price to pay for the convenience of getting your email inbox under control.
Interesting Unroll.me Stats
Unroll.me shares their stats of the most unsubscribed and Rolled Up emails. The most unsubscribed was 1-800-Flowers and the most Rolled Up was Hulu. You can see more stats at the Unroll.me Awards Page.
Tech Tip
Note that The Wonder of Tech is considered by nearly all readers to be an essential subscription and should be neither added to the Rollup nor unsubscribed to. Experts agree that The Wonder of Tech should have its own spot in your email inbox.
Not a subscriber yet? Don't worry, it's not too late yet! Get a free subscription to The Wonder of Tech below to discover more fascinating tech news, tech tips, reviews and more:
Your Thoughts
Have you over-subscribed to emails? Do you like the idea of a Daily Rollup with one email notification each day? Do you like the idea of unsubscribing to emails from one place? Were you surprised by how many email subscriptions you have? Let us know in the Comments section below!