If you're excited about the Oscars on Sunday night, you can get even more excited about the fun tech to help you enjoy the big night! Since last year's Academy Awards ceremony, lots of new websites, apps and social media have arrived to enhance your enjoyment of Hollywood's star-studded event.
Find out about the official Oscars feature-filled website and app to accompany you as you watch the show. Check out how you can check in to the Oscars with GetGlue. Discover Oscars apps and tools to make your Oscars picks. Also find out fun Oscar facts from IMDb!
Making Your Oscar Picks
ABC television network will be broadcasting the event in the US on Sunday night and has an official ballot you can fill out to make your picks for the 2013 award winners. You can make your picks using My Picks on either the ABC website or ABC's official Oscars® app (see below for more about the official app). Play alone or with friends by connecting My Picks to Facebook.
To help choose your picks, check out IMDb (Internet Movie Database) where a dedicated fan, who admits to having no life, is providing daily updates of nominees' rankings based on the chances of each one winning.
You can also check out the helpful interactive timelines from The Los Angeles Times and ABC that may help you win on Jeopardy someday!
Enjoying the Big Night
If you're a movie fan, on Sunday night you'll want to see the stars in their glory and go behind the scenes to see even more action than you can see on TV.
GetGlue
GetGlue is gearing up for a big night on Sunday, anticipating that GetGlue fans will want to be checking in to their updated app to get special Oscars stickers. (See my reviews of GetGlue: GetGlue HD – Your New Favorite Entertainment Guide! and GetGlue – Your Social Network for Finding Fun!)
I checked in with Alex Iskold, CEO of GetGlue who shared with me the exciting plans that the site has for Oscars fans. "The Oscars are a big event for GetGlue. We're partnering with ABC to reward fans for checking into the Oscars show and Oscar nominated movies. As people check in to the movies they're watching, they're unlocking special rewards. We'll have a set of special rewards to unlock the day of the Oscars as well."
Checking into GetGlue will also let you participate in live chats with other movie fans and the GetGlue crew while the show is happening. Even if you're not into getting super cool stickers, you can check into GetGlue during the Oscars to see quality comments and be part of the conversation.  GetGlue will be posting exclusive photos and videos as the show is being broadcast. You'll also be able to see your GetGlue friends who have checked in and are watching the show.
GetGlue curates the comments to find the most interesting ones and displays those in the Trending section of the app. Iskold said that the GetGlue algorithm that calculates what's trending has been updated in anticipation of the Oscars. "The algorithm bubbles up all of the most interesting comments and media for the Oscars. You'll be able to see all of your friends, everything that's trending, and the live conversation. You get the best of all three worlds all within one page."
Even the Live Chat section is filtered, Iskold explained, so your feed isn't filled with repetitive comments like "Great show". "You don't want to read noise or comments that aren't interesting. You get a live stream of interesting comments that you as a fan can dive into and enjoy." The comment filter takes into account both the results of the algorithm and the up votes from the fans to determine the most interesting comments.
GetGlue is also preparing for popularity by adding additional servers to handle the extra traffic.
You can check in with GetGlue at their website or on their apps for the iPad, iPhone and Android devices.
The Official Oscars® App
With ABC's official Oscars app you can follow the stars from their arrival on the red carpet to their celebrations backstage when they're holding Oscar trophies in their hands.
The app lets you watch in two modes: Watch and Direct. With Watch you see what's happening as you would if you were watching the show on TV. The Direct mode lets you watch the Oscars from over a dozen cameras in different locations so you have control over what you're seeing.
Check out the:
• Thank You Cam – showing winners having an extended opportunity to thank their supporters
• Backstage Cam – showing sound bites, backstage action, short interviews and behind-the-scenes footage
• Control Room Cam – allowing users to watch the show's director in action
• Press Room Cam – featuring moments of winners interacting with the media immediately after leaving the stage. This camera will also feature real-time highlights from the show itself
You can get the Oscars app free for:
Other Oscar Apps
E! Live from the Red Carpet
This app give you news, photos and videos for all of the awards shows and can send you push notifications about big events. Check out the GlamCam 360, E!'s futuristic Matrix-like fashion cam.
E! Live from the Red Carpet is available for free for
Hollywood Reporter: The Race to the Oscars®
This free app is filled with news, videos, reviews and photos from all of the nominees. You can track tweets and blog posts from within the app. Pick your favorites to win and share them with others on Facebook and Twitter. Test your Oscar knowledge with trivia questions in the app.
Hollywood Reporter: The Race to the Oscars® is available free for the iPhone, iPad and iPod Touch in the iTunes App Store and for Android devices at Google Play.
Awards Hero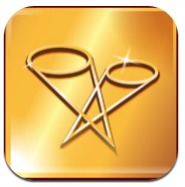 Also check out the Awards Hero app that has an Oscars ballot and lets you set up your own pool, compare your picks with your friends on Facebook, and see how others are voting. The app also has movie trailers of the nominated films to help you do your research.
This app is available free for iPhone, iPad and iPod Touch in the iTunes App Store.
Awards Guide: The Oscars
This app will give you up to the minute information about the awards as they happen. The Awards Guide also has a database of Oscar awards and nominations dating back to 1929. You can search for any movie or nominee or search by year or award. You can also submit your predictions for this year. The app can send you push notifications for awards as they are given and the database can update instantly over the air.
Awards Guide: The Oscars is available for free for iPad, iPhone and iPod Touch from the iTunes App Store.
Fun Oscar Facts
Keith Simanton, IMDb's Managing Editor, provided me with these fun facts about the Oscars:
If any of the two-time Oscar winners, which include Denzel Washington, Daniel Day-Lewis, Robert De Niro, or Sally Field, win on Sunday they'll be in the select group of actors with three or more competitive Oscar wins to their name. That list includes:
Kathryn Hepburn (4 wins)
Meryl Streep (3 wins)
Walter Brennan (3 wins)
Ingrid Bergman (3 wins)
Jack Nicholson (3 wins)
The last time Robert De Niro was nominated for an Oscar (March 30, 1992, Best Supporting Actor for "Cape Fear"), George Herbert Walker Bush was still in office.
The last time Robert De Niro won an Oscar (March 31, 1981, Best Actor for "Raging Bull"), Ronald Reagan was in office (but just barely, Jimmy Carter had just left the White House two months prior)
De Niro has also been nominated the most out of all his fellow 2013 actor/actresses nominees at 7 times. He's followed by Denzel Washington (6 times), Daniel Day-Lewis (5 times), Tommy Lee Jones (4 times), Amy Adams (4 times), Alan Arkin (4 times), and Philip Seymour Hoffman (4 times)
All about Bond
Adele and Paul Epworth are nominated for Best Song for "Skyfall." The last time a James Bond film was nominated for an Oscar was also for Best Song in 1982, for "For Your Eyes Only" (from the movie of the same name). Sheena Easton sang the title song. It lost to "You Light Up My Life," written by Joseph Brooks
Other Bond Oscar nominations:
Best Effects, Visual Effects nomination for "Moonraker" in 1980
Best Art Direction-Set Decoration, Best Score and Best Song from "The Spy Who Loved Me" in 1978.  Noms for Best Song were for "Nobody Does It Better" written by Marvin Hamlisch (music) and Carole Bayer Sager (lyrics). Sung by Carly Simon
Best Music, Original Song from "Live and Let Die" in 1974 for the song "Live and Let Die" by Paul & Linda McCartney and Wings
Best Sound from "Diamonds Are Forever" in 1973
"Goldfinger" also won an Oscar in 1965 but it was for Best Effects (Norman Wanstall). The classic Shirley Bassy song wasn't even nominated.
 Bottom Line
This year's Oscars ceremonies should be more fun than ever, with tech giving you more information, more access to the stars, and more opportunities to interact with fellow fans. Be sure to use tech to enhance your enjoyment of the Oscars!
Are you looking forward to the Oscars on Sunday? Which nominee is your favorite? Are you going to use tech to enhance your enjoyment of the show? Let us know in the Comments section below!