Increasingly, tech can help you make the most of any trip. Tech can make trips go more smoothly by providing you with information, resources, and entertainment. Whether you're traveling on business or pleasure, tech tools can make the trip easier and more enjoyable!
Sure, you could travel without tech, but why would you want to?
These tech tools can help you plan your trip, make the journey more enjoyable, and help you make the most of your destination.
Apps
Apps can help you with planning your trip, getting you to your destination and helping you discover your surroundings once you're there.
Discovery
Use apps to help you discover fun and interesting sites during your journey!
iExit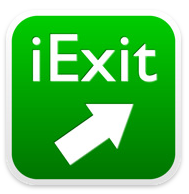 If your travel involves a road trip, be sure to check out iExit, an app that tells you what's ahead on your route. If you want to know what to expect at the next exit, iExit can let you know whether it's worth getting off at the next exit and or waiting until the next one.
This app was updated recently and now includes information on amenities such as ATM, pet-friendly and other features, as well as restaurants and lodging.
iExit is available for:
A Windows Phone version is promised soon.
My full review of iExit can be found here: Road Trip? iExit Is Your Must-Have App!
Mom Maps
When you're in a new area, finding kid-friendly restaurants, attractions, parks and playgrounds can be challenging. Mom Maps solves that problem by providing you with that information instantly. Let Mom Maps find your location, then you can see by category:
Parks
Playgrounds
Restaurants
Museums
Indoor Play Areas
You can see the points of interest in a list or on a map. The app covers locations in the US and Europe and can give you directions using Google Maps from within the app.

The app is available in a free and a paid version. Check out the free version first to make sure your area is covered. The free app can be downloaded for:
Geocaching
Treasures are buried around the world, all for you to find. Discover the joy of geocaching when you're on your next trip. If you're looking for a fun diversion for the family, grab the geocaching app to discover caches hidden near you. You can even plan ahead to see what treasures await you at your destination.
I've been geocaching on vacation with kids ages 5-85 and all were entertained by hunting for caches. We discovered new places even though we've been going to the same town for years. Over a 1,600,000 are available all over the world so you probably have a cache near you!
The official Geocaching app is available for $9.99 for:
and free for Windows Phone, though a membership to geocaching.com is required. (Basic membership is free, but caches are limited to three per day via the app. Premium membership, $30/year, gives you unlimited caches.)
Be sure to check out Geocaching: Your Real Life Treasure Hunt! by guest author Carol Biederman, that convinced me to give Geocaching a try!
Roadside America
If you're looking to discover interesting sites along your trip, check out Roadside America, an app that helps you discover unique attractions along US and Canadian highways. If you're the type of traveler who likes visiting "The World's Biggest (fill in the blank)," this app is for you!
You can search by what's near you or by themes such as:
Animals
Atomic
Celebrities
Crime
Dinosaurs
Freaky Hoo-Ha
Irrational Geographics
Miracles
Monsters
Tech
Zombie Army
The app is available for iPhone, iPad and iPod Touch for $2.99 which buys you one geographic area. You can purchase other areas or the entire US and Canadian coverage for $5.99/year.
Field Trip
Discover interesting and quirky places of interest near you with the free Field Trip app from Google. Open the app and see restaurants, historic places, deals and fun night spots on a map or in a list. You can filter your search according to your interests, showing only restaurants, for example.
Field Trip is available for Android devices and iPhone, iPad and iPod Touch.
Quad2Quad
If your summer travels include college tours, be sure to download the free Quad2Quad app for helpful information about 85 different universities. Since I reviewed the app in March, the app has been updated and is now free.
Quad2Quad is available free for iPhone, iPad and iPod Touch.
Place Book
While you're discovering fun and quirky places, you'll want to remember them later to visit again or recommend to others. Whether you're visiting your favorite city or discovering a new one, remember your favorite spots by saving them in Place Book. Like a contacts list for places, Place Book saves your favorite spots in one convenient app. You can organize your favorite spots in lists such as "most romantic restaurants," "best views of the sunset" or "family-friendly museums."
Place Book works with Yelp, Foursquare and Google Places to help you discover new favorite places. You can also use Google Maps within the app to navigate to your favorite places.
Place Book is a free app available for Android devices. You can pay $1.50 to remove the ads from the app.
Utilities
These apps make getting from Point A to Point B much easier.
Google Maps
Be sure to download the Google Maps app before you leave home. This app gives you street views in addition to 2D maps. Google Maps also transforms your mobile device into a GPS/Sat Nav by giving you turn-by-turn voice directions. You can Show Traffic to avoid congestion.
Google Maps is available free for!
Google Maps is a must have app on your mobile device. Don't wait until you travel to grab this app!
TripIt
Keep all your travel information in one spot with TripIt. This app is like having a personal assistant help organize your trip. See your itinerary in one spot and have it handy wherever you are. No more fumbling with papers, just open the app and view your itinerary.
Sign up for a TripIt account to have this free service prepare your itinerary and have it available for you at their website or on their app. When you plan a trip, forward all of your email confirmations to plans@tripit.com and TripIt will do the rest.
Your TripIt itinerary includes your flight information, confirmation numbers, hotel check-in and check-out times, local maps and weather information. The itinerary also shows the cost of the travel and the site you used to book your trip.
TripIt integrates with other apps, including Google calendar and Flight Update Pro so you don't have to enter the same information multiple times.
If you travel frequently, you may want to check out the Pro version, which you can sample for free for 30 days and has extra features such as alerts about flight delays. After the 30 day trial period TripIt Pro costs $49 per year.
The app for TripIt is available free for:
My full review of TripIt can be found TripIt – Your Personal Travel Assistant!
Flight Update
Whether you're flying or picking up someone at the airport, Flight Update can save you time and hassle. This app is packed with vital flight information, such as the arrival and departure times, terminal and gate information, and more. The app even has a map feature showing you where the plane is in real time.
You can enter all the flight information for a trip manually or upgrade to the pro version of Flight Update to connect the app to your TripIt account and have your flight information appear automatically within the app.
My full review of Flight Update: Flight Update – A "Must Have" App for Travelers
Flight Update is available for the iPhone, iPad and iPod Touch at the iTunes App Store for $4.99. Flight Update Pro is available for $8.99 that adds TripIt integration.
Gas Buddy
Find out where to find the cheapest gas prices with Gas Buddy. This free app shows you the prices at local fuel stations, so you don't have to waste gas hunting for the lowest prices. You can also see which gas stations are the closest, in case you're running low on fuel.
GasBuddy shows you gas stations by distance or price, on a map or on a list. You can access GasBuddy information using the app or website.
GasBuddy is free for:
My full review: 6 Reasons to Love Gasbuddy, Your Friend for Lower Gas Prices!
Entertainment
Your trip will be much more enjoyable if you keep yourself and others entertained along the way. Tech can help.
Tales2Go
Keeping entertained on a trip can be expensive. Tales2Go lets you stream unlimited audiobooks for a single monthly price. The whole family can be entertained for the duration of your trip while soaking in the scenery passing by the windows. The books are mostly children's and young adult books but many are suitable for adult listening as well.
Tales2Go provides access to over 2000 audiobooks for $9.99 per month or $99 per year. Tales2Go offers a 30 day free trial so you can try before you buy. Check out classics like Goosebumps, Curious George, Diary of a Wimpy Kid, and Junie B. Jones. You can see a full list of available audiobooks at the Tales2Go website.
You can download the free Tales2Go app for iPhone, iPad and iPod Touch.
My full review of Tales2Go can be found here: Tales2Go – Are We There Already?
Rental Videos
If you're stuck on a plane, train or automobile trip without access to the Internet, you may want to bring your own entertainment. Without the Internet, streaming services such as Netflix and Hulu won't be much use. If you want entertainment on the go, check out renting videos from iTunes, Amazon Video and Google Play. You can download a rental video for a small fraction of the cost of buying it.
Be sure before you rent that you can download the video and it's not available for streaming only. Also make sure to check the terms and conditions of your rental. You generally have 30 days to watch the video and, once you start playing it, you have 24-48 hours to finish watching it. Also check where you can watch your video to make sure you can watch them on your mobile device, computer, Roku and/or Apple TV.
When you rent your video, you need to be connected to the Internet to download the video, but you don't need an Internet connection to watch the movie. Depending on the speed of your Internet connection and the size of the file (depending on the length of the video and whether it's HD or SD), you may need to leave a few hours to complete the download. Be sure to start the download the night before you leave on your trip.
Tech Accessories
These tech accessories can keep the peace and keep you organized.
Headphone Splitters
Unless you're traveling alone, throw a set of headphone splitters in your bag. You know the drill: no matter what you're watching, playing or listening to, the stuff your travel buddy is watching, playing or listening to is so much more much more interesting. This steadfast rule applies to kids and adults equally, there's no getting around it!
The Monoprice headphone splitters provide stereo sound and have dual volume controls so both listeners can enjoy listening comfort. If your goal is to avoid arguments, then having separate volume controls will move you further towards that goal.
Monoprice headphone splitters are available from Amazon for $7.88. Hey, even if you're traveling solo you may want them in case you meet someone who is screen share-worthy along your journey!
Eagle Creek Pack-It Cube
While this item isn't technically tech, it does help keep your tech organized. Use this case when you travel to organize your charge cords and keep your phone handy. The small case it the perfect size to hold your charge cord, phone, credit card, keys and money. The case even has a handle so you can hold it securely.
The case isn't waterproof, so be sure to cover your phone in a ziplock bag if you'll be near water or sand. Eagle Creek Pack-It Half Cube is available from Amazon for $7.88 or you can get the Quarter Cube from Eagle Creek for $8.50.
Your Thoughts
Do you use tech when you travel? What are your favorite tech tools? Let us know in the Comments section below!