If you want to know about something on social media, you could search for keywords across many sites and try to track mentions, reach, sentiment, and other data. Or you could let Talkwalker do that (and more) for you for free.
I recently spoke with Julie Hong (@J_Hong3), Community Manager at Talkwalker, who demonstrated to me the powerful platform Talkwalker developed to deliver social media information in an intuitive and helpful format. I first wrote about Talkwalker Alerts two years ago in How to Use Talkwalker Alerts to Find Out Who's Talking About You. Since that time the company has been busy expanding their services and opening an office in New York.
Hong's demonstration showed me the many ways that Talkwalker can give insights into social media with plenty of analytics, filters, graphs, charts and more. If you're looking to see what's going on in social media, Talkwalker is a must-visit site.
What Talkwalker Does
Talkwalker gives you information about how keywords are used on social media. You can search your name, brand, Twitter ID, product name, news item or any other topic. Research products, businesses, people and other keywords to see how popular they are and how they're being shared.
This video illustrates how Talkwalker works:
To get started, head to Talkwalker and sign up for a free account. Enter your search term in the box at the top of the page. You can search up to three topics and compare them side-by-side. Talkwalker will save the last five topics you searched.
Talkwalker will show you:
Results
Performance
Influencers
Sentiment
Themes
Demographics
World Map
You can view each of these to get the big picture or filter them according to:
Media types (Twitter, Facebook, blogs, etc.)
Countries
Languages
Results
The Results tab shows you a graph of mentions of your keyword over time as well as the most recent mentions on social media. If you're comparing terms, you'll see a pie chart showing the percentage of mentions for each term. You can change both of these to different formats by clicking on the three dots above the graphs.
Below the graphs you can see recent mentions of your keywords on social media. The mentions are displayed in the left column of the Results page and the information about the mentions is in the right column. A colored flag next to the mentions shows the perceived sentiment of the mention.
You can sort the mentions list by:
I searched for "wonderoftech" and found these recent tweets:
Performance
The Performance page shows you buzz, engagement and potential reach of the keyword mentions. You can see whether a topic is hot or not. As with Results, you can change the format of the graphs by clicking on the three dots to give you different ways to visualize the data.
Click on a dot in the graph to see specific analytics from Talkwalker.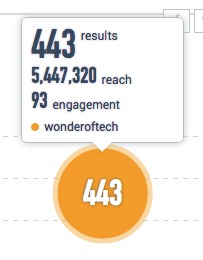 Influencers
This page shows you in a chart which are the most influential accounts sharing the keyword and which platforms are being used to share the keyword. You can also see the potential reach for each influencer, how often they shared the keyword and the engagement of the sharing.
Sentiment
The Sentiment page shows you Talkwalker's best guess as to whether the social media mentions were positive, negative or neutral. Hong advised me that Sentiment isn't always accurate and should be used with caution.
Her advice proved true when I viewed the Sentiment page for mentions of wonderoftech. Talkwalker showed a high level of negative sentiment about wonderoftech.
My recent post Ugly Mail — An Easy Way to Find Out Who Is Tracking Your Email is being shared widely. On the Results page, mentions of the Ugly Mail article have a red flag showing that Talkwalker views the sentiment of these mentions as negative.

Talkwalker probably thinks that many in the Twitterverse are calling me ugly. Don't worry if you were one of the tweeps who shared my Ugly Mail article, no offense taken!
But the Ugly Mail article analytics show that Hong was correct, Sentiment isn't always accurate.
Themes
Themes is my favorite analytics page in Talkwalker. If you're a fan of word clouds then Themes might be your favorite too.
The Themes page shows you word clouds of other keywords mentioned in connection with the keyword you searched. Hover your cursor over a keyword to see how often it was mentioned.
Talkwalker also shows you a chart illustrating the frequency of associated keywords over time. Each keyword is color-coded so you can see it easily in the word cloud and the graph.
Demographics
Demographics shows you who is sharing the keywords by country, language and gender.
World Map
World Map gives you a global view of how much the keywords are mentioned in each country. You can see a circle that's sized proportionate to the number of mentions as well as the actual number of mentions for each country. The interactive map lets you zoom in and out to see individual countries, which can be handy if the keyword is popular in European countries.
Talkwalker Academy
If you want ideas about how to maximize your use of Talkwalker data, check out the Talkwalker Academy. The Academy is full of case studies, how to's, white papers, videos, manuals and more to inspire you and explain how to get the most out of Talkwalker data. You can also check out their list of industry-specific insights for businesses such as pharmaceuticals, marketing, media publishers and more.

You can get help on any Talkwalker page by clicking the yellow question mark.
Availability
To perform a Talkwalker search you must sign up for a Talkwalker account, which is free. Access to all the information and analytics discussed above is also free.
If you find the information valuable and want additional features, Pro accounts are available at Basic, Corporate and Enterprise levels. Price per month:
You can try a Pro account with a 14-day free trial. See the Talkwalker Pricing Page for more information about the difference between Pro accounts.
Talkwalker Pro Accounts
Talkwalker Pro accounts give you the ability to:
Save an unlimited number of keywords
Organize searches into folders
Have multiple users for an account
Add tags to organize results
Show you Alexa page views
Block sources
Search by author
Pro accounts also let you share your search results with others via a newsletter. In a few clicks you can compose and share a newsletter directly from Talkwalker. Schedule your newsletter to be delivered at regular intervals with the latest updated data.
You can create a custom Dashboard with a Pro account. Choose the metrics that matter most to you and save them in a dashboard for future reference.
Search up to two years back in time with a Pro account, up from seven days for the free version.
You can export Talkwalker data with the Pro account in file formats such as PDF, image, PowerPoint, Excel and more. Share a dynamic JSON file that automatically updates the Talkwalker data every 15 minutes.
Pro accounts let you view charts that show the popularity of topics by time of day, days of the week, etc. You can see which times are the most engaging for each keyword. Check out Facebook Fan pages to see their engagement over time.
Your Thoughts
Have you ever been curious to compare keywords around social media? Which keywords would you search for? Have you tried Talkwalker analytics? Share your thoughts with us in the Comments section below!
******************
Google Maps April Fool's Treat
Happy April Fool's Day! Google Maps has a treat for you — turn your maps into a Pac-Man game. You can play Pac-Man on Google Maps on your computer or using the Google Maps app.
Computer
Head to Google Maps and search for your favorite location. Click on the Pac-Man square, no need to pop quarters in your computer, you can play for free.
Use direction keys to move your Pac-Man around the map which is now filled with dots. Watch him gobble them up as you try to avoid the ghosts.
Not all maps have Pac-Man available. I tried Washington, DC but there must have been security concerns with Pac-Man gobbling near federal buildings because I got an error message that there weren't enough streets available in the area for the game.
Click I'm Feeling Lucky if you want to be taken to a location that has Pac-Man available. I was taken to Barcelona, Spain where I was able to navigate a few streets before encountering a ghost.
Google Maps App
You can also play Pac-Man on the Google Maps app. Unlike playing on your computer, you do have to "insert coins" (though playing doesn't actually cost any money). Part of the fun is figuring out how and where you can play Pac-Man.
Let the games begin…