With all of the fervor about the launch of the iPhone on Verizon later this week, you should know that the iPhone isn't the only smart phone on the market. Yes, dear readers, it's true. The iPhone has serious competitors out there right now. Its most worthy competitors are phones that run the Android operating system and the LG Optimus Android phone is now available at an incredible price with an amazing plan.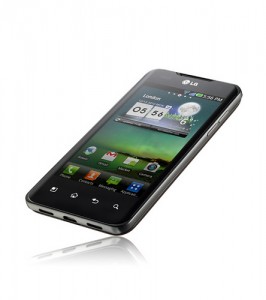 Background
Android is from Google, the company that does searches, maps, books, and a whole lot more. They also give away (as in for free) operating systems. An operating system is software that computers use to perform functions. Think Microsoft Windows or Mac OS. The operating system that Google created for cell phones is called Android and is both powerful and popular.
Google doesn't make or sell phones (it did sell the Nexus phone about two years ago but it didn't go so well and Google quickly got out of that business). Cell phone manufacturers such as HTC, LG and Motorola make phones and then load Android on the phone for free.
But it's not just that it's free that makes Android such a popular operating system. Android also allows a user to load apps onto the phone. The Android Market has about 130,000 apps which is far fewer than Apple iTunes' 350,000 apps, but certainly enough to satisfy the many happy Android users of the world.
What's the Deal?
Ah yes, the amazing deal. Last week I read in one of my favorite blogs, The Cell Phone Junkie , about an Android phone, the LG Optimus, that is available through Virgin Mobile for $149.00 without a contract. Good deal, right? Well, it gets even better. The Beyond Talk plan that is offered from Virgin Mobile is $25 per month for 300 minutes of talk time, unlimited texts and unlimited data.
This incredible deal from Virgin Mobile has been around for a while, but not with this Android phone. What makes this particular Android phone so special? You can use it as a hotspot. (See, AT&T vs. Verizon iPhone , where I explain that a hotspot is like a wireless router giving off Wi-Fi signal from your cell phone). How much does Virgin Mobile charge for this hotspot feature? $0!
Let's compare:
Virgin Mobile
Verizon iPhone
AT&T iPhone
Voice Minutes
$25/300
$40/450
$40/450
Unlimited Texts
Free
$20/5000 texts
$20
Unlimited Data
Free
$30
$25/2GB
Hotspot
Free
$20 for 2GB
$20 for 4GB**
Total Monthly Cost
$25
$110
$105
********************************************************************************************
As you can see, the monthly savings are significant. If you need more voice minutes, you can get them from Virgin Mobile for more money but by signing up for Beyond Talk with Virgin Mobile you will still save substantially over getting an iPhone on Verizon or AT&T.
This Beyond Talk plan from Virgin Mobile has no contract so you can switch plans and/or carriers whenever you want. I actually would prefer if they did have a contract with this amazing deal so I could lock it in for two years.
When I read The Cell Phone Junkie's blog post about this deal, I headed straight to Radio Shack that afternoon (it's also available online at Virgin Mobile ) and picked up the phone for my 15 year old daughter, got the Beyond Talk plan from Virgin Mobile, transfered her cell phone number and cancelled her T-Mobile account. Her T-Mobile plan was $40 for 500 voice minutes and unlimited texts. No data and no hotspot. She wasn't on a contract so there were no cancellation penalties.
My daughter is delighted with her new phone and plan and she is busily loading apps onto her phone (like Angry Birds which is free in the Android Market). I'm delighted that I'm saving $15 a month on her plan and that the phone pays for itself in 10 months with these savings.
Be sure to check Virgin Mobile's Coverage Map before deciding on this plan. If the coverage is good for you and you want the benefits of a smart phone at a fraction of the monthly cost of an iPhone, this might be just the deal for you.
Smart and Cheap, a winning combination!
Want to comment on this post but don't see a comment box below? Either click on the blue Comments link above or Click Here.
*Photo by Robert Webbe
**AT&T does not offer the hotspot feature on iPhones yet, but will as of February 13 AT&T.