If you've ever wished for a shopping assistant who could find you the best deals and alert you when a product goes on sale, check out ShopAdvisor. ShopAdvisor is a free service that can help you save time and money by alerting you to sales on your favorite products.
I recently spoke with Andrew Mahon, VP of Marketing at ShopAdvisor, about the services his company provides to shoppers. Mahon co-founded ShopAdvisor in September 2011 to help shoppers find the best deals for their purchases. "We realized the world didn't need just another shopping app, so we designed one that fits the way people shop."
ShopAdvisor started as an iPhone app then launched a website, Android and Windows Phone apps. "In under two years, ShopAdvisor has been downloaded over a million times, has over 10 million users and is consistently listed as one of the best apps in iTunes," said Mahon. According to the ShopAdvisor website, the service has saved shoppers over $7.5 million on products worth $139 million.
How ShopAdvisor Works
Mahon explained that in developing ShopAdvisor they looked at how people shopped for major purchases such as electronics, appliances, cars and other big ticket items. Shoppers do their research, compare models, try to gauge prices and find deals. "But it's a lot to remember and keep track of. Every day people might check the price but they never know when they're getting a good deal, even if the price drops," said Mahon.
ShopAdvisor is designed to help people with every step of the buying process. The service monitors prices on over 2 million products from over 16,000 retailers. "ShopAdvisor will work with online stores such as Amazon and local brick and mortar stores if you allow location services on the app," explained Mahon.
Mahon gave the example of someone who wanted to purchase a TV before the Super Bowl. "Super Bowl was a very busy time for us," said Mahon. He explained that a lot of people wanted to buy TV's before the Super Bowl and used ShopAdvisor to help get the best prices.
By tracking price swings, ShopAdvisor showed shoppers the price history of TV's to gauge when they would find the best sale prices. ShopAdvisor also alerted users when TV's went on sale.
The service isn't just for major purchases, ShopAdvisor can also help people with smaller purchases. "I don't think many people research a $5 item," said Mahon, "but the app can help them remember that they wanted to buy it."
The most popular items people shop for, according to Mahon, are women's shoes, electronics, men's shoes, then home decor.
Using ShopAdvisor
To get started with ShopAdvisor, download the app or go to the ShopAdvisor website and sign up for a free account.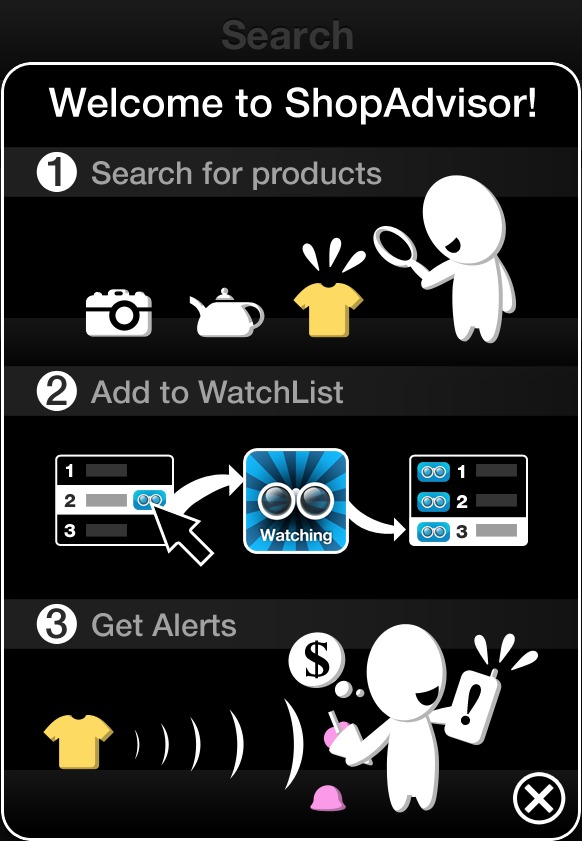 Search for a product to find out the price history and to judge if and when a product might go on sale.
You can also comparison shop at ShopAdvisor and see the most popular searches and biggest price drops in the past 24 hours. ShopAdvisor can also show you the lowest prices online and locally for an item. If you don't want to wait, you can buy the item immediately using a ShopAdvisor link.
Deal Alerts
You can save an item to your ShopAdvisor watch list and set up an alert via email or text message to be notified when the price drops.  You can also set an alert for a future date to remember to buy an item on your watch list.
When ShopAdvisor sends an alert, 92% of users open that alert and nearly 20% visit the online store, according to Mahon.
ShopAdvisor + Zinio
ShopAdvisor has recently partnered with Zinio so you can use ShopAdvisor as you're reading your favorite magazines using Zinio on your iPad.
If you're someone who likes to rip pages out of magazines or fold over corners to remember to buy an item you see in a magazine, ShopAdvisor can make that process even easier for you when you read digital magazines on your iPad.
No need to remember which items you liked as you peruse a periodical. You can save items you like straight to your ShopAdvisor watch list to buy later and/or get alerts about price drops. If you're ready to buy immediately, you can do that through ShopAdvisor and then get right back to reading the magazine.
Here's a video showing you how ShopAdvisor works on digital magazines:
These are some Zinio magazines that work with the ShopAdvisor iPad app:
Cosmopolitan
Marie Claire
Elle
Elle Decor
Esquire
Parenting
Golf Magazine
Wine Enthusiast
HD Video Pro
Digital Photo Pro
Digital Photo
ShopAdvisor also works on Golf magazine outside of Zinio and has plans to expand to other digital publications soon.
Shopping Lists
ShopAdvisor can help you keep track of your intended purchases by creating a shopping list of your saved items. You can search for items on the website and app or by using the bar code scanner in the app.
Product Reviews
If you need to educated yourself before you buy, ShopAdvisor can help. You can check out reviews of products as well as product guides directly from the app.
ShopAdvisor + Evernote
You can create a shopping list in Evernote and import it into ShopAdvisor.
Here's a video showing you how to use ShopAdvisor with Evernote.
My Test
I tested the app on the website, iPhone, iPad and Android and found it easy and intuitive to use. The instructions are clear and the app flows smoothly without lagging. The iPad app is especially elegant with pages turning similar to a high-end ebook.
I received my first price drop alert within 24 hours of saving the product to my watch list, before I would have thought to re-check the price manually. The price drop was significant and I probably would have missed the deal except for ShopAdvisor's alert.
Availability
ShopAdvisor is free and available online at the ShopAdvisor website and via apps for:
ShopAdvisor is available for US retailers.
Bottom Line
Using ShopAdvisor can save you time and money by helping you find the best deals, do comparison shopping, research products and get alerts about price drops. Check out ShopAdvisor to get the most out of shopping while spending the least amount of time and money.
Do you check prices to see when an item goes on sale? Have you ever missed a sale price when you were looking to make a purchase? Do you fold pages in magazines so you can remember items to purchase later? Have you ever accidentally folded the corner of your iPad instead? Let us know in the Comments section below!
**************************************