If you're looking for a phone with impressive hardware, a superb camera and plenty of advanced features, be sure to check out the Samsung Galaxy S4. If you're looking for a phone that's easy to use,  you should also check out the S4. This phone has features to please both the smartphone enthusiast and the casual user.
Design
The screen of the S4 is bigger and brighter than its predecessor, the S3. The S4 screen measures 5″ in diameter, giving you plenty of space for viewing and making typing easier. The S4 comes with an AMOLED screen with HD resolution, making the colors vividly bright and the text sharp.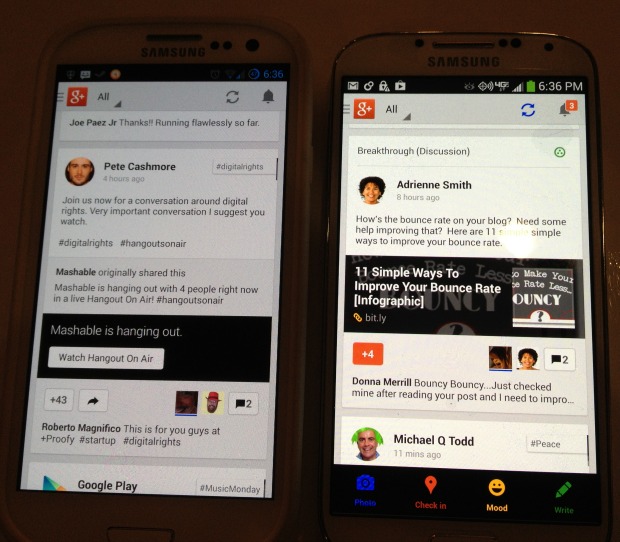 The phone comes in models with either 32 or 64GB of storage space, plus you can add a micro SD card up to 64GB, giving you a possible maximum storage space of 128GB. Note that native apps take up space so make sure you get enough storage space when you're choosing your phone.
The S4 has a solid build with physical buttons for volume, power and home. The bottom of the screen also has two virtual buttons for Menu and Back. The back of the phone has a plastic cover which you can hide with a case if you don't like the look or feel of it.
The S4 runs on Android 4.2 ("Jelly Bean") and comes with an IR Blaster and a WatchOn app, allowing the phone to function as a remote control for your TV and other devices. WatchON can also suggest shows you might enjoy watching. Check the Samsung website to see if WatchON is compatible with your devices.
The phone can also function as a Wi-Fi hotspot for up to 10 other devices.
In spite of all that it packs under the hood, the S4 is slender and light, measuring 0.31in/0.78cm thin and weighing 4.59oz/130.124gm.
Speed
This phone is speedy, both because of its 4G/LTE connection and its internal hardware. The phone comes with 2GB of memory and a very fast processor, allowing it to handle apps, videos, games and other functions with ease.
Battery
You might be concerned that the big, bright screen of the S4 would take a toll on battery life, but you should have no worries there, Samsung equipped this phone with a 2600mAh battery that should get you through the day with power to spare. The battery is removable, in case you're an extra heavy user and want to keep a second battery handy. The stated battery life of the S4 is up to 17 hours of usage and up to 12 days of standby time.
Keyboard
The large space of the S4 screen is well utilized by the keyboard. The keys are large and spaced well apart so you may not need an excuse for typos anymore when you type on your phone. The S4 comes with a standard keyboard as well as a Swype keyboard, you can choose between the two in Settings => My Device => Language and Input. The keyboard includes a number row across the top, further taking advantage of the screen real estate.
You can enable or disable Predictive Text that displays suggested words above the keyboard.
Smart Features
Samsung took the smartphone and made it smarter, giving the S4 unique features designed to make the phone easier to use and to "wow" your friends. With the S4, you can control many of the functions without even touching the phone, all you have to do is wave your hand or move your eyes. If you don't like these features, you can disable them in Settings.
Wave to Your Phone
If you've ever want to be a prestidigitator (a/k/a a magician) and make things happen with a wave of your hand, you'll be a big fan of the S4's Air Gestures. With these features, you can wave your hand over the screen of the phone to perform functions such as:
Air move: rearranging app icons and moving calendar events
Air scroll: scrolling through web pages
Air call-accept: answering phone calls
Air browse: move between photos, songs and web pages
Quick glance: show notifications when your screen is off
You can learn how each of these gestures works and practice them with step-by-step instructions in Settings on the phone or by visiting the Samsung website.
The S4 Knows When You Are Watching
The S4 can help you to pay attention to your phone and save battery life with Smart Pause and Smart Stay. With Smart Pause enabled, videos will pause when you turn your eyes away from the screen.
If you're the type of person who likes to cover your eyes during scary movie scenes, you might want to disable this feature before you watch a horror flick on the S4.
With Smart Stay enabled, the screen stays on when you're looking at the phone and turns off when your eyes turn away from the phone.
You can activate Smart Stay and Smart Pause in Settings to enable the phone to detect when it has your full attention.
Starter Mode
If the S4 will be your first smartphone you may want to start slowly with the basics and learn the advanced features later. The S4 can be used efficiently even if you never enable any of the smart features discussed above.
If you're the type of person who doesn't want to fuss with fancy features, check out Starter Mode. Starter Mode is a basic setting for your Home screen, designed to make it easy to get you your favorite apps quickly. You can add your favorite contacts to call or email them from your home screen.
You can switch back and forth between Starter and Standard modes and your settings will be saved. Access this feature by going to Settings => My Device => Home Screen Mode.
Camera
The camera on the S4 really shines, making great use of the phone's high quality screen. The S4 comes with 13MP rear and 2MP front cameras, along with HD video recording. The camera has plenty of settings for you to customize your shots, but the Auto mode makes taking pictures easy for you without having to bother with any settings.
Modes
When you open the Camera, you can see buttons to snap the photo, switch to video and choose the mode. You can select from Auto (the default mode), Best photo, Beauty Face, Night and Sports.
The camera gives you further options such as:
Sound and shot: lets you record audio to accompany your photos
Drama: combines a series of shots into one
HDR: gives your photos a rich tone
Eraser: takes away unwanted moving objects from your photo
Panorama: gives you a wide view
Editing
You can also edit photos after you take them with the built in editing features and filters.
Sample Photos
Here are some photos I took with the S4:
This slideshow requires JavaScript.
Picture-in-Picture
In case taking one picture at a time isn't enough for you, you can take a picture within a picture with the S4. Operate both the front and the rear cameras at once so you can capture a shot at the same time you capture your reaction to it. The image from your front camera can appear in a photo or video taken with the rear camera.
Sharing
You can share your photos using a smorgasbord of built in options, including Bluetooth, Instagram, Group Play, NFC, S Beam, email, text message, Google Plus, Facebook, Twitter, Picasa, Dropbox, Wi-Fi Direct and plenty of other methods. If you're not sharing your photos, it's not because of a lack of sharing options.
Learning the Camera's Features
If you're truly interested in learning all about the S4 camera, be sure to check out Samsung gets serious with the Galaxy S4: Camera review from Digital Photography Review. This 11 page review thoroughly discusses the advanced features of the S4 camera.
If you like to keep it simple, just point and shoot using the camera's default Auto mode. All of the sample photos I took with the phone were shot in Auto mode.
Availability
The Samsung S4 is available in white or black and in 32/64GB sizes from Verizon for $199.99/$249.99 with a two-year contract and $649.99/$699.99 without a contract.
Bottom Line
If you're looking for a cutting edge phone that is full of features but easy to use, check out the Samsung Galaxy S4. If you enjoy advanced features, you can delve deeply into all the S4 has to offer. If you want a phone that's simple to use but powerful, the S4 should satisfy you as well.
What do you think of the S4? Which features are the most appealing to you? Would you use the phone's advanced features or do you prefer using its basic features? Let us know in the Comments section below!
________________________
Thanks to Verizon for use of the Samsung Galaxy S4 for review. No compensation was received for the review of this phone and this article contains no affiliate links.