Samsung's latest phone, the Galaxy S5, is packed with novel features that make it an evolutionary upgrade over its predecessor, the S4. The improved hardware, extra battery life and impressive camera make the S5 worthy of your consideration if you're in the market for a new phone.
Design
The S5 runs Android 4.4.2, Kitkat and has a 5.1 inch full HD screen that presents bright and vivid colors to please those who are looking for a quality display.
The back of the phone is cased in a matted, dimpled plastic that hides fingerprints well. Those who aren't fans of the look can invest in a cover to mask the appearance.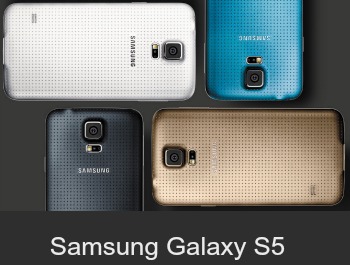 Battery Life
The S5 has a powerful battery that is rated at 27 hours of use and 20 days of standby time. The large HD large screen, fast processor and advanced features of the phone make the long battery life even more remarkable. In my heavy testing the S5 battery life lasted longer than I expected, never leaving me stranded with a dead phone.
The back cover is removable so you can switch out the battery for another one, should you find you need more juice.
Ultra Power Saving Mode
If you find yourself running low on power and don't have a power cord or spare battery handy, you can activate Ultra Power Saving Mode which transforms your colorful screen into black and white to conserve battery power. Ultra Power Saving Mode also restricts your access to six of your most essential apps (you must make the Sophie's Choice which apps are the most essential to you) and turns off Wi-Fi and Bluetooth.
This mode promises to give you up to 24 hours on 10% battery. Here's a video from Samsung showing you how Ultra Power Saving Mode can save a ruined day:
Storage
The S5 comes with 16 GB of storage. You can add up to 128 GB of storage with a microSD card.
Water and Dust Resistant
If you're headed to the beach or pool this summer you can worry a bit less about bringing your phone with the S5. The phone is liquid and dust resistant, with IP67 certification for submersion in water to a depth of 1 meter for up to 30 minutes.
The headphone port isn't covered but the charging port has a flap which must be opened to gain access to it. If you don't have access to a fingernail, paperclip or earring, or don't want the hassle of having to open the flap when you want to charge your phone, you may want to consider a wireless charging pad.
Speaker
The phone comes with a small, single speaker on the back which can make for some interesting case designs:
The sound is better than you would expect from a small, single speaker. Those who want a richer sound may want to connect headphones or a speaker to their S5.
Camera
Smartphone cameras are becoming more sophisticated and the S5 brings worthy competition. The phone comes with a 16 megapixel rear and a 2 megapixel front camera, both capable of taking HD video.
The camera has a wealth of features, including panorama and Fast Auto-Focus. You can also activate HDR and use included filters to enhance your images. The powerful features of the app also have a downside: the app is slow to open. Once you have the app open and ready to go you can take shots quickly.
Here's a gallery of photos taken with the S5:
This slideshow requires JavaScript.
One of the coolest features of the S5 may be Selective Focus which allows you to have the camera focus on one object while blurring everything else in the photo. Here's an image I took using Selective Focus:
Note that the images taken using Selective Focus use a massive amount of space on your phone. Be sure to move your photos off of the phone or you will rapidly run through the 16 GB of space on the S5.
Selective Focus seemed to be very selective about when it will work. I took quite a few shots where I got a notice that Selective Focus wasn't available because the subject was not detected, though the photo was saved anyway. Photos also take a long time to process using Selective Focus so it would be tough to get an action shot using this feature.
Flickr Album
To include images from the S5 in this article, I compressed them to make sure your computer didn't stall while trying to load this page. But I do want you to be able to appreciate the full brilliance of the photos, including the Selective Focus feature, so be sure to check out this Flickr album to see S5 images uncompressed:
Wonder of Tech Samsung Galaxy S5 Images Flickr
Buttons
The bottom edge of the phone has a physical home button, a touch back button and a touch multi-task button that shows you which apps are open. The Menu button is gone and has been replaced with three on-screen dots instead.
The power button is on the right side of the phone with the volume rocker button placed on the left.
S Health
Your S5 can function as a fitness tracker, measuring your steps, movement and calorie intake. By using the included S Health app you can have your phone record how many steps you have taken during the day with the built-in pedometer. You can map your runs with the GPS feature and log your calories consumed during the day.
You can sync this information with a Samsung account or keep it on your phone if you don't want to create an account.
Note that you have to be carrying your phone for it to record your movement. If you play a sport, such as racquetball or rugby where you're unlikely to have your phone on your person, you can link S Health with Samsung wearable devices, including the Gear 2 and Gear Fit.
Heart Monitor
The S5 has a nifty feature on the back of the phone, a heart rate monitor. Press any finger on the flash of the phone and the S Health app will record your heart rate.
In addition to measuring your current heart rate, you can also see graphs of your heart rate over time. Note that this monitor isn't guaranteed to be medically accurate, so don't depend on it if you have a serious health issue.
Fingerprint Scanner
The S5 puts your fingers to even more good use with a fingerprint scanner you can use to unlock the phone instead of using a passcode. You can also use your fingerprint to log into your Paypal account.
My Magazine
Swipe your home screen to the right and you're greeted with My Magazine, a Zite-like service that brings you articles of interest to you. You can add topics, such as News, Business, Style, and add social media accounts, including Twitter, Google Plus and Flickr.
Kids Mode
If you have little ones who are prone to cause mischief on your phone, you'll appreciate the Kids Mode feature of the S5. When you download this app you'll be able to restrict your kids to your approved apps and media.
You can create individual profiles for each child and add up to 30 apps to each profile. Kids Mode is passcode protected so you can be sure your children don't wander outside their virtual fence.
Kids Mode comes with some built-in apps and features that your child will probably enjoy exploring. The graphics are fun and interactive but may be a bit too childish to satisfy teenagers.
You can see the most frequently used apps over the past week and month, as well as how long your kids spend playing games. Parents can set a daily playtime limit for each profile.
Availability
The Samsung Galaxy S5 is available in:
Charcoal Black
Shimmery White
Copper Gold
Electric Blue
The phone is currently on sale at the Verizon website for $99 with a two-year agreement and $599 without an agreement.
Pros vs. Cons
The S5 has many features that may appeal to you and make it a phone worth considering.
Pros
Brilliant, large screen
Advanced camera features
Water and dust resistant
Battery Life
Kids Mode
Heartbeat Monitor
Fingerprint Scanner
Cons
Single speaker
Flap that covers charging port
Camera can be slow to open
Plastic back cover
Your Thoughts
Which features of the Galaxy S5 would you use most? Do you like that the phone is water and dust resistant or would you rather do without the flap? Do you like having a Kids Mode on your phone? Let us know in the Comments section below!