If you're looking to carry a single device instead of carrying a phone and a tablet, then you may quickly become a fan of phablets – large smartphones that give you lots of screen space but still fit in your pocket. The Galaxy Note 3 is Samsung's latest entry into the phablet market and offers plenty of features for those who want to make the most of their mobile device.
Verizon provided me with a Jet Black Note 3, running Android 4.3 (Jelly Bean), for testing. The phone comes with 32 GB of storage which can be expanded with a micro SD card up to 64GB. The stated battery life is 25 hours of usage and 21 days of standby.
Design
Size
The most striking feature of the Note 3 is its size: the screen measures 5.7″ which puts it among the largest smartphones being sold (the 6.3″ Galaxy Mega is currently the largest phablet). If you're looking for a phone with a big screen, you have achieved your goal with the Note 3. The Note 3 takes advantage of its size by offering features that make the phone much more useful and efficient. People who want to use these features will appreciate having the extra screen real estate.
Though its 5.7″ screen is larger than the 5.5″ screen of the Note 2, the Note 3's overall size is smaller. The Note 3 is made thinner by reducing the bezel around the screen, carving down the size the phone. The Note 3 is lighter in weight than the Note 2, so the increase in screen space doesn't translate into more heft for your hand.
One of the arguments often made against larger screens is that people like to use their phones "one-handed" and that phablets make that feat impossible, unless you have superhuman thumbs. Samsung addresses that issue by allowing you to activate One Handed operation mode in Settings. That mode shrinks the dial pad and other screens down to thumb-sized proportions.
Having a large screen means using certain apps is easier. I've been using My Fitness Pal (review coming soon!) on the iPhone 5s and found it better to use on the Note 3. The larger screen size made it easier for me to enter information such as meals, exercise information and other data.
But the app developer also uses the larger screen size of the Note 3 (and presumably other Android devices) to add flashing ads to the bottom of the screen, while the same app on the smaller screen of the iPhone is ad-free. Even with the flashing ads taunting me, I still prefer to use My Fitness Pal on the Note 3 than the smaller screen of the iPhone.
Leather-Like Back
People who have complained about the plastic backs of previous Galaxy smartphones will be silenced by the design of the Note 3. The phone has a smooth faux leather-stitched back that is pleasing to the touch and to the eye. The look is elegant and sophisticated, you won't want to hide this phone behind a cover. Time will tell whether the leather-like back will hold up to scrapes from keys in a pocket or purse, but it does looks great out of the box.
S Pen Stylus
As with the Note 2, the Note 3 comes with a stylus, called the S Pen, that is packed with features. If you're not a fan of styli, don't worry, you can use your finger for functions. But those who prefer using a stylus will appreciate the convenience of the S Pen.
One of the best features of the S Pen is how difficult it is to lose. I'm certain that one of the reasons styli went out of favor was because people were tired of losing them and having to replace them (I can't be the only one, right?).
The S Pen comes with a safeguard: the S Pen Keeper. Walk away from the S Pen with your phone and you will see and hear and alert reminding you that you have parted from your S Pen.
Note Taking Features
The Note 3 lives up to its moniker and elevates note taking to a higher level. Removing the S Pen from its slot activates Air Command, which isn't the military force it sounds like, but instead an array of features for taking notes. Your choice of commands include:
Action Memo
Scrap Booker
Screen Write
S Finder
Pen Window
Each is designed to enhance your note-taking capabilities. Action Memo lets you use the S Pen and phone as if you were using a pen and paper to take notes, then transforms your handwriting into digital form. Jot down a phone number and Action Memo will recognize its format and offer to add it to Contacts.
Scrap Booker lets you create notebooks where you can select the layout, category, and templates such as recipes, checklists and photo albums.
Screen Write lets you draw around an object on the screen to clip it and move it to another note. You can clip sections from web pages, photos and more to add to your notes.
S Finder lets you use typed or written text to search for information in your notes and on the Internet according to format (music, videos, photos, etc.) and time period. You can even use the S Pen to write symbols and search for solutions to math equations.
Pen Window allows you to create a new window with your S Pen so you can open a calculator or other window on top of another window. You can open up to four windows at once.
While these functions and features may seem overwhelming, Samsung helps you learn with on-screen tutorials that will appear each time you start to use a feature, until you check the box "Do not show again."
Mastering Air Command
Taking advantage of the advanced features of the Note 3 involves learning how they work and practicing their maneuvers until you get comfortable with them. As with any new skill, mastering Air Command will take both time and a willingness to learn. If you're willing to make that investment in a bit of time and effort, you'll be rewarded with a powerful device that provides you with a potent palette for your notes, recipes, scrapbooks, information, research and other data organization.
While I had the Note 3 for trial, I took it to a shopping mall where I happened upon a Samsung kiosk, filled with helpful folks eager to demonstrate the device. They also were giving away free coffee mugs with a Samsung logo on one side and a photo or drawing of your choice printed on the other side.
Although I was familiar with what the Note 3 could do, I was able to witness pros who were fluent in Air Command, using the S Pen deftly and fluidly to crop, copy and create notes. They drew circles around parts of pictures, moved them to a new screen, opened dual screens and shared notes, all within seconds. Their adeptness with the device was inspirational and impressive. I realized that, given enough time, I too could become fluent in Air Command.
In the beginning, make sure to familiarize yourself with the basics of these functions before you need them for taking notes. You don't want to be stuck in a meeting needing to jot down ideas while you figure out for the first time what Air Command does. With enough practice, Air Command could become as familiar as tying your shoes, but it won't happen instantly.
Multi Window
The feature that makes perhaps the best use of the massive screen size of the Note 3 is Multi Window which allows you to have more than one window open at once. You can open windows in landscape or portrait views and multi task from your screen. Just tap the arrow on the left side of your screen and choose which window you want to open.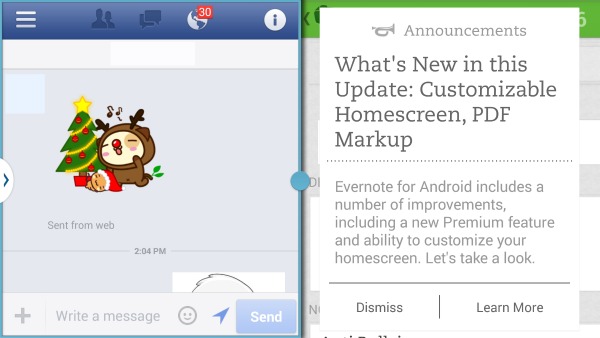 Not all apps are available for Multi Window but many of the key apps can be accessed including Facebook, Evernote, YouTube, Email, Music, Internet and more.
Voice Wake Up
You don't even have to touch the phone or the stylus. Using Voice Wake Up you can say, "Hi Galaxy" to turn on your phone and perform functions such as placing a phone call, sending a text message, playing music, getting directions and finding out the weather forecast.
Camera
Once you're done mastering Air Command, you can move on to learning the features of the camera. The Note 3's camera has many modes to make sure you get the best shot:
Auto
Beauty Face
Best Photo
Best Face
Sports
Surround Shot
Panorama
Eraser
Rich Tone (HDR)
Animated Photo
Drama
Sound & Shot
Golf
These modes combine with features such as Voice Control, Smart Stabilization, Burst shot, Face detection and others to make sure that you're capturing the optimal image.
If you don't want to mess with all of these features, you can just open the camera app, point and shoot.
The Note 3 has a 13 MP rear camera and a 3 MP front camera, both of which can record HD video.
Here are some sample photos taken with the Note 3:
This slideshow requires JavaScript.
Samsung Galaxy Gear
The Note 3 is compatible with the Samsung Galaxy Gear smartwatch and was once the only phone with that claim to fame. By combining the two devices, you will be able to take full advantage of the latest tech.
My review of the Gear: Samsung Galaxy Gear – A Smarter Smartwatch
Availability
The Note 3 is available from Verizon for $299 with a two-year contract and for $699 without a contract. You can find out more information from the Verizon website.
Bottom Line
The Note 3 is a large phone for those who want the convenience of a phablet, the power of advanced features, and compatibility with the Gear smartwatch. Those who are willing to invest some time in learning and becoming comfortable using the advanced features of the Note 3 will get the most out of the device. Those with smaller hands should try out the Note 3 in person to see whether the size of the phone is a comfortable fit.
Your Thoughts
Which features do you like best about the Galaxy Note 3? Do you like phones with a larger screen size? Do you like the note-taking features of the Note 3? Let us know your thoughts in the Comments section below!