You may already have your summer plans set, but if you are going anywhere in the US or Canada, check out Roadside America before your depart on your journey.
Whether you're traveling by plane, train or automobile, chances are there will be a quirky attraction somewhere near you. That's one of the great things about America, how many fun and funky tourist sites there are to visit.
How can you make sure that you don't miss any amazing attractions when you are on your summer vacation? Roadside America, a unique website and iOS app, will guide you to the unusual places to see that you might otherwise miss.
I was fortunate enough to find out about Roadside America as I departed for my Memorial Day weekend trip to the Jersey Shore. If you have never had the pleasure of traveling in New Jersey, you should remedy that soon. New Jersey is America's best kept secret, nothing like what you see from driving on the New Jersey Turnpike or watching the hit show Jersey Shore.
New Jersey has everything you would want for a vacation: beaches, mountains, lakes, museums, amusement parks and, best of all, more quirky attractions per square mile than any other state in the US. Okay, I made that last part up. But there are so many quirky attractions in New Jersey, I can't imagine that any other state could possible have more per square mile than New Jersey.
There are two tech ways to check out quirky attractions through Roadside America. The first is their website, roadsideamerica.com and the second is the iOS app, Roadside America, which works on the iPhone, iPad and iPod Touch.
With both the website and the app, you can search for sites by location. Headed to San Antonio, Texas? Check out Cascade Caverns complete with a dinosaur! Traveling to Minneapolis? Make sure to check out the Mary Tyler Moore statue in front of Macy's.
Roadside America can help you discover attractions such as these. Would you plan an entire trip around these attractions? Probably not, but you will have a lot of fun seeing what is in the area you're visiting anyway.
If you're lucky enough to be visiting the Jersey Shore, you might already know about the Victorian town of Cape May or the glittering attractions of Atlantic City. But did you know about Lucy the Elephant in Margate? Lucy is a bigger-than-life size structure that used to be a hotel but now is a tourist attraction. You can climb inside Lucy and see amazing views. How else can you see the Atlantic Ocean from the inside of an elephant?
But you don't have to travel to enjoy Roadside America. If you live in the US or Canada, check out what's near your home. Chances are there is a quirky attraction you didn't know about, no matter how long you've lived in the area.
I lived in the Princeton, New Jersey area for eleven years and was well aware of the Martian landing site in my hometown. There is a monument in honor of the The War of the Worlds radio performance that scared a nation but petrified the residents of Grover's Mill. I visited the site often as there is a playground right next to the monument. But I never knew about the nearby remains of a water tower that was shot out that night by terrified residents who believed the tower was a Martian space ship. If only I had the Roadside America app back then!
[Note: During my years in England, I lived near the Martian landing site in the book version of The War of the Worlds. Coincidence?]
You can discover more about these attractions as well as many others with Roadside America.
The iOS app gives you the advantage of researching these places when you're on the go. You can use the app's Location Services to find what quirky attractions are close by. A handy feature of the app is that you can search by list or by map to discover what is near you.
Perhaps you have decided to break up your trip and stay at a hotel but you arrive early and it's not time to check in yet. Open up your Roadside America app and find a fun diversion to help you pass the time until you can head to the hotel.
The US version of the app has an unusual pricing feature that I'm not thrilled about and hope they change. You can purchase one section of the country for $2.99 and the app will not expire. But if you want to purchase other areas of the country, you sign up for an annual $5.99 subscription that gives you the rest of the country for a year.
Here are the sections of the country you can purchase with the app: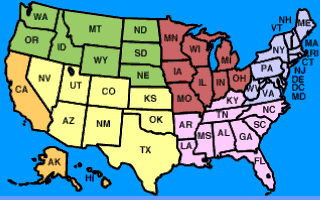 I suggest you purchase the app for the section of the country you visit the most frequently or where you live. I hope they change the pricing of the app so you can individually purchase each section of the country for a one-time price.
Bottom Line
If you like visiting offbeat places and quirky sites, check out Roadside America's website. If you have an iOS device, check out the Roadside America app and purchase the app for the area of the country where you will use it the most. Hopefully that includes the State of New Jersey, home to many things quirky!
Do you enjoy visiting unusual sites? Do you like to discover quirky attractions? Let us know in the Comments section below!
* Image by Amy Kearns
** Image by Gavin Heck
*** Image by slgckgc