Don't you just love ringtones? Not really? Well, you should reconsider because ringtones are almost an essential part of having a cell phone. Ringtones are a phone's way of telling you who is calling.
What Are Ringtones?
A ringtone can be a song or a sound, such as chimes, a car honking, animal sounds, an old fashioned phone ringing, a recording of someone's voice or other melodic or silly sound. You can choose a default ringtone that rings for everyone and special ringtones for those extra important callers.
Ringtones generally don't ring and they aren't tones. It's the sound a phone makes when someone calls or texts you. Almost all cell phones have the option of setting ringtones for individual callers. You don't need a smartphone to set ringtones.
Why Should I Use Ringtones?
Ringtones alert you to when important calls are coming in. You probably have Caller ID on your cell phone so you can read who is calling. But ringtones have many advantages over Caller ID. Ringtones are:
Faster. No matter how quickly you read, a ringtone is a faster way of notifying you than Caller ID.
Less distracting. Keep your eyes where they are, your ears will tell you who is calling.
More versatile. You know who is calling even if your cell phone is in a different room.
Unique. You will know immediately if yours is the phone that is ringing.
Ringtones alert you to important callers. Waiting to hear about a job interview? Set a special ringtone so you have a few extra seconds to compose yourself before answering the phone. Want to make sure you don't miss calls from your kids? Give them a special ringtone. Do you have a colleague at work who drives you crazy with unnecessary calls? A special ringtone for him will alert you to let the call go to voicemail.
Great, How Do I Get Ringtones?
Each cell phone comes with standard ringtones, you can generally find them in the Settings section of your phone. Listen to all of them to decide which ones work best for you and your contacts.
If you want to have fun, you can jazz up your phone with custom ringtones. How you get custom ringtones will depend on your phone. If you don't have a smartphone, you may want to use a download service for a wide selection of ringtones. Here is an article that reviews the top 10 ringtone download services with advice on how to choose one: Ringtone Download Services Review.
You should also check out the Zedge website where you can download thousands of free ringtones, including the themes from Angry Birds and Looney Tunes!
If you have an Android phone, you should check out the Zedge app which is free in the Android Market. Zedge has hundreds of thousands of ringtones available for free. You're sure to find the songs and sounds you want in the Zedge app.
If you have an iPhone, you can purchase ringtones from iTunes or make your own. Making your own ringtones requires several steps, but it might be worth it to have the custom ringtone you want. An advantage of creating your own ringtone is that you can start the ringtone from the middle of the song, you don't have to start from the beginning of the song.
Creating Ringtones for the iPhone
The two ways I make ringtones are through instructions from a handy website and with an app. Both involve jumping through some hoops so do this if you have a few minutes and are feeling adventurous.
The first is a website that explains step by step how to make a ringtone from songs you have in iTunes: iPhone Ringtones: Create FREE iPhone ringtones using iTunes 8. The post is from 2008 but the instructions still work. I have used these instructions to make about a dozen different ringtones. For example, when I created the Papa Don't Preach ringtone for my father, I wanted the ringtone to start with the word "Papa" instead of the long introduction to the song. Using the website instructions, I was able to create a ringtone that starts with "Papa" so I know immediately when my father is calling.
The other method I use is an app called Dring. Dring is available in the iTunes App Store for $1.99. The apps allows you to select which part of the song to use as a ringtone.
Why did I buy an app when I could just use the instructions on the website for free? I created a Mad Men theme ringtone with the website instructions, but it wouldn't appear on my iPhone for some unknown reason. The ringtone appeared in the Ringtone section of my iTunes, but it wouldn't show up on my phone. When I used Dring, the ringtone worked perfectly. The app costs a little more than buying one ringtone from the iTunes Store, plus the app allows you to customize your ringtones, unlike purchasing a ringtone from iTunes or another website.
Ringtone Advice
1. Choose your ringtones wisely. Just because a song is your favorite doesn't mean it will make a good ringtone. You want a song that will get your attention and that you won't mind hearing over and over again.
2. Don't go overboard. If you have too many ringtones for different people you won't be able to keep track of which tones are for which callers.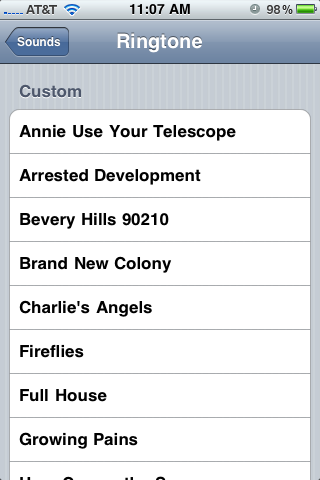 3. Try to associate ringtones with the person they are matched with. For my oldest daughter, I use a song with her name in the title. For my father I use the Papa Don't Preach ringtone I created (though I value his advice tremendously, the song gets my immediate attention). For my husband I use the Mad Men ringtone I created since it's his favorite show. A friend of mine has a recording of her daughter saying, "Mom, pick up the phone!" You get the idea.
4. Don't choose embarrassing ringtones. You never know when a ringtone will sound (we all forget to put our phones on silent sometimes) and you don't want to be embarrassed. An EMT worker once had the Funeral March set as the ringtone for his ex-wife. He was on duty trying to resuscitate a heart attack victim when the patient's wife asked if her husband was going to survive. Just then the EMT's ex-wife called and the Funeral March started playing. Ouch.
Here is another example of a ringtone playing at the wrong time:
Don't let these examples scare you off of ringtones. Used wisely, ringtones can be a useful tech tool!
Bottom Line
Use ringtones to alert you to important calls (or calls to be avoided). You can use the ringtones that come with your phone or get special ringtones that you buy or create. By using ringtones you will know immediately who is calling and whether you want to take the call.
Do you use ringtones to identify your callers? Have you ever been embarrassed by a ringtone? Let us know in the Comments section below!
* Image by Chris Messina
** Image by Richard Cornish