When it comes to road trips, tech is my friend. I learned the hard way when they were young that my kids tend to get car sick. Long car trips were a nightmare until a true genius thought of offering an optional vcr and tv in a mini van. I was one of the first in line to get an Oldsmobile Silhouette with that option. I didn't care if the car had windshield wipers, so long as the vcr could keep my kids distracted during car rides. (Unfortunately for Oldsmobile, other car companies caught on to the idea and Oldsmobile went out of business a few years later.)
That tech trick worked beautifully. On long car trips, I could listen to the radio (this was before I discovered audiobooks) while my kids were listening to their Barney videos with headphones. No one was car sick. No one complained. Everyone was happy!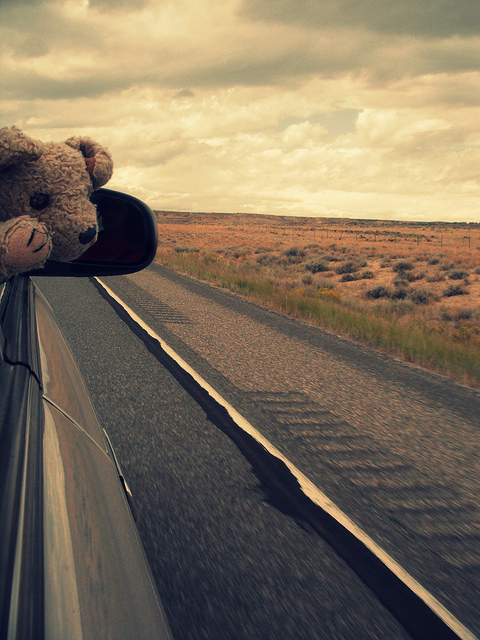 When I moved back to the US from England last summer, I knew my car had to have a dvd player as an option. I was delighted to learn that Ford's entertainment option has two screens and two dvd players. The screens can play two different dvd's or the same one. How cool is that?
Happily for me, my kids have graduated from Barney and now either watch our current Netflix dvd or play cd games (Press Your Luck and Deal or No Deal are their favorites). I listen to my audiobooks in the front seat. Happy family.
Road trips are one of the many instances when I wonder how people survive without tech.
How about you? Does your family rely upon tech to keep everyone happy during long car rides? Vote in today's Wonder of Tech poll and let us know!
*********************************************************************************
What magic tricks do you have to keep everyone in the car happy? Do you have a tech or non-tech way of avoiding misery during a long car trip? Do you know of helpful apps to keep the kids entertained? Please share your helpful hints in the Comments section below!
* Image by Snugg LePup
** Image by James Vaughan