When you pin an image on Pinterest your goal is probably to share it with the world. The more people who see and repin your image the better!
But while discovering new pins is fairly simple, the other part of Pinterest, having your pins discovered by others, can be a bit more challenging. Pinterest is like a visual Twitter, you have the opportunity to share your message widely. But like Twitter, getting followers on Pinterest can be a chore.
Get a head start in sharing your pins with others by using Group Pinterest Boards. When you join a Group Board you have instant access to the stream of every member and follower of that board. Group Boards can have thousands of members and followers, immediately increasing your audience.
What Are Group Pinterest Boards
Group Pinterest Boards are just what they sound like: boards where multiple people can pin. When you pin to a Group Board everyone who's a member or follower of that board will have the opportunity of seeing your pin in their Pinterest stream. If you join a group with 20,000 members and followers, then that's 20,000 people who could see your pin on that board. Instead of your pins being seen by only your followers, your pin will be exposed to all the members and followers of the Group Board.
What You Need to Know About Group Boards
You can follow any public Group Board but you won't be able to pin to it unless you're a member of the board. There are two ways of being able to pin a Group Board: joining a Group Board or starting one yourself.
If you're just becoming familiar with Group Boards, you may want to join a few first before starting one to understand how Group Boards work. Starting one yourself involves a time commitment that includes inviting members and monitoring the board for spam.
Joining Group Boards
To join a Group Board you must be invited to it by either the creator of the board or a member of it. Some Group Boards explain in the board description how you can request an invitation.
You will get an email notification when you are invited to join a Group Board.
To accept an invitation to a Group Board, click on the notifications button in the upper right corner of Pinterest. You will see a notice of any invitations you have received. Click Accept to be added to the Group Board.
Leaving a Group Board
You can leave a Group Board at any time. Go to the board on your home page, click on Edit Board. A list of group members will appear, including your name. Click on the Leave button next to your name.
Inviting Others to Group Boards
You don't have to be the creator of a Group Board to invite someone to join. Any member can send out an invitation. After you've joined a Group Board you can invite anyone you follow on Pinterest to join the board.
Using Group Boards
When you look at your boards, you can see which are group boards by seeing the people icon: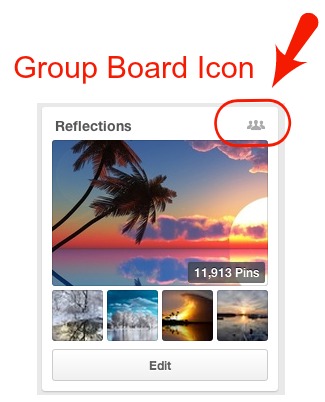 This icon will appear to the right in the boards on your Pinterest home page and in the list of boards to which you can pin. When you're pinning to a board, it's very handy to see which of your boards are group boards so you can be sure to get the maximum exposure for your pin.
Be sure to play fair. Only pin images to the board that fit within the theme of the board. Anything else would be considered spammy.
Remember the 80/20 Rule of Social Media: pin others' images 80% of the time and your images 20% of the time. If you're using a Group Board solely to promote yourself, then you risk getting removed as a member.
Things to Remember About Group Boards
Group boards are not permanent. The creator of the board can delete it at any time, making all of your pins disappear. I've been a member of several group boards that have disappeared over time and still miss them. You find out a Group Board has been deleted when you try to find the board or pin to it, only to discover that it's no longer there.
Spam can be an issue with Group Boards. Because Group Boards have the potential to be seen by a large audience, they can fall prey to spammers who put inappropriate pins on the boards. Because Group Board creators are the only people who can delete pins, they must monitor their boards to make sure that members are behaving properly. (See above)
Starting Your Own Group Board
Starting your own Group Board is easy, you can turn one of your existing boards into a Group Board or start a new one.
1. Once the board has been created, click on Edit Board.
2. A new window will appear with editing options. At the bottom is a field for Who Can Add Pins?
3. Type in the name of anyone you follow on Pinterest.
4. They will be sent an invitation to join your Pinterest board.
5. Once one person has joined your board it becomes a Group Board.
As a creator of a Group Board only you can delete pins from the board and remove members.
You can learn more about Group Boards from the Pinterest Help page.
Secret Group Pinterest Boards
Group Pinterest Boards can be secret boards, meaning that only the members of the board can see what is pinned to the board. Be careful though, don't rely 100% on the secrecy of the board.
The creator of a secret Pinterest board can make the board public at any time. Any member of the secret group board can invite others to join the board.
See, How to Create a Secret Pinterest Board in 3 Easy Steps for more information about secret Pinterest Boards.
When to Pin for Maximum Exposure
Whether you're pinning to a Group Board or your own board you can increase the likelihood that your pin will be seen by timing your pinning.
The Pinterest blog last week revealed the most popular days for pinning:
Monday: fitness pins are hot
Tuesday: technology pins are popular
Wednesday: inspirational quotes can get you through hump day
Thursday: plan what you'll be wearing this weekend with fashion pins
Friday: celebrate the end of the work week with humor pins
Saturday: dream about your next getaway with travel pins
Sunday: get inspired for your next meal or project with food and craft idea pins
Your Thoughts
Have you ever joined a Group Board on Pinterest? Have you ever started a Group Board? Have you found them to be effective ways to get your pins noticed? Let us know in the Comments section below!