See my full review of Pebble Time: Pebble Time — Is This the Smartwatch for You?
---
A Kickstarter record was shattered when Pebble announced its latest project: Pebble Time. Breaking Kickstarter records is nothing new for Pebble but watching its Kickstarter page was yesterday was witnessing tech history being made.
Pebble Time's initial goal of $500,000 in funding was smashed within a mere 17 minutes with over $1 million being pledged in the first hour. Within 4.5 hours over $5 million had been raised. In under 12 hours, Pebble raised more than $7 million for its latest project. At the time of this publication, less than 24 hours after the Kickstarter campaign was launched, Pebble has raised $8.5 million.
You can see a real-time graph of the amount being raised on Kickstarter by Pebble Time at Pebble Time Tracker.
Pebble Time is due to be released in May 2015 for $199 in three colors: black, white and red. Unlike the first generation Pebble watch, Pebble Time has been totally developed and the Kickstarter campaign is to fund mass production of the device.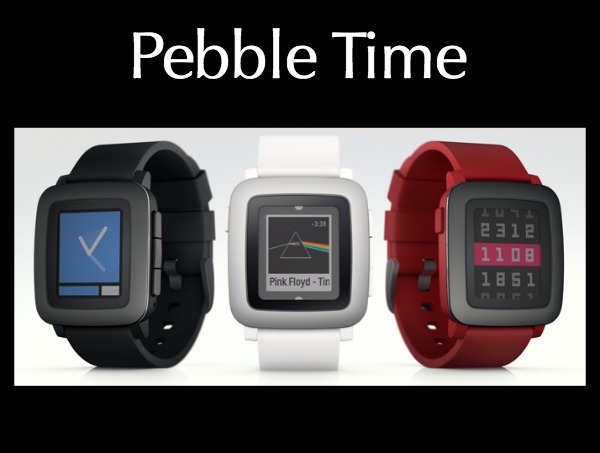 The campaign is scheduled to end on March 27, 2015 at 10 pm EST but don't be surprised if it ends early. The initial Early Bird level of $159 sold out within an hour and Pebble expanded its next $179 level from 20,000 backers to 30,000 on Day 1.
Pebble is the fastest project to ever raise $1 Million on Kickstarter. ~30 minutes: https://t.co/bUWViWal6a @Pebble @ericmigi

— Kickstarter (@kickstarter) February 24, 2015
Update: Check out Pebble's Ask Me Anything (AMA) on Reddit for more information from the developer about Pebble Time: Pebble Time Reddit AMA.
What's So Special about Pebble Time?
Pebble Time will be compatible with iPhone, Android and Samsung smartphones running the latest operating systems. With a color e-ink screen that can be viewed in direct sunlight, the watch has a whopping 7 day battery life, the same as the original Pebble watch.
The Time is 20% thinner than its predecessor and curved for a more comfortable fit. You won't have to take your watch off to go swimming or take a shower, Pebble Time is water-resistant. The Time will be backward-compatible, running apps designed for the original Pebble watch and the Pebble Steel.
The quick release bands let you change the strap within 10 seconds. Standard 22 mm bands should fit the watch. The back of the watch has an accessory port so you can attach other devices such as a heart monitor or GPS device, that may be developed in the future. Vibration alarms will be available on the Time.
Timeline
Pebble has redesigned the watch app navigation with a clever method so you can scroll through the apps more easily using the three buttons on the right side.
1. Press the upper button to access apps that give you information about the past, such as:
Email
Text messages
Fitness tracking
Sports scores
2. Press the middle button for present:
Current time
Music that's playing
Incoming calls
3. Press the bottom button for apps in the future:
Calendar appointments
Weather
Alarms
Pebble said in its campaign that it would eventually be bringing Timeline to the original Pebble watch sometime in the future.
Microphone
A major new feature of Pebble Time is the addition of a microphone that will broadly expand the functionality of the watch. For now Android owners will be able to make the best use of the microphone to do things such as leave voice messages and dictate text.
iOS users will be restricted to using the microphone only to dictate Gmail messages, but Pebble hopes that microphone use for iPhone will be expanded before the launch of Time.
From Pebble:
Sending voice replies works with most major Android apps including SMS, Hangouts, Gmail, Facebook Messenger, Whatsapp and hundreds more. For iOS users, voice replies are currently limited to Gmail notifications. We're working to enable voice replies for more apps."
Pebble Time vs. Apple Watch
By utilizing Kickstarter, Pebble was able to generate excitement and sell its new watch before the Apple Watch launch due in April, even though Pebble will be launching Time in May. The inevitable comparisons between the two watches mean that the battle will be fierce.
Battery Life
Apple — 1 day
Pebble Time — 7 days
Screen
Apple — Retina display
Pebble Time — E-ink
Microphone
Apple — Yes
Pebble Time — Yes
Apps
Apple — Probably thousands
Pebble Time — 6500+ for the existing Pebble watch
Navigation
Apple — Touch screen and digital crown
Pebble Time — Timeline and buttons
Style/Color Choices
Apple — 3 styles in 2 sizes and 6 colors
Pebble Time — 3 colors
Compatibility
Apple — iPhone
Pebble Time  — iPhone, Android, Samsung
Availability
Apple — April 2015
Pebble Time — May 2015
Price
Apple — prices begin at $349
Pebble Time — $199
Your Thoughts
Are you excited about Pebble Time? Which features do you like the best? Do you think that Pebble Time can compete with the Apple Watch? How much money do you think the Kickstarter campaign will raise? Let us know in the Comments section below!