Have you ever wished there was a radio station that played just the music that you like? A radio station that played all your favorite songs and avoided songs you didn't like? Well, your wish has been granted by Pandora, an Internet radio website that allows you to customize your music and then listen to your favorite songs.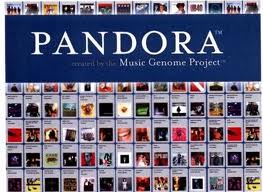 Background
Pandora is the creation of the Music Genome Project, a group of musicians and technicians who determine musical preferences by digitally analyzing music using algorithms. Pandora radio was born from their efforts to evaluate songs based upon musical "genes". After analyzing thousands of songs, they developed Pandora radio which allows users to listen to music they like and avoid music they don't like.
How Does It Work?
Go to Pandora's website to create your account. Then create your station by entering a song or an artist whose music you enjoy. Pandora will immediately begin playing music. You can then help Pandora learn your musical preferences by voting whether you like the song or not, clicking on thumbs up or thumbs down. The more you click, the more accurately Pandora will determine your musical tastes.
If you click thumbs up, Pandora will tell you that they appreciate the feedback. If you click thumbs down, Pandora will apologize, skip ahead to a new song and register your displeasure at hearing that song. You can also skip ahead to a new song by hitting the fast forward button. You are limited in how many songs you can skip in an hour, but you can give a thumbs up or thumbs down for as many songs as you like, or don't like.
To help Pandora figure out your preferences more quickly, you can click on the Add Variety button on the left side of the screen to add more songs or artists to your station. Or you can completely change the music by adding a new station. You will probably discover new songs you like as Pandora learns your musical preferences.
If you get a brain freeze when trying to think of music you like, no worries, Pandora has stations you can choose based upon music genres such as Today's Hits, Classic Rock, Hip Hop, Club/Dance and Old School. You can also connect with Facebook to see what your friends are listening to. (You have a choice to share your stations with others or keep your music private when you create your account.)
On Pandora you can pause the music, read the lyrics to songs, bookmark songs, share your station with friends and buy music on iTunes and Amazon.
Bad news for The Wonder of Tech's international readers: Pandora only works in the US.
Can I listen to Pandora when I'm away from my computer?
Absolutely. Pandora has done a great job of spreading its accessibility across a wide variety of devices. Pandora has free apps for Android, Blackberry, Palm, Windows and iOS (iPhone, iPad, iPod Touch) mobile devices. Some new vehicles have Pandora available in their sound systems, including certain Ford, Chevy and Toyota models. You may already own other devices that play Pandora, such as Roku; Tivo; Samsung, Sony and Panasonic Blu-Ray dvd players; Sony and Panasonic tv's; and other devices listed on Pandora's website.
Sounds great! How much do I have to pay for all of this musical goodness?
Pandora has both free and paid versions, with limits on the free version. First, Pandora limits your listening to 40 hours per month. Second, you can only skip so many songs per hour. After you have reached your maximum number of skips, you can still vote thumbs down, but you can't skip ahead to the next song. Third, there are ads, both commercials that play after every few songs and ads on the screen of the website and apps.
You can upgrade to the paid version, Pandora One, for $36 per year to get unlimited listening, a desktop application, no ads, more skipping of songs, and higher quality audio.
Try Pandora free first to see whether you're hooked and then upgrade to Pandora One if you discover that Pandora is indeed music to your ears.
*************************************************
Tech Follow Up
On Friday in Tech-Knowledgy: Your Questions Answered!, I shared a video from Google that was an April Fool's Day joke about Google's new invention called Gmail Motion. Well, it was supposed to be a joke, but industrious hackers were busy over the weekend making Gmail Motion a reality using Kinect sensors from Xbox 360. I can't imagine this is going to be a big hit, but the video is fun to watch anyway:
*Image by K. Todd Storch
**Image by Thomas Hawk