Check out The Wonder of Tech in today's Philadelphia Inquirer!
************************************************************
Your smartphone just got a whole lot smarter and you may not have even noticed.
Pageonce, a personal finance app that lets you manage funds and pay bills from your smartphone, recently launched a unique bill paying feature to its iPhone and Android apps. Last week, Steve Schultz, COO of Pageonce, gave me a demonstration of the app.
Pageonce allows you to simplify your finances by accessing them from your smartphone. With the app you can monitor your finances from banks, credit unions, credit cards and investment accounts. Schultz compared Pageonce to "a remote control for financial services" with over 8000 institutions included within the app. You can set up reminders when bills are due and see statements directly from your phone. You can track credit card rewards and check your credit score. You can also set up alerts for when your account balances run low.
Two weeks ago, Pageonce was updated to include the ability to pay your bills directly from the app on the iPhone and Android phones (this feature is coming soon to the iPad). Schultz pointed out that the advantage of using Pageonce over a banking app is that, "you can pay your bills from multiple accounts and view credit card statements from within the app. You can't do that with a banking app."
This video from Pageonce demonstrates how the bill paying feature works:
Schultz explained that when you pay a bill you have a choice of paying in person, by check through the mail, or on the Internet through an online banking website or a biller's website. With Pageonce, you can pay a bill from your smartphone using funds from any of your accounts, including a credit card, eliminating the need for multiple apps. You can even have the payment receipt emailed to you.
The Pageonce app is free in the iTunes App Store and the Android Market. Monitoring your finances is free, but Pageonce charges $4.99 per month for the bill paying service.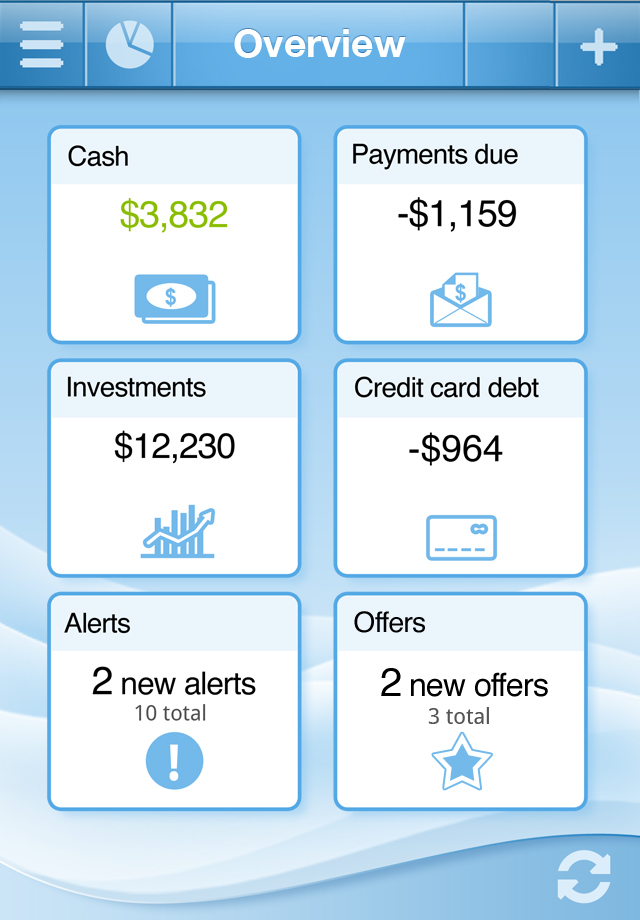 Pageonce has been around for a while. According to Schultz, the app launched in 2008 and was one of the original 500 apps in the iTunes App Store. According to Schultz, the app has had tremendous growth and currently has 5.3 million users. The app is one of iTunes App Store Essentials and has won the Editors' Choice Award in the Android Market.
Security is a top priority for Pageonce and the company takes it extremely seriously. Schultz states that, "Pageonce has bank-level security and that security has never been breached." The company is certified to be secure by Trust-e, Verisign and McAfee.
Pageonce takes further steps to protect the user by requiring a password to access the app. A user can restrict the use of the app and its information to only once device, so even if someone hacked into your iTunes account from another iPhone, he couldn't access your Pageonce account.
If your smartphone is lost or stolen, you can wipe the device by logging into the Pagonce website. If the passcode is entered wrong repeatedly, the app locks to thwart hacking attempts.
Although Pageonce launched its bill payment feature just two weeks ago, Schultz said the company is looking ahead to future advances. In the near future, Pageonce will be expanding bill payment to the iPad app. Pageonce is also working on an enhancement that allows the user to scan a bill with a smartphone camera to enter information about the biller, making the set-up of an account very simple.
A longer term goal for the company is to expand their financial services so that users can pay for items at a store by using their smartphones. The service would be similar to Google Wallet, but with the capability of accessing any of the user's credit cards or other accounts to pay for the items.
You can check out the iPhone app here: Pageonce for iPhone
and the Android app here: Pageonce for Android
Are you looking forward to managing your financing on your smartphone? Would you like to pay bills when you're on the go? Let us know in the Comments section below!