The Wonder of Tech is pleased to welcome guest author Liz Sexton who shares her review of Notability, a feature-filled app that helps you take notes on your iPad.
**********
Taking notes on the iPad is a great choice for someone who likes to have everything in one place. You don't have to carry around a notebook; instead your notes are on your lightweight iPad.
Notability is a useful note-taking app that can do it all. You can use a keyboard, a stylus, or your finger to take detailed notes. After trying a couple of different note-taking apps, I have come to the conclusion that Notability is the best note-taking app for the price.
Compared to some other note-taking apps, Notability comes out on top because of its wide range of features  that other note-takings apps do not all have. I prefer Notability because:
Notability gives you the ability to type notes as well as draw, unlike other apps where you can only draw with your finger or a stylus.
Notability's zoom feature for writing is also a definite advantage, as it allows you to control the size of your writing more easily.
Notability has categories and sub-folders, instead of just a list of your notebooks, which helps keep all of your notes organized.
Features:
Notability has many powerful and helpful features that makes taking notes fun and helps keep you notes organized on your iPad. When you open Notability there will be a list of the categories and sub-folders that you create to keep all of your notes organized. For example, I have a category named School, and within it I have six subject folders. In each subject folder will be a list of all of the notes that I've taken.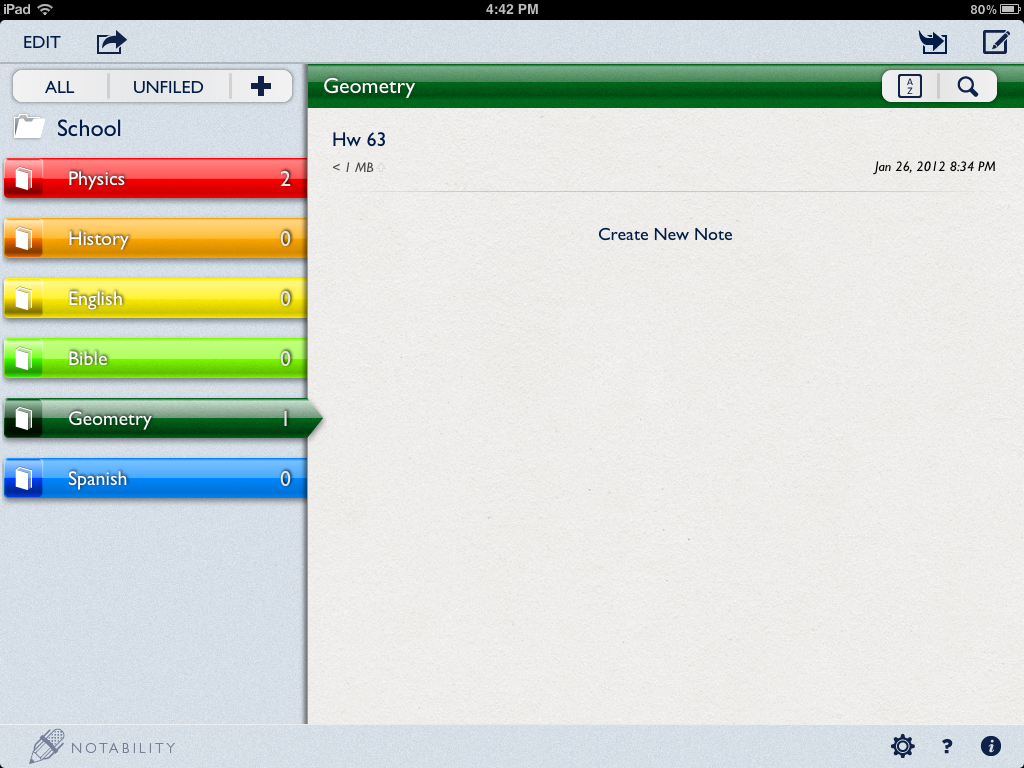 You can create multiple categories in Notability. For example, you could have a Work category and a Home category with different subject folders in each category in order to keep your notes organized.
Notability has many features of a word processing program, including spell check, bullets, italics, bold, and underline. Notability also allows for audio recording to make sure you don't miss a word.
Using Notability
In spite of having all of these features, Notability is easy to use. The first time you use the app, a guide walks you thorough how to use the app. The icons are intuitive so you don't need to learn a lot to use the app.
When you open a blank document you have the ability to type notes, just as you would with a traditional word processor such as Microsoft Word or Pages, or you can write with your finger or a stylus. You can be creative with your notes. There are many different styles of paper, fonts and ink colors to choose from. You can use plain, lined or graph paper with options for the spacing of the lines and grids.
The variety of tools can help you make one section stand out over another. You can combine written, drawn and typed notes. If you would like to add a drawing or diagram to your typed notes, you can do that by clicking the pen icon at the top right of the page. The pen option has twelve different widths to choose from and sixteen different colors. You can also switch to the highlighter that has the same features.  You can also add photos, web clips, or a drawing to your notes.
For those who prefer handwritten notes more than typed notes on the iPad, you can do that too. Since it can be hard to write with your finger or a stylus on the iPad's screen without making your handwriting too big or sloppy, there is a zoom feature that solves that problem. The zoom feature brings up a large space for you to write in. You just write in the space given in the box on the bottom and your text will be put onto the document where you want it to be, in a reasonable size.
You can edit your notes within Notability with features such as cut, copy and paste, or you can use drag and drop to rearrange your notes. You can edit the color and width of your drawings as well.
You can also import a PDF into Notability and annotate it. If you need to download a PDF from your email or a website you can choose the option to open it in Notability. Once it's open in Notability you can highlight certain parts and then use the zoom feature to write notes on the side.
Sharing
Notability has some great ways of sharing notes that you take using the app. On the top left of the screen there is a share/export button that will bring up options for sharing.
The first option is to email the document to yourself as an attachment so that you can view it on your computer where you could then view it and print it out. Unfortunately, when it is emailed to your computer you cannot edit it because it is not a Word document. If you want to send it as an attachment to someone else you can simply email it to that person without leaving the app, using the email option.
The next option, which I think is the most efficient option, is to save your note to Dropbox, where you can easily access it from your computer. When you send your note as an attachment or save it to Dropbox, the app will give you the option to send it as a PDF, RTF, or a note.
Another option is to save your notes to iDisk, WebDav, or to Airprint them, but that can be a hassle if you do not have iDisk, WebDav, or don't have a printer that is compatible with the iPad to print wirelessly.
Video
Here's a demo video of Notability from the developer:
Notability in iTunes App Store
Notability is available for the iPad in the iTunes App Store. The regular price for Notability is $4.99, but it is on sale now for a limited time for $0.99.
Bottom Line
Notability is a great note-taking app for under $5.00. If you want an app that can do it all when it comes to note-taking, then Notability is that app for you. With typing, drawing, and annotating, Notability is one of the best full-featured note-taking apps out there for the iPad.
Do you use your iPad to take notes? Have you tried other note-taking apps? Let us know in the Comments section below!