The Wonder of Tech is delighted to welcome back Liz Sexton, author of Take Note of Notability!, the fourth most popular article of all time here at this site. Today Liz is back to share with us her favorite fitness app, Nike Training Club.
************
There are plenty of ways to get fit but fitness apps can help keep you fit wherever you are, without the need for a gym or personal trainer. With tons of fitness apps promising to deliver the best work out how can you deciding which app to download? With many apps you have to shell out $3 to even try them, so finding one that's the best fit can be a challenge.
I've tried plenty of fitness apps and I can honestly say that Nike Training Club, delivers the best workouts in a user-friendly way and best of all, it's free!
Who Should Use Nike Training Club
Nike Training Club gives a workout that can challenge anyone from an aspiring couch potato to a serious athlete. This app is for you — no matter what your fitness level is, there are workouts designed specifically for you.
Fitness Levels
You can choose fitness from beginner, intermediate, and advanced. The first time you use the app choose beginner, even if you think you're in shape. I thought I was in good shape, but every day after doing a workout on beginner, I woke up with muscles that I didn't even know I had hurting (but in a good way).
The Workouts
Workouts are classified into categories,:
Get Lean
Get Toned
Get Strong
Get Focused
Each workout is explained clearly and designed to target different end results. You can experiment with each category to get a total workout or focus on your favorite one for a specific target.
Each workout is 15-45 minutes made up of 30 second to 1 minute circuit workouts. The app includes videos of each workout to demonstrate how it's done properly. The Get Focused category contains quick 15 minute sessions that focus on particular muscles.
Choose a 4-week Program from Get Lean, Toned, or Strong to be given a workout schedule designed to keep you pushing yourself consistently. Rest days are built into the schedule so that your muscles have time to recover, you do not overexert yourself. Doing the program is a positive motivator, because you are less likely to skip working out in a day because of the set schedule.
My Experience
The first workout that I did was Sweat and Shape in the beginner category of Get Lean. This workout is 30 minutes and includes exercises such as:
hip lifts
squat jumps
planks
kick downs
side lunges
burpees
Sweat and Shape is a good workout to start with, because it introduces you to the basic exercises. The day after I did this workout, I could not sit down without feeling sore. However, now I can do it more easily and I feel much stronger, and not as sore, which shows the effectiveness. of the app.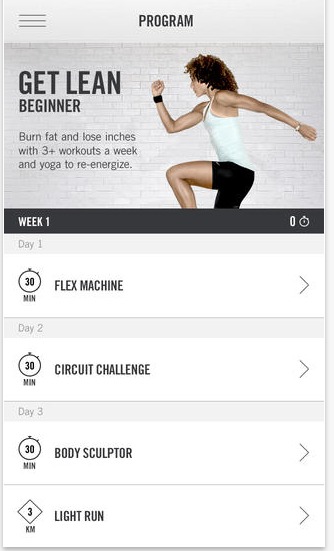 A workout that I have built up to that I really like is Total Impact in the advanced category of Get Lean. I choose this 45-minute workout when I really want to work every muscle during the session, opposed to focusing on a specific area. There are about forty 30 seconds to a minute exercises that include:
lunges
squats
burpee to shoulder press
push up to plank row
jump wood chops
and many others
Optional Syncing with Nike FuelBand
Nike Training Club syncs with the Nike Running app and works with the Nike FuelBand. On the days when the app tells you to go on a jog as part of the program, the jogs are tracked with the Nike Running app and then synced with Nike Training Club to verify that you did actually go for the jog. Nike Running then gives you the Nike Fuel points associated with your run, getting you closer to your goal.
➪ See 10+ Ways the Nike+ FuelBand Can Make You Move!
When you're not going for a jog, and instead just doing a workout session on the app, you tell your Nike FuelBand that you are starting a session in Nike Training Club, and it will add the Fuel points to your daily goal. In the Nike FuelBand app, you can see the fuel points from your workout session added to your daily total.
You don't need the Nike FuelBand to use Nike Training Club. Each workout tells you approximately how many Fuel points you will earn for that particular workout. Fuel points are Nike's own way of measuring activity so that you can measure your activity against other Nike users. This takes the emphasis off of calories, and puts it on activity.
Motivation
Nike Training Club helps you stay motivated – each time you hit a milestone you get a trophy plus some trophies will unlock a new workout that you could not access before, like leveling up in a game. The app puts you on a path to achieve goals that you set for yourself and encourages you to keep following that path. It's hard to just put it down and forget about it, like many of the other fitness apps that only have videos of workouts. Seeing your progress in the app makes you want to complete the program, and then go on to achieve your next goal.
Availability
Nike Training Club is available free for iPhone, iPad and iPod Touch in the iTunes App Store and for Android devices at Google Play.
Bottom Line
If you're looking to work on your fitness, then I highly recommend getting this app. Before downloading this app I would mainly go running, but using this app is a full body workout; something that running alone cannot do. The variety of workouts keeps your body guessing so that your body does not get too comfortable with the same workout.
I woke sore everyday during the first week that I used Nike Training Club, which means that I am getting stronger, all from this app! Now that I am four weeks into using the app, I am not as sore, and while the workouts are still very challenging, I am more able to do them!
You can do this workout almost anywhere, because of the minimal equipment needed. If you're busy, and only have 15-45 minutes to do a workout, then download this app, because you will get the most out of your time with Nike Training Club!
Your Thoughts
Have you ever used fitness apps to help you workout? Do you like having a variety of workouts with videos included in the app? Do you like the idea of being able to workout anywhere without the need for a gym? Let us know in the Comments section below!
******************
Many thanks to Liz for her inspirational article about Nike Training Club. Please join me in wishing Liz much success as she heads off to her first year of college soon!