Great news for Kindle fans! Yesterday, Amazon made two announcements that will make fans of Kindle books happy and may even create some new Kindle fans.
Kindle MatchBook
Beginning in October, Amazon will allow you to buy deeply discounted Kindle editions of print books you've previously purchased from Amazon in a program called MatchBook. Going back to the beginning of time, well 1995, the beginning of time for Amazon, print books you have purchased from Amazon will be available to you in the Kindle version for the low, low prices of $2.99, $1.99, $0.99 or free.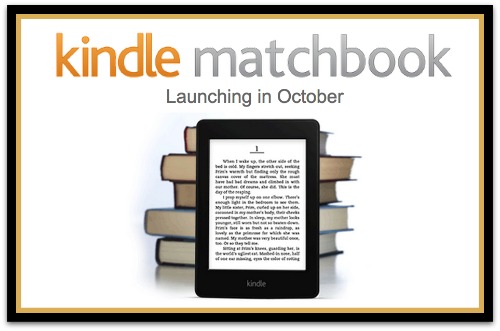 Ideas for Using MatchBook
Let's say you head out on a trip, business or pleasure, it doesn't matter which, and you forget to bring along that book you were engrossed in the night before you left. A few seconds after you realize your mistake, you can be reading the Kindle version book on your phone, tablet, computer or Kindle ereader.
Or let's say you lent your favorite book to your significant other right before you broke his heart or he broke yours and you would rather walk across molten lava barefoot than ask for it back. Get a replacement copy in the Kindle format at a discount instead of paying full price to buy the print book again.
Imagine you're moving and don't want to pay to ship your collection of print books. Or your new apartment doesn't have space for your favorite books. Sell or store your print books and get the Kindle versions instead.
"If you logged onto your CompuServe account during the Clinton administration and bought a book like Men Are from Mars, Women Are from Venus from Amazon, Kindle MatchBook now makes it possible for that purchase–18 years later–to be added to your Kindle library at a very low cost," said Russ Grandinetti, Vice President of Kindle Content. "In addition to being a great new benefit for customers, this is an easy choice for publishers and authors who will now be able to earn more from each book they publish."
What You Need to Know about Kindle MatchBook
The program starts in October — stay tuned to The Wonder of Tech for the official launch date. As of now 10,000 books will be available in MatchBook and Amazon hopes to have even more publishers and authors signed up by launch. Included in MatchBook are books from authors such as Michael Crichton, Jodi Picoult, Neil Gaiman, Ray Bradbury, and more.
Don't remember all of the books you purchased from Amazon? No worries, Amazon will have a list of your previously purchased print books from Amazon available for you to see. Your order history will also show you which print books you've previously purchased are included in the MatchBook program.
The Amazon account where you purchased the print book must be the same as the Amazon account to which you've registered your Kindle or Kindle app. MatchBook works with both hardcover and paperback purchases. You can find out more about MatchBook from the Amazon MatchBook page.
My Future Wish for MatchBook
My wish for the future of MatchBook is for Amazon to include Audible audiobooks in MatchBook. With Whispersync for Voice you can get many Audible books at a discount if you purchase the Kindle book first. With MatchBook you can get many Kindle books at a discount if you have purchased the print book from Amazon. Unfortunately, there is no discount for Kindle books if you purchase the Audible book first.
Perhaps in the future?
The New Paperwhite
Amazon also announced that the new Kindle Paperwhite is available for pre-order now. This Paperwhite has new hardware and software features that bring improvements over last year's model. The new Paperwhite will have a brighter screen with improved contrast and a processor that's 25% faster than in the previous model. The touch screen technology has also been updated with a 19% tighter touch grid for greater accuracy when you tap on the screen.
Page Flip
The new Paperwhite introduces Page Flip, a feature to help you better navigate through your Kindle books. With Page Flip you can navigate between pages and chapters without losing your place in the Kindle book. Page Flip opens a new window on your screen so you can return to your original location easily.
This layered window feature is also available for viewing footnotes on the new Paperwhite.
Vocabulary Builder
The new Paperwhite will come with a Vocabulary Builder feature to help readers study words. When you look up a word in the Paperwhite's dictionary, that word is added to a list you can study later. The Paperwhite also makes those words available as flash cards for more effective studying.
Smart Lookup
The Paperwhite's dictionary has also been enhanced with Smart Lookup, a feature that allows you to find the meaning of phrases in addition to individual words.
Kindle FreeTime
Kindle FreeTime was first introduced in last year's Kindle Fire to help parents control the amount of time their children spent on apps versus reading (see, Kindle Fire HD – A Lot of Tablet for the Price). With FreeTime on the new Paperwhite, children can earn badges for achievements in reading. Parents can set up individual profiles for each child and track their progress with time spent reading, number of words looked up, and badges earned. Parents can limit books available to each child and set reading goals.
Goodreads Integration
The new Paperwhite will be integrated with Goodreads so you can discover new books to read and recommend your favorite books from your Kindle.
Availability
The new Paperwhite Wi-Fi is $119 and will ship on September 30. The new Paperwhite with Wi-Fi and 3G is $189 has an expected ship date of November 5. The first generation Paperwhite 3G is available at the discounted price of $179 with Special Offers and $199 without Special Offers.
You can read my full review of the first generation Kindle Paperwhite: Kindle Paperwhite – Easy on the Eyes.
Your Thoughts
Are you excited to use MatchBook and get discounted Kindle versions of print books you've previously purchased from Amazon? Which book do you hope is included in MatchBook? Are you looking forward to the launch of the new Paperwhite? Which features are you the most excited about? Let us know your thoughts in the Comments section below!