Think you know logos? How familiar are you with corporate brands? Do the logos you see frequently stick in your brain or are they instantly forgettable?
Can you name these logos?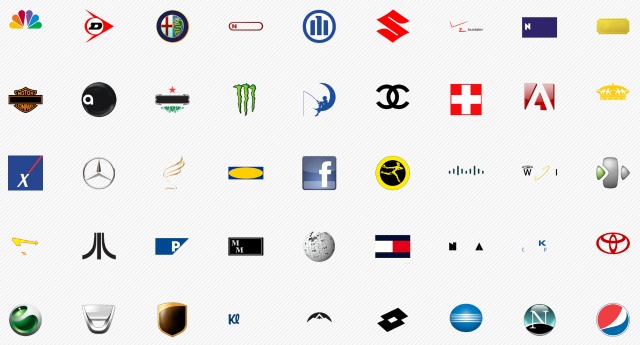 Craig McBreen, a fellow writer, had a fascinating blog post lately. Well, all of his blog posts are fascinating, but this one, Is the Logo Officially Dead?, caught my attention in particular as I formerly practiced trademark law. In trademark law you try to protect trademarks such as logos from others trying to infringe upon your clients' properties. The test is likelihood of confusion: how likely are you to mistake one company's trademark for another?
While I don't think that logos are officially dead, I do think that many logos are designed to be, let's say less than memorable.
Apps can test your knowledge of company logos. Are you a logo expert or are you befuddled by branding?
Logos Quiz, a free app, shows you pictures of logos with trade names removed. You try to identify the logos by their image. You type in the trade name and the quiz tells you if you are right, wrong or close.
The quiz currently has eight different levels. You have to identify the logos correctly to open new levels. The logos range from very easy to very challenging.
This is one of the easier logos (at least it was easy for me!):
You choose a logo from a grid and then you have to type in the answers. No capitalization or punctuation is required, making the answers a bit easier for you. You earn hints by identifying logos correctly.
The logos include international companies, not just US companies. The game is especially fun if you play it with others as combining intelligence often helps to solve the tricky ones. You can connect the game to your Facebook and Twitter accounts to get help from your friends and share your stats with others.
Logos Quiz is free for iPhone, iPad and iPod Touch in the iTunes App Store. The app is free, but you can purchase an in-app upgrade for $1.99 that eliminates the advertisements plus gives you more hints. But who knows? The advertisement may contain just the answer you're looking for!
A nearly identical app is available on Android devices and has ten different levels of logos. Like the iPhone app, this Android app requires that you identify logos correctly to unlock new levels. The Android app, though, does not let you buy hints and does require punctuation, making the Android app a bit more challenging than the iPhone app. But like the iPhone app, the Android app lets you ask friends for help on Facebook and Twitter.
The Android Logo Quiz is available for Android devices for free at Google Play and for the Kindle Fire at the Amazon App Store.
Are you good at identifying corporate logos? Do you think that you could do well with these quizzes? Let us know in the Comments section below!
**********
I am away from the Internet on vacation, though wonderful Wonder of Tech articles will continue to be published in my absence. Contrary to popular belief, I am not attending a 12 step Internet addiction program. I will respond to comments when I return on August 6.