Whether you're shopping online or at stores, tech can help you find the best deals, navigate malls, track your packages and alert you to sales. You can utilize these apps, browser extensions and websites to save time and money with your shopping, during the holidays and beyond. Use these tech tools to help save your time, money and sanity!
Mr. Rebates
Mr. Rebates is a free service that gives you cash back when you shop online at participating retailers. Earn rebates when you arrive at a shopping site from its link at Mr. Rebates. Get rebates ranging from a few dollars to 25% and more. Let your rebates add up and then request a check be mailed to you or get a direct deposit into your PayPal account. I've received over $1300 in rebates from Mr. Rebates since I signed up with them.
You can also earn rebates by referring friends who join Mr. Rebates. When they shop using Mr. Rebates you earn 20% of their rebates.
Mr. Rebates is also a fertile source of deals and coupons. You can search by store or category to see which sites participate and find out what deals they're offering.
You can sign up directly with mrrebates.com or through my Mr. Rebates referral link.
My full review of Mr. Rebates: Mr. Rebates – It Pays to Shop!
Coupons at Checkout
Coupons at Checkout is an Internet browser that automatically finds coupon codes when you shop. When you arrive at your virtual shopping cart, Coupons at Checkout will highlight the Coupon Code box with a red border if coupons are available. Click on the box to see the coupon codes without having to leave the website.
Coupons at Checkout is available for Chrome, Firefox, Safari and Internet Explorer.
My full review of Coupons at Checkout was published yesterday: Coupons at Checkout – The Easiest Way to Save Money and Time!
Invisible Hand
Similar to Coupons at Checkout, Invisible Hand is a browser extension that works in the background when you shop. When you arrive at a product page, Invisible Hand will alert you with a yellow banner at the top of the page showing you where else you can get a lower price. If you're at a site with the best price, Invisible Hand will tell you that too.
Invisible Hand is available on Chrome, Firefox and Safari.
My review of Invisible Hand: Invisible Hand – For Economical Online Shopping!
Rather-Be-Shopping
Rather-Be-Shopping is another excellent source for savings. This site lists thousands of coupons and can alert you by email when your favorite retailers offer deals and coupons.
Kyle, the owner of the website, makes it his mission to find you great savings. When he finds out about a coupon, he verifies the savings are real. He also takes requests if you want him to cover a retailer that's not already on his site.
Kyle's blog is a treasure trove of tips and tricks, giving you the inside scoop on shopping. Be sure to check out Retailer's Big Secret: Crack the Price Tag Code, a must read article that helps you decipher price tags so you can predict which items will have price reductions at your favorite stores. Who knew that the price difference between $19.99 and $19.98 means far more than 1¢? Kyle even includes a printable cheat sheet you can take to stores to remember the price codes when you're out shopping.
My full review of Rather-Be-Shopping: Rather Be Shopping: Your Personal Site for Savings!
ShopAdvisor
ShopAdvisor is like having a personal assistant whose job is to constantly monitoring prices for you. This service can alert you to price drops on your coveted items so you don't miss out on a sale price.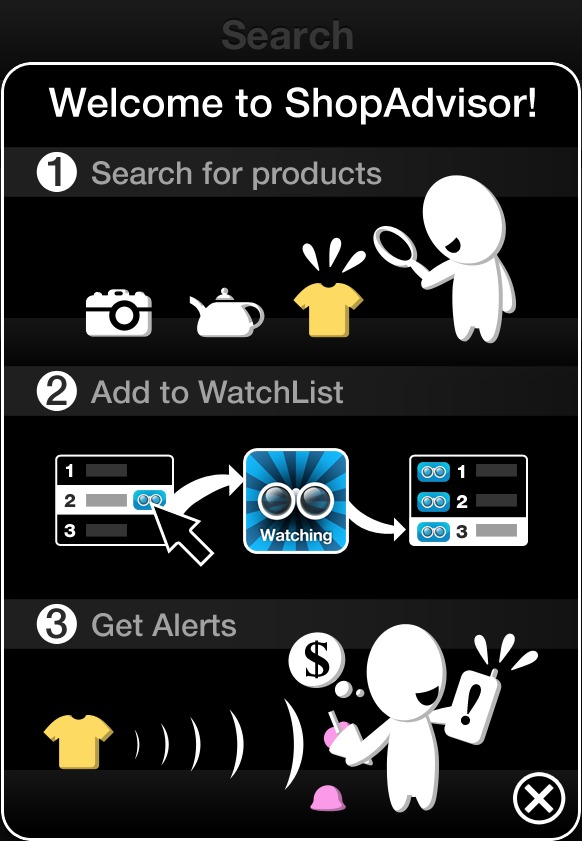 ShopAdvisor can find you the best price now or alert you later when the price of an item is lowered. ShopAdvisor also tracks pricing history so you can predict the best time to buy a product.
You can also use ShopAdvisor as a shopping list to remind you to buy items later. You can even import your shopping list from Evernote into ShopAdvisor.
ShopAdvisor is free and available online at the ShopAdvisor website and via apps for:
ShopAdvisor is available for US retailers.
My full review of ShopAdvisor: ShopAdvisor – Your Virtual Shopping Assistant.
FastMall
Navigating shopping malls can be challenging for even the most experienced shopper. Use the FastMall app to give you information on over 1250 shopping malls in 31 countries around the world. You can search for a mall by name or have the app find the malls closest to you.
FastMall can help you locate stores within in a mall with its interactive maps and help you figure out the quickest way to get around using stairs, escalators and/or elevators. This app even shows you where the closest restrooms are when you shake your phone.
You can also use FastMall to find current deals at a mall that you can redeem using your phone. You can share the deals with others on social media from within app.
FastMall is free and available for
My full review of FastMall: FastMall – Shopping Made Easy with Tech!
Deliveries
Keep track of items you order with the Deliveries app. Deliveries can track your packages, show you where they are on a map, and give you scheduled delivery dates and times. Yesterday the app was updated so you can add delivery dates to your calendar directly from the app and share delivery information with others via email, text message and AirDrop.
Deliveries is available for $4.99 for iPhone, iPad and iPod Touch and as a free widget for your Mac. You can use iCloud Keychain to sync your delivery information between your Mac and your iDevice.
My full review of Deliveries: Deliveries – Your Powerful Tracking Tool.
Your Thoughts
Do you use tech tools when you shop to save you time and money? Which tech tools are your favorites? Let us know in the Comments section below!