You want to get your mom the best Mother's Day gift, so you may be thinking of flowers, chocolate, breakfast in bed or a homemade gift. But why not be original? Nothing puts a smile on Mom's face quite like a tech gift!
Tech can make a mother's life easier and more fun. And who doesn't want that? You don't have to spend a fortune to get mom a tech gift, though you can if you want to. Tech gifts are available for all types of budgets and all types of moms. Even if your mom isn't a techie, she will love these gifts.
Nest Tablet Stand
If your mom likes to prop up her tablet when she's working, reading, exercising, or cooking, get her a Nest stand. This simple stand props up tablets at two different angles while providing storage. Mom can keep her trinkets in the Nest's cup and drawer to keep them handy but out of the way.
The Nest works with all sizes of tablets and even phones. This stand comes in six different colors and is available at the Blue Lounge website for $14.95.
Grid-It!
If your mom likes to be organized, but has a lot of tech and/or other accessories she carries with her, get her a Grid-It! This handy organizer will keep her cords from getting tangled and make sure everything is in its place.
This video shows some ideas of how you can use the Grid-It!
You can buy the Grid-It! at the Cocoon Innovations website for prices ranging from $9.99 to $49.99. The larger ones double as a sleeve for your laptop or tablet.
Cross Stitch iPhone Case
If your mom is into needlework, get her a cross stitch iPhone case so she can create her own case. She can have lots of fun customizing her case to make it unique for her!
The Cross Stitch iPhone Case is available from Connect Design for $18.
Best Mom in the World iPhone Case
If your mom is the best in the world, get her a phone case that says so. The You Are The Best Mom in the World phone case tells the world exactly how you feel about your mom.
"It is with great pleasure and joy that it is hereby declared that you are the
Best Mom in the whole entire history of the World."
You can customize the case with additional text or images. The case fits the iPhone 5/5s and sells for $44.95 at Zazzle.
Also see the I Love You Mom Samsung Galaxy S4 case at Zazzle.
WeMontage
Every mother from new moms to great-grandmothers cherishes pictures of her family. What better way to help your mom enjoy her photos than with a WeMontage collage? You can create a photo wallpaper gallery of her favorite photos that she can put on her wall and enjoy every day. The wallpaper is removable so Mom can take her WeMontage with her if she moves.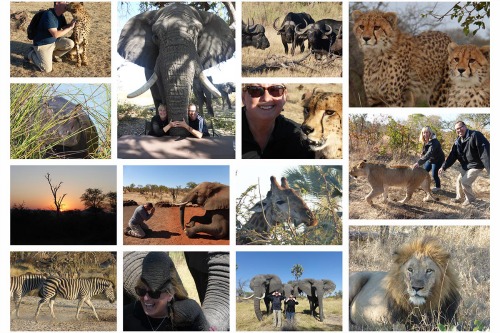 You can create a WeMontage of treasured family moments, a special vacation or important milestones. Not sure which photos Mom will want on her walls? Get her a gift card and let her create her own.
Here's a video showing you what a difference a WeMontage collage made in a mom's life:
➩ See my full review: WeMontage – This Tech Has You Covered!
You can create a wallpaper collage starting at $69.99 at the WeMontage website.
Photo Printer
Does your mom have photos on her phone that she'd like to print? Get her a photo printer that can print photos directly from her smartphone or tablet. The VuPoint Color Photo Printer prints photos from Android devices and iPhone/iPad/iPod Touch. Photos take about 55 seconds to print.
The VuPoint printer costs $89.95 at Amazon.
Video Baby Monitor with Night Vision
New mothers rarely feel completely comfortable when their baby is out of sight. But one sound from a creaky door can wake a baby from a peaceful nap. This video baby monitor with night vision lets moms keep an eye on their baby from afar, even in the dark.
The Infant Optics Video Baby Monitor with Night Vision is available from Amazon for $99.96.
Jawbone UP
Help mom track her fitness and her sleep with the Jawbone UP. Whether your mom likes to get up and move or lie down and sleep, the UP can help her keep track of her movement.
➩ See my full review of the Jawbone UP at Jawbone UP – Monitor Your Fitness and Sleep with Tech!
The UP is available in seven colors and three sizes, currently on sale at Amazon for $99.55, marked down from $129.99, and from local Verizon stores.
To be on the safe side, be careful about getting Mom a fitness tracker unless she's already a fan of fitness. Using gifts (tech or not) to give a hint rarely works out well…
Livescribe 3 Smartpen
If your mom is torn between the comfort of writing notes on paper and the convenience of writing notes on her tablet, get the Livescribe 3 Smartpen that will give her the best of both worlds. With this pen, she can write her notes on Livescribe paper and they'll magically appear on the Livescribe app on her iPad or iPhone.
Her handwriting can be transformed into text in the app. Her notes can be tagged and searched, helping Mom to stay organized.
The Smartpen can also record audio which can then be included in her notes. She can share her notes with others via text message or email.
Here's a video showing you how the Livescribe 3 Smartpen works:
The Livescribe 3 Smartpen is available for $149.95 from Amazon.
Taga Stroller/Bike
If the mom you love has a little one and misses riding her bicycle, consider getting her a Taga Stroller/Bike. This hybrid stroller and bicycle (well, technically it's a tricycle) can be both a bike and stroller at once or can fold into a simple stroller.
Here's a video showing the Taga in action:
You can make a lucky mom smile with a Taga for a mere $1495 at the Taga website.
Olympic Ceremony Monowheel
After the kids have outgrown their stroller, Mom might be in the mood for a more adventurous ride. Even if your mom isn't training for the Olympics, she can have fun riding this monowheel.
This mode of transportation was used in the Closing Ceremonies of the 2008 Olympics in Bejing. The LED lights glow in the dark so your mom can let the world know that she's peddling fast.
See the cool maneuvers your mom can do with her monowheel:
The Monowheel is available in red, white or blue from Hammacher Schlemmer for $7000.
SlideShare
Enjoy this SlideShare presentation of 10 Terrific Tech Gifts for Mom!
Your Thoughts
Do you like the idea of giving your mom a tech gift? Which tech gift would your mom like most? Which one is your favorite?  Does your mom secretly wish for a monowheel?  Let us know in the Comments section below!