If you're looking for an inspirational gift to show your love to your mom, make sure to think tech. Even if your mother isn't a fan of tech, she'll cherish these thoughtful gifts that will bring fun and function to her life. You may even find some gifts for yourself. Hey, you deserve a treat!
Carved Phone Case
If your mom's phone case is as old as her phone, she may want to switch to a new look. Give her phone a classic style with these engraved wooden cases. These cases can be made to fit most models of iPhone and Samsung phones and come in a choice of three different woods:
Choose from different designs to pick the one Mom would like best.
Wooden Phone Cases are available from Etsy for $16.98.
Colorful Charge Cords
Does your mom like to charge in style? Of course she does! She can be fashionable when she charges her tech and have a unique cord no one will mistake for theirs. Choose from a wide variety of different styles and colors at chargecords.com.
Not sure which color is mom's favorite? Get her a gift card. Each cord is $19 so you know exactly what amount to put on the gift card!
Playbulb Candles
If your mom is a fan of candles, get her a Playbulb candle. She can use the accompanying app to choose the color and brightness of the candle.
Use the Playbulb to set a peaceful mood with its optional scents or flip it over and use Playbulb as an actual candle holder. Mom can set the timer to have Playbulb turn on and off at certain times or use it as a nightlight in a child's room.
This fun video shows how Playbulb works:
Playbulb is available from Amazon for $19.99.
X-Lapse 360 Turntable
If panoramic photos are her passion, get Mom an X-Lapse Turntable she can use to take 360° shots with her smartphone or camera. Take photos and videos in a full circle over an hour or choose a shorter arc or time period.
You can attach the X-Lapse to a tripod and set the timer to start the camera. See how it works in this video:
The X-Lapse 360 Turntable is available from Amazon, currently on sale for $20.21.
Wave Cable Holder
Does your mom like to stay organized? Help her keep her cables from getting tangled with the Wave Cable Holder. This nifty accessory is lightweight, easy to use and will keep her cables from getting knotted.
Choose from 10 different colors of holders. This video shows you how the Wave keeps cables secure:
Wave Cable Holder is available from Shapeways for $22.90 for a set of two.
Selfie Brush
How much does your mom like taking selfies? You can save your mom plenty of time by giving her the Selfie Brush so she can primp before she snaps her shot.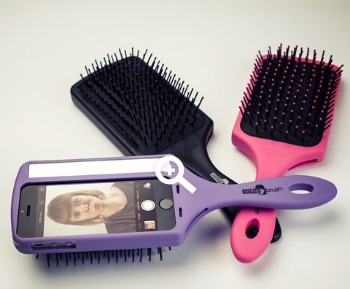 The Selfie Brush comes complete with a mirror so your mom can not only be sure she's looking her finest, but she can also make sure no one's photo-bombing her shot.
You can order the Selfie Brush in pink, purple or black for $30.29 at Firebox.
Solar Bank
Does your mom fret about running out of juice with her tech? Get her a solar battery that can charge her devices even when she's far from home.
The Solar Bank battery pack can be charged using a USB cable or sunlight. Mom can charge the battery while on the run, on the dashboard of her car, at the beach, or at her computer.
Mom can charge up to two devices from the Solar Bank and at 7.6 oz (215g), this battery pack won't weigh her down.
You can get the Solar Bank for $42 at chargecords.com
HTC RE by Verizon
This periscope-shaped HTC RE camera will open up a new world of photography for mom. With a 16MP sensor, this camera can go places other cameras can't, such as underwater or remote locations. Using the HTC RE app on your iPhone or Android phone, you can control the camera, see through its view finder and take photos and HD video. Images are stored in the cloud for you to access on your phone using the app.
Mom can put the camera close to the stage to record her child in the school play, graduating from school or playing at a concert. She won't be in anyone's way when she uses the HTC RE to get a better shot of others or take selfies.
The HTC RE camera is available from Verizon Wireless for $199.
Apple Watch Edition
If your mom deserves a gold medal for motherhood, give her the 18K gold Apple Watch Edition. This timepiece will not only show your love, it will also show that she loves cutting-edge tech.
No need to spend $17,000 on her Watch if you don't want to. Apple Edition Watch prices start at $10,000. Apple Watch Edition is available from the Apple Store online.
⇒ Don't miss Getting Started with the Apple Watch
Celebrity Robotic Avatar
What mother hasn't ever wished for her own personal robot? Even if your mom hasn't said the words out loud, you can be sure she has been wanting one.
Make her dreams come true with this Celebrity Robotic Avatar that you can program remotely from an app. This robot can move, talk, spin and even entertain your guests. This robot has even been admitted to Hollywood's Screen Actors Guild as it has appeared in many movies.
Here's a video giving you an idea of what the Celebrity Robotic Avatar can do.
If you're looking for a special gift for mom, you can get this robot for a mere $345,000 from Hammacher Schlemmer.
Your Thoughts
Which of these tech gifts would your mom like to have? Did you find any gifts you'd like to have? Tell us your favorites in the Comments section below!