A high-tech company in Sweden called Epicenter recently offered its employees the opportunity to have a microchip embedded in their hands. Employees who accepted the offer no longer have to worry about forgetting their company ID at home, their microchips are with them wherever they go. These microchip allow employees to be identified, unlock doors, use the copy machine, and buy items in the company store.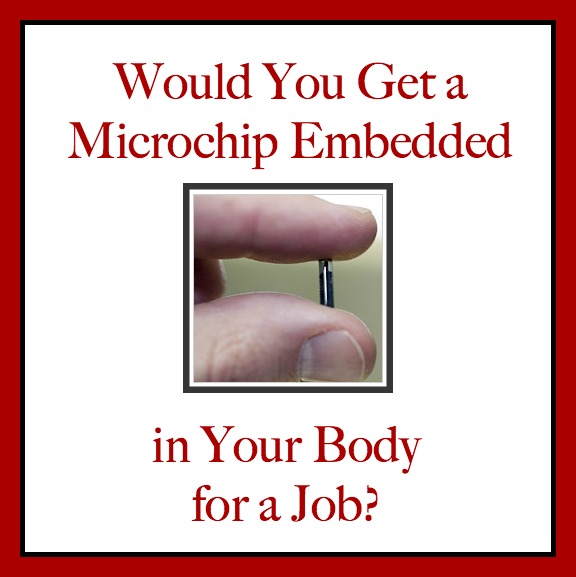 Each chip is about the size of a grain of rice and is embedded with a needle, costing the company about $300 and the employee a bit of physical pain. Participation is voluntary and many employees have opted to have the microchip implanted in their hand.
A Today Show video from yesterday shows a reporter, Keir Simmons, getting Epicenter's chip embedded in his hand:
Visit NBCNews.com for breaking news, world news, and news about the economy
With a microchip embedded in your hand, you could control objects with a wave of your hand. Imagine never needing keys anymore, turning on lights in a room by raising your arm, having your health records available instantly to health care providers in case of an emergency and paying for items with a wave of your hand. Dogs and cats have been microchipped for years, allowing owners to be reunited with missing pets. Isn't only a matter of time until humans get the same technology as animals?
But privacy issues abound, with your microchip information potentially available to those with a scanner. Microchips could be scanned to retrieve your information or track your location, perhaps without your knowledge. The technology available for microchips today will probably be very different from the advancements made to microchips in the future. How information gets to and from microchips may change dramatically from today's technology.
Advantages
Convenience — Imagine going for a run and needing no ID, keys or money. Your load would be lighter, and perhaps your run faster, if you had a microchip. You would never have to worry about carrying items, you'd have your things with you wherever you went.
Security — Payment information could be included in your microchip. You wouldn't have to worry about your credit cards or PIN being stolen. Thieves would have a more difficult time impersonating you with a fake ID or credit card.
Health — Your health records could be stored on the microchip, eliminating the need for filling out forms when you went to a doctor's office. Emergency responders could identify you and access your health records quickly, saving precious time.
Disadvantages
Loss of privacy — You may not want identifying information available to anyone with a scanner. You may not be aware when your microchip is being read or accessed.
Pain — The pain of getting the microchip inserted seems more than insignificant. (Ouch!)
Tracking — Your location within an office, store, government building, etc. could be tracked using the chip.
Lack of control — You may not have control over what information is contained in the microchip.
Possible hacking — Hackers may be able to access or change the information on your chip.
Poll
Would you get a microchip embedded in your body? Vote in The Wonder of Tech poll and let us know your thoughts:
Your Thoughts
Do you like the convenience of having a microchip embedded in your body? What information would you like to have in your microchip? Would you accept a job that required you to have a microchip implanted in your hand? Let us know your thoughts in the Comments section below!
____________________
* Microchip image (edited) courtesy of Alejandra H. Covarrubias via Flickr and Creative Commons