With all the new tablets on the market this fall, you may be wondering which best suits your needs. If you're an avid reader, a parent or an Amazon Prime member, you should take a look at the Kindle Fire HD, Amazon's best selling product.
The Kindle Fire HD is a 7″ tablet recently launched by Amazon as one of its second generation line of tablets. The first generation Kindle Fire was a lone device, but this generation has no fewer than four devices in the Kindle line up.
Amazon provided me with a Kindle Fire HD for review. As the owner of a Kindle Fire first generation tablet, I found the upgrades to this generation impressive.
Pros
Price
The Kindle Fire HD retains the $199 price of the previous generation Kindle Fire, even though the storage capacity of the device doubled from 8 GB to 16 GB. If you think you'll be consuming copious quantities of content, you can upgrade to the 32 GB model for $249. Choose your storage space carefully because the space is not expandable with a memory card.
The Fire HD includes ads, called "Special Offers" by Amazon. You can pay $15 extra if you want your Kindle Fire HD to be ad-free.
$199 – 16 GB with ads
$214 – 16 GB without ads
$249 – 32 GB with ads
$264 – 32 GB without ads
Hardware
In spite of its bargain price, the Kindle Fire HD has impressive hardware. IHS Supply disassembled the Fire HD and determined that Amazon is losing money on each one it sells. In other words, when you get a Kindle Fire HD you're getting more bang for your buck than you're paying for. Chances are pretty good though that you will be loading your Fire HD with Amazon content, making Amazon seem more savvy than foolhardy with its pricing model.
Screen
The screen on the Kindle Fire HD, the most expensive component of the tablet according to the IHS report, is significantly improved over the screen on the first generation Fire. When the Fire HD and the first generation Fire are viewed side-by-side, the Fire HD screen has much sharper images and brighter colors than its predecessor. The Fire HD screen is packed with pixels, nearly a third more pixels per inch than the iPad Mini. The Fire HD screen displays HD movies with remarkable clarity.
The screen also has an anti-glare feature, which makes reading and watching videos more enjoyable, and is made of Gorilla glass for durability.
Sound
The Kindle Fire HD has Dolby Digital Plus stereo, which works both when listening to the speakers or through headphones. You won't mistake this for surround sound, but the quality of sound enhances rather than distracts from the audio experience.
In response to complaints about the first generation Fire, Amazon has added a physical volume button so you can more easily adjust the sound level on the Fire HD.
Camera
The Kindle Fire HD has a front-facing camera you can use with Skype for video chats, though you can't actually take pictures with it.
Speed
If you have a need for speed with your tablet, the Kindle Fire HD should please you. The tablet boasts internal hardware to stream video, browse the web, switch between apps, and function generally as smooth as, well, silk. The Wi-Fi antennas in the device make downloading content extremely fast, 40% faster than the iPad 3, according to Amazon.
Battery Life
Battery life for gadgets falls into two categories:
surprised that you still have battery
vs.
surprised that you ran out of battery.
The Fire HD landed firmly in my "surprised that I still had battery" category.
Amazon states that the Kindle Fire HD has over 11 hours of battery life, which should be plenty to get you through all but the longest plane flight.
Software
FreeTime
You're proud that you enhanced your child's education with digital technology. You look over and see your child doing his homework on his tablet as you go into another room to make dinner, fold laundry, practice your taekwondo, and/or enjoy your favorite book. Suddenly you hear him cry, "Take that, you pig!" Doubtful that Wilbur can elicit such antagonism in Charlotte's Web, you rush into his room only to discover that your son has just unlocked a new level in Angry Birds Outer Space. Before he proudly posts his accomplishment on his Facebook Timeline, you urge your child to get back to his reading.
Kindle FreeTime lets you restrict use of a Kindle Fire to limited time and/or apps, video and books. You can set daily time limits such as:
Reading Books: Unlimited
Using Apps: 30 minutes
Watching Videos: 1 hour
You can set a user profile for each of your children and adjust the time limits for each child. The settings are password-protected so you child can't override the settings you choose. You can set up multiple child profiles in the FreeTime app with individual time limits for each child for approved books, apps and videos.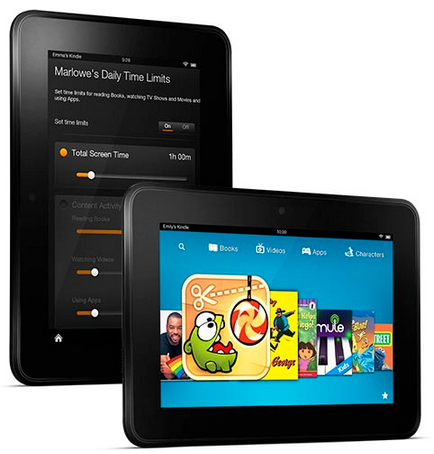 FreeTime gives you control over your children's use of the tablet, or yourself, in case you're prone to distractions. If you need to set limits, FreeTime may be the killer feature of this tablet for you.
Immersion Reading
The Kindle Fire HD has Immersion Reading, which highlights words as they're read in an accompanying audiobook. This feature can help readers focus, improve reading skills and improve pronunciation. See my full review of Immersion Reading: Immersion Reading on Kindle – When You Need Some Extra Focus.
Immersion Reading is only available on the latest generation Kindle Fire tablets.
Whispersync
Kindle's Whispersync feature, that lets you pick up reading a Kindle book where you left off reading it on another device, has been greatly expanded. In addition to the original Whispersync for Books, Kindle now has:
Whispersync for Voice, which lets you switch back and forth between Kindle books and Audible audiobooks without losing your place,
Whispersync for Movies, so you can start watching a movie on your Fire and finish watching it on your TV, and
Whispersync for Games, so you can put down Angry Birds on one device and pick up where you left off on another device, or delete the game and re-install it with your level saved.
Note that Whispersync for Games only works on the latest model Kindle Fire tablets.
See my full review of Whispersync for Voice: Whispersync for Voice: The Marriage of Kindle and Audible.
X-Ray
The Kindle Fire HD also comes with X-Ray, the ability to find out background information as you read a book or watch a movie. If you're the type of person who likes to find out where you've seen an actor before when you watch a movie, you'll be a big fan of X-Ray for Movies. This feature lets you access IMDB (Internet Movie Database) information without having to leave the movie or jump between movies in which an actor stars.
X-Ray for Books lets you find other mentions of characters and search terms within a Kindle book. You can jump to other sections of the book or see a list of excerpts where a character appears in the book. You can also access Wikipedia information directly from the book.
Content
Apps
Apps for the Kindle Fire HD are available from the Amazon Appstore, which has both free and paid apps available. Each day, Amazon offers a free app of the day. The Appstore has most of the major apps, such as Facebook, Twitter, Dropbox, Trip Advisor, Bad Piggies, Plants vs. Zombies, Spotify, Pandora, Netflix and Hulu+.
Amazon Prime
If you get a Kindle Fire HD, you may want to consider getting an Amazon Prime membership. Amazon Prime gives you access to 25,000 free Amazon Instant videos, as well as 180,000 free books from the Kindle Owners' Lending Library. You also get free two-day shipping on eligible items without a minimum purchase requirement.
One month of Amazon Prime is free with the purchase of the Kindle Fire HD, after that the cost is $79.
Cons
The cons of the Kindle Fire HD mostly come down to what it doesn't have. To stick with the $199 price, Amazon had to make some sacrifices, so you have to decide if what you're getting for the price is more important than what you're not getting.
Camera
If you're looking to take pictures on your tablet, then you'll find the Fire HD lacking. The front-facing camera doesn't actually take pictures, it only functions with the Skype app for video chats.
GPS
The Fire HD is Wi-Fi only (a cellular data model of the larger Kindle Fire HD 8.9″ tablet is due out later this month), so GPS functions are limited away from Wi-Fi access. Lack of a GPS feature means that you won't be able to use an app to find your device should your Fire HD become lost or stolen.
Apps
The Kindle Fire HD is limited to the apps in the Amazon Appstore. While most of the major apps are currently available from Amazon, the offerings are nowhere near the number in the iTunes App Store (250,000 iPad apps, 600,000 iPhone apps) or Google Play (500,000).
Bottom Line
The Kindle Fire HD gives you a lot of tablet for the money. You probably will get most of your content from Amazon, but with the enhanced features for reading books and watching movies, you may not feel limited at all.
Does the Kindle Fire appeal to you? Do you like the added features such as FreeTime, Immersion Reading and X-Ray? Let us know in the Comments section below!