Update December 1, 2014: This afternoon, Amazon will be having a Cyber Monday Lightning Deal on the Fire TV for $69. Check the Amazon Fire TV page to grab that deal!
************
Amazon's Fire TV is the latest in a field of streaming TV boxes that connect your TV to the Internet. If you're a fan of Amazon, TV shows, games, apps and/or music, you may become a fan of the Fire TV.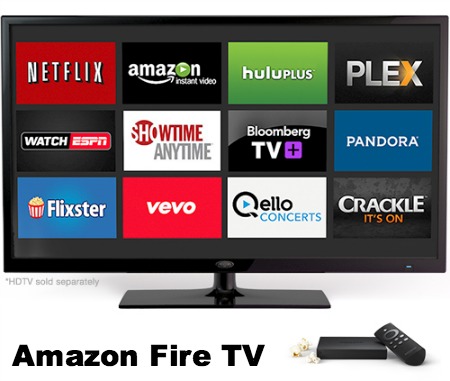 While many other streaming devices are on the market, the Fire TV has more power under the hood to give you a more satisfying viewing experience. Amazon Prime members will especially appreciate the instant access on Fire TV to a large library of free videos with their membership.
Amazon provided me with a Fire TV and HDMI cable for review. (Yes, I have to return it to them.)
Design
The design of the Fire TV is simple, a slim black box that makes you wonder how they packed so much power inside. The Fire TV comes with high-end internal hardware, including an advanced processor and 2 GB of memory, that makes using the device fluid and speedy. Moving between apps, videos and menu items flows smoothly without stuttering. Videos are displayed in sharp detail with rich colors.
Speed
One of the most impressive features of the Fire TV, and one that sets it far above its competitors, is the speed at which Amazon videos load. When you click on the video you want to watch, it plays instantly — no loading, buffering or other delay. You're immediately watching the video, as if you turned to a TV channel, faster than if you were watching a recorded show on your DVR. Those who feel the need for speed will be spoiled quickly by the Fire TV.
This supersonic speed isn't present for other services, such as Netflix, but the loading speed is definitely much quicker than with other devices. The powerful hardware is put to good use with watching videos, downloading apps and streaming music.
Remote
The remote control that comes with the Fire TV is covered in a black matte plastic that's smooth to the touch and easy to hold. Amazon took a minimalist approach to the remote with two rows of three buttons and a circle button with a ring button around it. At the top of the remote is a voice search button (more about voice search later).
The remote is easy and intuitive to use, unlike remotes that have more buttons than a drum major's uniform. No "line of sight" is required between the remote and the Fire TV, you can point the remote in any direction to control the device.
One improvement I'd like to see in future versions is lighted buttons. It's possible to navigate the remote when you're watching movies in the dark, but lighted buttons would greatly improve the accuracy of your navigation.
Setup
Amazon has made setting up the Fire TV as painless as possible. If you buy the device for yourself it comes pre-registered to your Amazon account. When it ships you'll get a notice from Amazon that your Fire TV is on its way and registered.
Connecting the device to your TV is simple:
plug the power cord into your Fire TV and your wall outlet
plug an HDMI cable into your Fire TV and the HDMI port on your TV
The Fire TV does not come with an HDMI cable, but you can get one from Amazon for about $5:
AmazonBasics HDMI cable
. I do think Amazon should have included this cable in the box, probably more than one person started to set up their Fire TV only to discover a required cable wasn't included.
Sign in to your Wi-Fi network and the Fire TV will download any available updates to the software.
An animated video guides you through using the Fire TV, plus you can access a Help section in the menu. The controls are very intuitive so you'll probably feel like a pro user quickly.
Fire TV gives you the option of activating Parental Controls, requiring you to enter a PIN for watching Amazon videos and buying videos, apps and in-app purchases.
Voice Search
Voice Search on the Fire TV may very well be its killer feature. Press and hold a button at the top of the remote while you speak the title, genre or name of the actor/actress you want to search. Voice recognition software that actually works well shows you a list of search results. Once you get used to using Voice Search, trying to type on an on-screen keyboard using the remote control buttons seems more than cumbersome.
Voice Search works for Amazon Prime videos, but not for other channels such as Netflix or Hulu Plus. Expansion of this feature would be a welcome addition in future updates.
In my tests, Voice Search was spot on with every search I did, except it thought "Meryl Streep" was "Meryl Street". Even so, the Fire TV delivered search results for Meryl Streep.
The combination of the convenience of Voice Search with the instant speed of streaming Amazon videos means that the time between when you say a search term and are watching your show will be measured in a few seconds.
Content
While the Fire TV is the most powerful streaming box on the market, speed won't matter to you unless you're watching the shows and movies you enjoy. The Fire TV has plenty of content with movies, TV shows, Internet radio and apps to help entertain you in a variety of ways.
Movies and TV Shows
Fire TV currently has channels for Amazon Instant Videos, Netflix, YouTube, Hulu Plus, YouTube, Crackle, Showtime Anytime, and more with PBS Kids, ABC and Disney channels coming in the future.
Amazon Instant Videos are featured at the top of the menu, making it easiest to search for that content. Members of Amazon Prime have free access to Prime Instant Video which includes over 200,000 free videos. When you search for a video, a Prime banner runs across the upper left corner of the image if the video is included in your Prime membership.
When you click on a Prime video, you're given the option to purchase/rent the video. You have to click the More Ways to Watch button to reveal the Prime option. I hope that future updates will reveal the Prime option up front.
Navigating around the menus is intuitive with Recently Watched channels easily available. You can remove any shows from Recently Watched in case you'd rather not have shows appear in that category.
HBO
Although HBO GO is not included as a Fire TV channel, Amazon has a deal with HBO to provide much of its content to Amazon Prime members, including:
All seasons of The Sopranos, The Wire, Deadwood, Rome and Six Feet Under, Eastbound & Down, Enlightened and Flight of the Conchords
Select seasons of True Blood, Boardwalk Empire and Treme
Epic miniseries, including Band of Brothers, The Pacific, John Adams, Parade's End and Angels in America
Original movies like Mary and Martha, Temple Grandin and You Don't Know Jack
Original comedy specials from Louis CK, Ellen DeGeneres, Lewis Black and Bill Maher
Documentaries including When the Levees Broke, Ghosts of Abu Ghraib and the Autopsy and Iceman series
HBO subscribers would probably prefer having HBO GO to get more HBO content while non-HBO subscribers probably appreciate getting HBO content on Prime without needing an HBO subscription.
Apps and Gaming
The Fire TV is an Android device under the hood, which means that it can run apps and games, similar to an Android phone or tablet. To enhance the Fire TV gaming experience, Amazon offers a game controller, available for $39.99, that also works as a remote control for the Fire TV.
You can play many games without needing a game controller, using the standard remote control that comes with the device. If you're more serious about gaming you'll probably want to invest in the separate game controller.
Many of the game apps are free, though some free games have in-app purchases available, and you can buy apps either at Amazon's website or using the Fire TV. You can filter your search for games so that only games that use the remote control or game controller are shown in the results. You receive an on-screen warning if you try to purchase a game that requires a game controller if you don't have one.
Amazon did not provide me with a game controller to try so I only sampled games that used the remote control. The games I tried were fun but simple with basic animated graphics. I learned that my ability to drive in Hill Climb Racing will be a learned skill…
Other, non-gaming apps are available, such as Smithsonian Channel, Pandora, TuneIn Radio, iHeart Radio and Vevo. You can even listen to apps such as Pandora while you're searching for content on the Fire TV.
You can see the full list of available apps and games at the Amazon Fire TV App Store.
Cloud Drive/Music/Photos
Music, photo and video files that you store in Amazon's Cloud Drive service can be played/displayed on your Fire TV. You can download the Amazon Cloud Drive app to your tablet or smartphone to automatically send your photos and videos to your Cloud Drive account and have them displayed on your Fire TV within seconds.
The device also comes with stunning photos that are used as a default screen saver. You can also purchase screen saver apps in the Appstore, but check out the default screen saver first.
Second Screen
If you have a Kindle Fire HDX tablet, you can use it as a Second Screen with the Fire TV. You can send Amazon Instant Videos from your Fire HDX tablet to your Fire TV, and use X-Ray on your tablet to find out more information about the videos you're watching.
See, Kindle X-Ray – Quench Your Thirst for Knowledge for more information about Kindle X-Ray.
Amazon plans to bring Second Screen features to the iPhone and iPad later this year.
Other Streaming Boxes
The Fire TV isn't the only game in town, with three major competitors that will stream content to your TV:
Roku 3
Apple TV
Chromecast
Amazon's website has a handy chart to help you compare the TV with these other boxes:
Note both that the Fire TV has 4x the memory and 2-4x the processing power of its competition, giving it superior speed and power.
As a polygadgetist, I am the proud owner of all three of these competitors so am very familiar with their capabilities. Each has its advantages: Apple TV has AirPlay to mirror the screen of your Mac or iDevice, Chromecast is inexpensive and immensely portable, Roku 3 has the most channels and a headphone jack in its remote. But the speed, power and Voice Search features of the Fire TV raises the bar significantly.
Loading Amazon videos instantly makes the Fire TV seem like a luxury sports car next to family sedans. There's nothing wrong with driving a family sedan, but after you've felt the thrill of the power of a sports car, it's difficult to go back to what was previously acceptable.
Availability
Fire TV is available from Amazon for $99.
Your Thoughts
Which features of the Fire TV do you like most? Do you get impatient waiting for videos to load? Would you play games on the Fire TV? Let us know your thoughts in the Comments section below!