If you're a parent with a tablet and/or a smartphone, chances are your child has grabbed it to play their favorite app. But handing over your device exposes you to the risk that your kid will buy an expensive app, delete your boss's email, beat your high score on Angry Birds, and/or accidentally drop the device.
The Fire HD Kids Edition tablet solves all of those problems.
This Kids Edition tablet isn't a stripped-down toy version of an adult tablet. Instead, Amazon beefed up the base Kindle Fire HD tablet to make the Kids Edition a quality tablet at a compelling price.
If you're looking for a tablet for your child that's:
a) Educational
b) Entertaining
c) Durable or
d) All of the above
then definitely check out the Kindle Fire HD Kids Edition.
Hardware
The tablet has impressive specs so you may want to use it for yourself: a quad-core processor, HD display, front and rear-facing cameras, and Dolby Audio. Included are Bluetooth, Wi-Fi, location services, accelerometer and gyroscope. This tablet isn't a toy.
The Kids Edition comes in a 6″ or 7″ screen made from Gorilla Glass. Your other choice besides screen size will be the color of the rubberized protective bumper case that comes included with the tablet: pink, blue or green. The Fire HD 6 with the case weighs 12.6 ounces (360 grams) and the Fire HD 7 with the case weighs 15.0 ounces (425 grams). Amazon lent me a 6″ model with a pink case for review.
The storage space on this Fire is 8 GB with 4.5 GB available for use. You can keep apps, photos, videos and books in Amazon Cloud Drive until you need to use them. The storage is not expandable with an SD card and larger capacity Kids Edition tablets are not available.
The Mayday button, Amazon's video chat tech support service, is not available on the Kids Edition.
2-Year Warranty
The Kids Edition comes with a 2-year worry-free warranty. If the tablet breaks, Amazon will replace it for free within 2 years of purchase, no questions asked.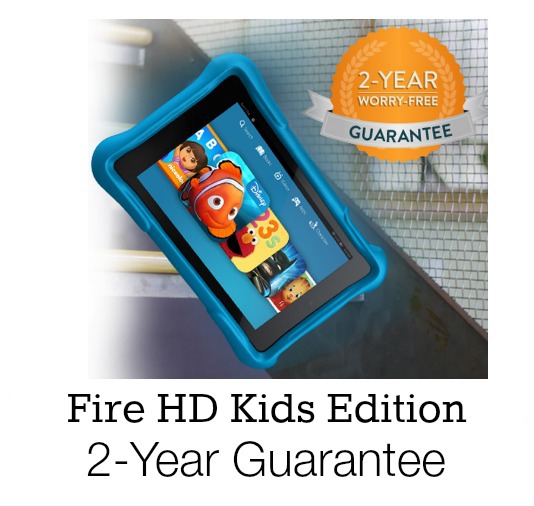 Parental Controls
When you set up your Kids Edition tablet, you'll have the chance to set up individual profiles for your kids so they can each have access to their own set of apps and books. Your profile will be restricted by a 4 digit passcode so your kids can't mess with your stuff (unless they crack your passcode).
Kids' profiles have restricted access, they can't get on the Internet and can only get direct access to apps and books in FreeTime Unlimited (more on FreeTime below). You don't have to worry about surprise charges when kids download apps, videos  and books, purchases must be made on a parent profile.
Each child can achieve their own levels and high scores on apps such as Angry Birds and Temple Run through their user profile, as if they had their own tablet.
The cameras are currently accessible only in the parent profile, though Amazon has plans to allow access to the camera in FreeTime. Kids will be able to edit their photos and add stickers and drawings to them.
See, Free Unlimited Photo Storage for Amazon Prime Members!
Goals and Limits
You can set up individual reading goals and limits for each profile. For example, you can require a child to read for 30 minutes each day before they can access apps. You can also limit how much time your children can spend playing apps each day and the time of day when they can access apps.
Amazon FreeTime Unlimited
The Kids Edition includes a one-year subscription to Amazon FreeTime Unlimited, which gives unlimited access to over 5,000 kid-friendly books, movies, TV shows, educational apps, and games that have been selected by Amazon. Content includes familiar characters from PBS, Nickelodeon, and Disney, as well as more generic choices such as dinosaurs and ballerinas. Kids can have access to FreeTime content without seeing ads or in-app purchases.
You can set up a profile with FreeTime for kids ages 8 and under, or Teen Profile for kids 9 and older.
FreeTime Unlimited is included free for one year with the purchase of the Fire Kids Edition. You can also purchase FreeTime for other Kindle Fire tablets for:
FreeTime Unlimited content is the only content that kids can add to their profile. Other content, including apps from the Amazon Appstore, Kindle Books, Amazon Video, etc., can only be added to the tablet using an adult profile. The adult user can then add that content to a kids profile.
By restricting access to FreeTime content on kids' profiles, Amazon has made sure that:
your kids will have access to a large collection of content,
you can control which other content each child has access to, and
you won't be surprised by charges for apps, books, videos and in-app purchases made by your kids.
My Wish List
Although the Kids Edition is an impressive tablet, I have a few wish list items for it. I'd like to see more available storage in future versions. 4.5 GB isn't a lot of space, especially when the tablet is shared. Amazon Cloud Service gives you the ability to access your content, but having more space on the device would be handy, especially for long plane trips, car rides, etc.
Easier navigation would be an improvement. You may find that managing content, setting restrictions and goals, and other tasks require you moving back and forth between profiles. I'd like to see the ability to change settings within a kid's profile by entering a passcode.
I would like Amazon to add the Mayday button for adult accounts. The Mayday button is such a valuable feature giving video tech support help, it should be available for parents using the Kids Edition. See, Mayday on the New Kindle Fire – A Game Changer in Tech (Support)
Amazon should take advantage of the Kids Edition location services to add a native Find My Fire-type app to help you track your tablet should you leave it behind somewhere. Kids not only destroy tech, they also lose it.
Availability
The Fire HD Kids Edition is available in blue, green and pink from Amazon for:
$149 for the 6″ screen
$189 for the 7″ screen
Bottom Line
The Fire HD Kids Edition may be a superb solution if you're looking to get a tablet for your kids that you don't have to worry about them breaking, purchasing apps, or accessing inappropriate content. For the price you're getting a high-quality tablet loaded with features that will please both parents and kids.
Your Thoughts
What features do you like best in the Fire HD Kids Edition? Do you like the idea of each child having their own profile? Do you like Parental Controls with limits and goals for reading and apps? Are you excited by FreeTime Unlimited with ad-free apps, books and videos? Let us know in the Comments section below!