Your New Year's resolutions may include personal goals such as losing weight, eating better, exercising more or learning the Mambo. But your resolutions should also include financial goals such as  re-assessing your investment portfolio.
With the volatility of the stock market in 2011, some investors ignored their portfolios to avoid the stomach-churning ride of daily price fluctuations. But as the year draws to a close, consider reviewing your investments to determine whether your portfolio could use some improvement.
Jemstep is a website that analyzes a user's portfolio of mutual funds and ETF's (Exchange Traded Funds) and suggests the best funds based upon the user's preferences and investment goals.
I recently spoke with two executives at Jemstep, Kevin Cimring Co-founder and Chief Operating Officer, and Suzanne Pallo, Senior Director of Marketing, about their site which launched in October and is self-described as "Morningstar meets eHarmony." Cimring pointed out, "There's a massive void in the market for ordinary investors who need advice as to where to put their money. Jemstep was created to tackle that problem head-on by using technology and creating an online application that's free and accessible 24/7 to the ordinary investor to optimize their portfolios."
Jemstep rates mutual funds based upon a Jemscore, which is a 1-100 ranking based on how well a fund meets the user's profile. Jemstep's recommendations are non-biased and are based solely upon the perceived fit between a user's goals and mutual funds and ETF's, according to Cimring.
An investor can use Jemstep whether his investments are self-directed or whether he is working with a broker, though Jemstep focuses on the long-term investor rather than the day-trader.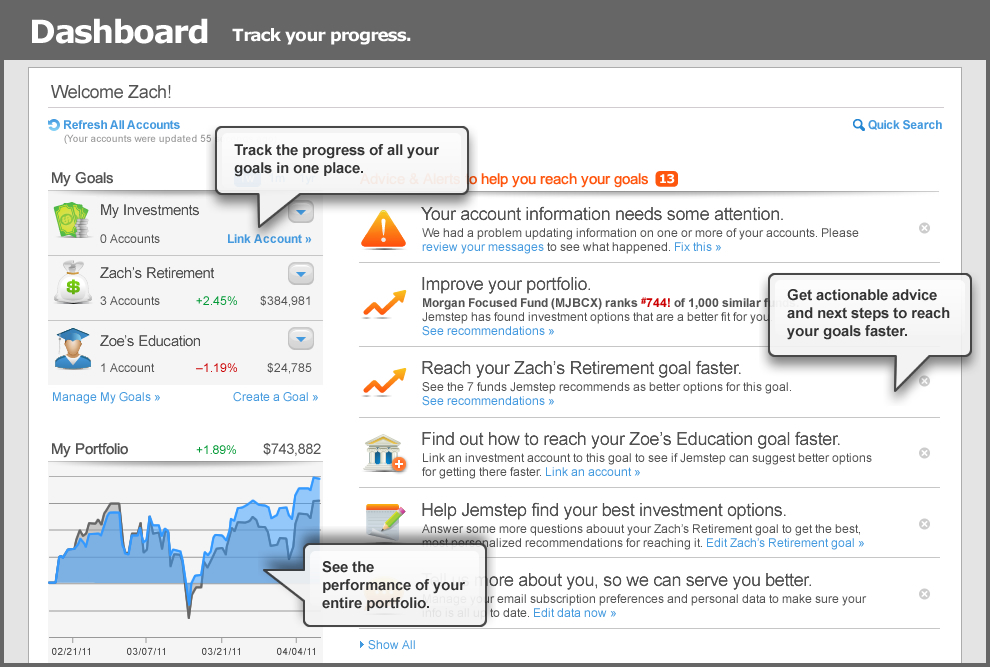 "Our investment universe is so daunting today with so many options, consumers don't know which way to turn. People are left in a state of analysis paralysis," said Cimring. Pallo suggested that people think of Jemstep as a health check for their portfolios that takes under five minutes to complete.
The service is free of charge. You begin by providing your first name, zip code, and an email account, then setting a password.
Jemstep asks your investment goals:
retirement
college savings
large purchase
building wealth
You can specify a different goal for each account or a single goal for all of your investment accounts.
Next Jemstep asks what your priorities are for:
risk tolerance
management fees
minimizing taxes
income generation
types of mutual funds and ETF's
Then you link your investment accounts by providing your investment account log-in credentials and Jemstep will analyze your portfolio to see how well your funds match your goals and priorities.
Jemstep uses bank level security and is a read-only system, meaning neither you nor anyone else can access your account through the site. The data is encrypted and Jemstep uses Cash Edge to secure the transfer of users' data.
After Jemstep accesses your investment account, it then analyzes your mutual fund and ETF holdings and recommends funds that would better fit your investment goals. Jemstep analyzes over 20,000 different funds, ranks them with a Jemscore according to your attributes, then suggests the best funds for your investments.
Jemstep generates graphs comparing the performance of the funds you're currently holding with the performance of the recommended funds. Jemstep also compares the risks and returns as well as taxes and fees to illustrate the advantages of the recommended funds. Investors who enjoy analyzing data will find plenty of instruments to review the relative performance of the funds.
Jemstep shows you information about the recommended funds, including asset allocation, fund management, and short and long-term performance. Jemstep will also tell you why they suggested the funds as the best fit for you.
Here is a YouTube video illustrating how Jemstep works:
You can try Jemstep to see how the service works without registering. Type in the name of a mutual fund in the search box on the home page, or choose from the most popular funds, and answer three questions about your investment preferences. Jemstep will produce recommendations within the category based upon your preferences.
Jemstep never generates paid recommendations or sponsored listings, according to Cimring. Instead it provides objective recommendations based upon the technology. Pallo said that Jemstep doesn't generate income now but plans to earn revenue in the future through lead generation from brokers' advertisements. They are also looking to add higher-level functions which may become available through a subscription.
In the future, Jemstep is planning a feature that determines your asset allocation and suggests investment categories to match your investment goals. "Jemstep wants to be an end-to-end goal-based portfolio management system," said Cimring.
Jemstep is also looking to launch an iPhone app in 2012.
Do you need to do an end-of-year review of your finances? Are you looking to improve your financial returns in 2012? Does your portfolio need to get in shape? Let us know in the Comments section below!