Just in case you missed it, there was a BIG announcement yesterday. I'm not talking about the news that New Jersey Chris Christie decided not to run for US President or that NBC cancelled The Playboy Club (you'll have to read other blogs for more on those announcements). I'm talking about the press conference Apple gave yesterday to introduce new hardware and software that will be launching next week.
The biggest news yesterday was what wasn't announced. No iPhone 5. Yes, you read that correctly, there will be no iPhone 5 coming out in 2011.
I know what you're thinking:
"Say it ain't so! I held off on the Verizon iPhone in February."
"But I resisted the temptation of a white iPhone in April!"
"I waited from June until October and now I don't get an iPhone 5?"
"Are you serious?"
Yes, I'm serious. There will be no iPhone 5 this year. But there will be an iPhone 4S and the improvements over the iPhone 4 may be more than enough to make you very happy.
On Friday, The Wonder of Tech published a poll: What Is Your Dream iPhone? listing 12 desirable features for the new iPhone. The new iPhone will have most of the features listed, plus some other features not mentioned in the poll, make this new device a very desirable phone. You will also be able to get the iPhone 4S and iPhone 4 on Sprint, making a lot of Sprint customers very pleased.
Voice Commands – Siri

In what looked like a slice of the Future, Apple introduced a deeply integrated voice command system that was simply astonishing. The software, called Siri, is sophisticated voice recognition technology that will respond to your voice commands by using information on your phone such as your calendar, messaging, email, maps, weather app, stock app and notifications. Siri will also use search apps such as Wikipedia, Yelp and Wolfram Alpha to help you find information from the Internet.
You can ask Siri questions such as what is the weather today? What is the weather in London tomorrow? Do I need to wear a raincoat today?
You can also ask Siri things such as what is the capital of Morocco? Where is the closest Chinese restaurant? What would the payments be on a 30 year $200,000 mortgage at 4.5%?
Here is Apple's demo video showing Siri in action:
In the video, Apple shows someone jogging while asking Siri to schedule a meeting. If he's breaking a sweat, it's not because of his scheduling conflicts!
One question I would like to ask Siri: why Apple didn't just call this the iPhone 5?
Siri will be available in English (American, UK, and Australian), French and German when it launches.
Double Capacity for Content – 64GB

Many people doubted that the iPhone would have greater capacity due to the launch of iCloud where users will be able to store their music and photos in the Cloud. But good news! Apple will be offering a 64GB iPhone 4S, double the capacity of the current 32GB iPhone 4 so you can keep twice as many songs, videos, photos, apps and other content on your phone.
Faster Processor – Dual Core A5 Chip

The iPhone 4S will come with a lightning fast dual core A5 chip withe twice processing speed and times faster graphics than the iPhone 4, which has a single core A5 chip. This speed will be apparent when you launch apps, surf the web and play games on your new phone. Apple demonstrated a new gaming app, Infinity Blade 2, to show off the enhanced graphics. Infinity Blade 2 will only be available on the iPhone 4S and will be launched in December.
Besides the enhanced graphics, what else makes Infinity Blade better than the original Infinity Blade? In Infinity Blade 2 you get to use 2 swords instead of 1. Think how 2 razor blades are better than 1 on your personal shaver and you'll know precisely why this game will be awesome!
Better Camera
The camera on the iPhone 4S is 8 megapixels and has loads of improvements, including:
A 5 element lens
30% more sharpness
F 2.4 aperture
Hybrid IR filter
An image signal processor,
26% better white balance
Face detection
The video camera also gains major improvements over the iPhone 4, including 1080p HD recording, image stabilization, and temporary noise reduction.
Apple spent a lot of time showing off amazing pictures. Let's just say someone's vacation involved hot air balloons and a very cute squirrel!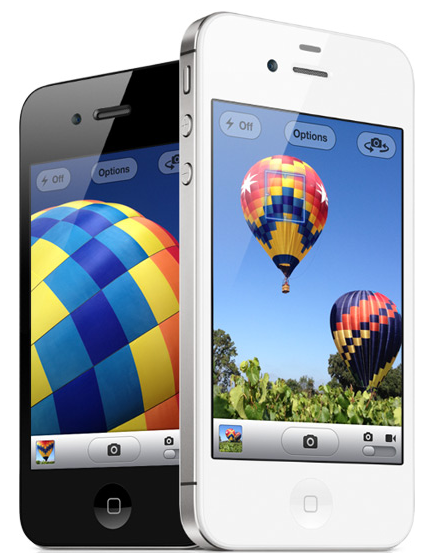 World Phone
For international travelers who want an iPhone on Verizon or Sprint, you don't have to compromise. Verizon and Sprint use CDMA networks while AT&T and carriers in many other countries use GSM networks. The iPhone 4S will be compatible with both CDMA and GSM networks so you won't have to choose which carrier you want based upon whether you travel internationally.
Faster Network
While Apple didn't enable the iPhone 4S to run on LTE or 4G networks, its dual core A5 chip means that the iPhone 4S is twice as fast at downloading data as the iPhone 4 is (14.4 mbps vs. 7.2 mbps), comparable to the speeds of a faster network. Unfortunately for Verizon and Sprint customers, this faster download speed is only on the AT&T network.
Battery Life
The battery life of the iPhone 4S is comparable to the battery life of the iPhone 4. The battery life of the iPhone 4 is one hour longer for using Wi-Fi. The battery life is one hour longer for talk time on the iPhone 4S.
Other iPhone 4S Features
The iPhone 4S has other features that weren't mentioned in Friday's Wonder of Tech poll, including two antennas, one to be used for transmitting and one to be used for receiving. These antennas work in tandem to optimize reception and transmission so your connections should be more stable.
The iPhone 4S will have AirPlay, meaning you can connect the phone (wirelessly through an AppleTv or via a cable) to your tv so you can play your games, look at your photos and see your iPhone screen on your tv.
I Was Wrong!
Okay, first of all, in Friday's post I called the new device an iPhone 5. Silly me, I thought 5 came after 4. But I should have known better since I have an iPhone 3GS. What was I thinking?
But I was also wrong when I said that the new iPhone would not be heavier than the old iPhone. How wrong was I? I was so wrong. The new iPhone 4S is 1 ounce (3 grams) heavier than the iPhone 4. My exact words about the new iPhone being heavier?
"No way. No how."
Sorry, my bad.
Pricing and Availability

The pricing will be as follows:
64GB iPhone 4S $399
32GB iPhone 4S $299
16GB iPhone 4S $199
8GB iPhone 4 $99
16GB iPhone 3GS Free
All of these prices are when a two year contract is signed with your carrier (AT&T, Verizon and Sprint).
Want to see if you're eligible for an upgrade from your carrier? Check out this website: Upgrade Status for AT&T and Verizon.
The iPhone 4S will be available in the US, Canada, Australia, the UK, France, Germany and Japan on October 14 (with pre-orders being taken beginning October 7). The phone will be available in 22 more countries beginning on October 28 and in 70 additional countries by the end of 2011.
iOS 5
Even if you don't get an iPhone 4S, you can still get enhanced features on your iPhone 4 or 3GS with a free upgrade to the iPhone operating system, iOS 5. Notifications, Newstand, iMessage, Camera enhancements, Reader and Twitter integration will all be yours on October 12 when iOS 5 is released. These features were revealed by Apple at their WWDC conference in June. For a full explanation, check out my article: WWDC: A Slice of Apple's Future.
What do you think? Are you enticed by the iPhone 4S? Would you have preferred a new design? Would you have liked it better if Apple called its new phone the iPhone 5 instead of the iPhone 4S? Let us know in the Comments section below!