Facebook's first phone, the HTC First, is here for you Facebook fans. If you're a fan of Facebook and your Facebook friends, then you may be a fan of the Facebook phone. Even if you're not a fan of Facebook, you still may be a fan of this phone.
The Facebook Phone is also known as the HTC First, not to be confused with the recently-reviewed HTC One. Don't blame yourself if you get the names mixed up, your befuddlement is completely understandable.
The HTC First is currently available from AT&T for $0.99, on sale from $99, with a two-year contract.
Facebook Home Features
The HTC First comes with the Facebook Home launcher pre-installed over the Android Jelly Bean 4.1 operating system, similar to how the Kindle Fire has launcher software pre-installed over Android on those tablets. You can also add Facebook Home to the HTC One, HTC One X, Samsung Galaxy S3 and S4, and Samsung Galaxy Note II phones by downloading it from Google Play. You can remove Facebook Home from the HTC First if you prefer a pure Android phone.
Here's a video from Facebook showing you some of the features of Facebook Home:

Cover Feed
Turn on the phone and your Home screen will greet you with the latest posts from your friends on Facebook as well as other notifications from apps such as email, Twitter, Pinterest, etc., similar to BlinkFeed on the HTC One (Note that if you use Facebook Home on a different Android phone, only Facebook notifications will appear on your Home screen).
Cover Feed shows you notices with Facebook profile pictures and app icons so you can visually sort through the important posts. Double tap on a notice from an app to open the app. You can swipe the notice to the side to delete it from your Cover Feed.
Double tap on a Facebook post to be taken directly to the full screen Cover Feed version to view, read, Like and comment on the post. Unfortunately, you can't Share from Cover Feed, to Share just head to the Facebook app.
Drag your photo up to access your App Launcher, left to access Facebook Messenger and right to open the last app you used.
Chat Heads
If you want to get instant notifications of messages from your Facebook friends, then you will enjoy Chat Heads. With Chat Heads, your friends' profile pictures pop up on your screen when you receive a Facebook message from them. You can move the Chat Head around the screen or swipe it down to delete it.
Chat Heads doesn't appear in every app – it doesn't intrude upon apps such as games, Netflix, and other apps where you may not want to be interrupted. Chat Heads will appear over Google Music so you can chat while rocking to your favorite tunes.
To respond to a comment, press the Chat Head to open the Facebook Message window on top of your open app. When you're done, you'll return to the app you had open.
Chat Heads is available within the Facebook app on other phones but won't appear on other apps.
Facebook Messenger
Sending a text message/SMS is done through the Facebook Messenger app. Unlike iMessage on the iPhone, Facebook Messenger and text messaging are not intertwined with your text message charges. If you're using Facebook Messenger to send a text message, texting charges will apply. If you send Facebook messages through Facebook Messenger text message charges will not apply
Perhaps to encourage you even more to use Facebook messages rather than text messages, the app only displays contact photos when using Facebook messages. You see a gray image with SMS instead of a profile picture when sending and receiving text messages.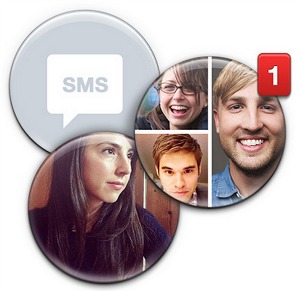 Other Apps
In the rare instances that you may want to use this phone for a purpose non-Facebook related, you can load other apps onto the phone from Google Play or the Amazon Appstore. You access these apps by pressing on the circle button on the bottom dock or by swiping your Facebook photo up on the Home screen to reveal the App Launcher.
App Launcher is a series of screens that hold your favorite apps. You can swipe the App Launcher screen to the right to reveal your App Drawer filled with all of the apps on your phone. Tap and hold an app in your App Drawer to add it to your App Launcher.
App Launcher screens have Status, Photo and Check In tabs at the top should you regret your folly in departing the world of Facebook.
From within App Launcher you can remove apps by dragging them to the top of your screen or pressing and holding them, then clicking Remove that appears at the top of the screen. You can also rearranged the apps by pressing them and then dragging them around the screen.
Battery and Data Usage
You can monitor both your battery and data usage from Settings, in case you're wondering whether Facebook is taxing your phone. In my testing, Facebook wasn't either a big battery or data hog. In fact, the usage of both was minimal. You can set an alert to be notified if you're nearing your data limit.
Design
The screen is 4.3″ diagonally, so will be a good fit for those who don't like the larger phablet phones. The screen is sharp and clear, better to display the many Facebook photos you'll be viewing. The phone runs on AT&T's LTE network and has a built in FM radio. The phone has three touch (capacitive) buttons on the bottom dock, back, menu and a circle button in the middle, which takes you back to the Home screen or to the app screen if you're already on the Home screen. Press and hold the circle button to be taken directly to Google Now.
The stated battery life is 14.3 hours of talk time and 18.2 days of standby time. Like other HTC phones, the First does not have a removable back so you will have to use an external battery charger instead of a spare battery if you're running low on juice and away from an electrical outlet.
The HTC First also does not have an SD card slot so you'll have to live with the 16 GB of storage that comes with the phone.
The phone feels solid and comfortable in the hand. The edges are rounded and the corners are curved
The speakers are on the bottom edge of the phone, which is better than having them on the back of the phone, but not as optimal as having them on the front. The speaker quality is good, though no one will mistake the sound for that of the HTC One.
The back of the phone is covered in smooth rubbery plastic, that looks and feels as if you've already put a cover on the phone. The phone comes in black, white, red and pale blue. AT&T provided me with a pale blue phone, which is more of a aqua, the color I would have gotten for a cover anyway.
Camera
The rear camera is 5 MP and the front camera is 1.8 MP. The camera can take HD video and panoramic shots. You can take images in Scene Modes such as Auto, Action, Night, Sunset and Party. The camera doesn't have filters or editing so you may want to use a third party photo editing app before you post your pics.
Accessing the camera requires a few steps. You can keep the Camera app in App launcher, but you can't access it directly from the Home Screen.
You can share your photos directly with sharing sites such as Facebook, Instagram, Google Plus, Twitter, Picasa and email.
Here are some sample photos taken with the HTC First:
This slideshow requires JavaScript.
Non-Facebook Fans
Not a Facebook fan? Good news! You can turn off Facebook Home in Settings to convert the HTC First into an Android phone running Jelly Bean 4.1. You can also convert to pure Android temporarily by:
Home Screen => Swiping your photo up to reveal App Launcher => Swipe App Launcher to the right to reveal your App Drawer => Scroll down and tap More => Android Home Screen
My Test
I didn't expect to enjoy the Facebook Phone as much as I did. In fact, in the poll in the article Facebook's First Phone – Is It the Phone for You?, I voted with half of the respondents: "No, I like Facebook, but I don't like it that much."
In spite of my vote, I quickly started enjoying this phone as I became engaged with my Facebook friends. Chat Heads alerted me to messages much more quickly which was very helpful. While the BlackBerry Z10 is a phone for efficiency, the First draws you in to be more engaged with your phone.
One morning I was greeted by my Cover Feed with these lovely photos and inspiring messages from around the world:
This slideshow requires JavaScript.
Seeing posts like these, I quickly became enchanted with the phone.
The battery life of the phone was impressive. Even after using the phone heavily throughout the day, listening to Google Music, shooting photos and videos, surfing the Net, talking on the phone and using apps, I had 58% of my battery left by the end of the day.
This phone has the first version of Facebook Home and Facebook has said that they are already working on the next version of the software. I suggest that they add to the software update:
The ability to access to the Camera app instantly from the home screen
The ability to snap a picture by pressing a volume button
Filters and editing tools to the Camera app
A way to share Facebook posts from Cover Feed
The ability to access widgets from the Home Screen
Who Should Check Out This Phone
Teenagers — This phone could be an ideal phone for teenagers. They will enjoy seeing the posts from their friends on their Home screen without even having to unlock the phone. The price, durable cover, quality build, the choice of colors and the Facebook features may make this a great choice for your teen. I showed this phone to my three teenagers and their friends and each one thought it was cool. If your teenage kids are on Facebook all the time, save them some steps with this phone. Of course, if you're trying to convince your teens to spend less time on Facebook, then this probably isn't your best choice of phones for them.
Facebook Fans — If much of your phone time is spent on Facebook, this phone will make the experience easier and more immersive.
Non-Facebook Fans — If you want a mid-range Android phone for $0.99, get this phone and remove Facebook Home.
Availability
The HTC First is currently available at AT&T for $0.99 with a two-year contract. That's right, 99¢. The phone started off at $99, but sales of the phone have been weak.
Last week, European carriers EE and Orange announced that they were delaying the launch of the HTC First indefinitely pending Facebook updating its software. BGR reported that AT&T is on the verge of canceling the phone, with a mere 15,000 units sold prior to the price drop earlier this month. While that report hasn't been confirmed by AT&T, you shouldn't delay if you're interested in getting this phone. You may be getting a collector's item.
Bottom Line
Whether you like this phone or not may depend more on how you feel about your Facebook friends than on the features of the phone. If you have amazing Facebook friends, you may delight at being greeted by their posts and photos every time you reach for your phone. If your friends share less interesting posts, then you won't be thrilled with Facebook Home. But perhaps that says more about your friends on Facebook than it does about this phone?
If you're looking for a mid-range Android phone you should check out the HTC First and consider removing Facebook Home. For $0.99, you'd be getting a lot of phone for the money.
What do you think of the HTC First? Would you consider the phone for $0.99? Would you keep the Facebook Home launcher, use pure Android or switch back and forth? Let us know in the Comments section below!
Many thanks to AT&T for lending me an HTC First for review. No compensation was received for the review of this phone.
Thanks also go to Marjorie Clayman, Michael Q Todd, Kathy Flake, Stacey Herbert and Ashvini Kumar Saxena for the kind use of their images and Facebook posts for this article.