If you have an iOS device, meaning an iPad, iPhone or iPod Touch, you should check out a free ereader app available for you at iTunes: iBooks. iBooks is Apple's ereader app that allows you to read iBooks as well as many other books on your iOS device.
In fact, if you want to read an iBook, you need to have both an iOS device and the iBooks app. Unlike Kindle books, which can be read on almost all mobile devices and computers, iBooks can only be read on iOS devices using the iBooks app.
Paid iBooks are available from iTunes in the US, UK, Canada, Australia, and Ireland. Earlier this month, Nikkei reported that iBooks would be expanding into Japan.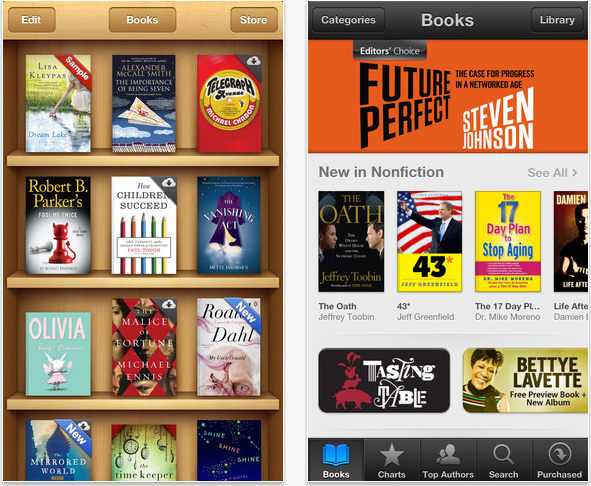 Getting Started with iBooks
To begin, download the free iBooks app from the iTunes App Store. The app will appear on your device. When you open the app, you'll see an empty wooden bookshelf.
To get some use out of this app, visit the iBooks Store. You can get there by pressing the Store button on the upper right corner of your bookshelf or by going into iTunes on your computer and clicking on Store in the left column, which will open the iTunes store, then clicking on Books in the menu bar at the top of the store screen.
You can change the font, adjust the font size and screen brightness and choose a theme from within the iBooks app.
Apple has thousands of iBooks available in the iBooks store, including many free books. The iBooks app allows for interactive features, which is very useful for textbooks, cookbooks, and instruction manuals.
The collection of free iBooks is extensive. You can get free user guides for all of your iOS devices as well as loads of classic books for free. The collection of free iBooks also includes current novels, biographies, graphic novels, comic books, cookbooks, travel books, romance novels, mysteries and thrillers, and books in many other categories. The free iBooks collection is definitely worth checking out at the iBooks store.
The iBooks store also has a collection of "Great Books for $3.99 or Less," as well as New York Times Bestsellers, both in fiction and non-fiction. You can search for books by category and pre-order books before they are released.
You can also purchase audiobooks from iBooks, but if you're an audiobook fan, you will save a lot of money by checking out Audible instead of iTunes.
To help you decide on books, read reviews. Even if you're certain you want to get a book, make sure to read the iBooks review to see how the book functions as an iBook. You can also download a sample of the book to see if you enjoy reading it.
The Coolest Trick You Can Do with iBooks -Project Gutenberg
One of the advantages of iBooks is the simplicity of getting free books on iBooks. In addition to the free books in the iBooks store, you can get free books from Project Gutenberg. Now, you can read Project Gutenberg books on many devices, such as your computer or Kindle. But getting Project Gutenberg books onto your iPad using iBooks is ridiculously easy and very cool.
Project Gutenberg was started in 1971 "to encourage the creation and distribution of eBooks" and is now the largest source of free ebooks in the world. As of this month, Project Gutenberg has 40,000 items available for free. To download a Project Gutenberg book onto your iOS device, open your Safari app and go to http://m.gutenberg.org/. Browse through their extensive collection.
When you find a book you want to download to your iDevice, choose EPUB as the format and download the book. After the book has been downloaded, a screen will appear that looks like this:
Press Open in "iBooks". The book will appear on your iBooks bookshelf after the download is complete.
Project Gutenberg is for US books, but Sister sites of Project Gutenberg are available around the world.
Bottom Line
If you have an iPad, iPhone or iPod Touch, download iBooks, visit the iBooks store and check out Project Gutenberg to enrich your collection of ebooks.
Have you ever used iBooks? Have you downloaded any iBooks onto your iOS device? Do you have any iBook recommendations? Have you ever read a book from Project Gutenberg? Let us know in the Comments section below!
*******************
After you've finished perusing your favorite iBooks and Project Gutenberg books, check out a mystery novel in the iBooks store called "Lizarraga" by Wonder of Tech reader and fellow blogger, Jens-Petter Berget. This book, released last week, is his first novel and is available free in the iBooks Store.

Note that the book is written in his native Norwegian language so if you are one of the very few people in the world who isn't fluent in Norwegian, actually reading Lizarraga may be a bit of a challenge for you. But, hey, the book is free so you could download it now just to practice downloading an iBook to your iOS device and worry about learning Norwegian later.