Q. How can I create app folders on my iPhone? I want to organize my apps better and someone told me to make app folders but I don't know how to do it.
A. Whether you have hundreds of apps or just a few, you may want to organize your apps into folders on your iPhone, iPad or iPod Touch. By taking just a few seconds to create folders and arrange your apps, you can save lots of time and frustration later.
Benefits of App Folders
Organize Your Apps
The longer you have your iDevice, the more apps you tend to have. Your cousin's best friend's former roommate's girlfriend recommends a "must have" app that becomes your new favorite. Or you find out about an exciting new app at The Wonder of Tech! Soon your well-organized screens become a jumble of icons.
Create app folders in categories, such as Weather, News, Puzzle Games, Word Games, Utilities. Put your apps in the folders, putting your favorite ones first.
Segregate Your Kids' Apps
Your kids will be less tempted to mess with your iDevice if they know their favorite apps are in one folder. More than one kid? Make multiple folders, one for each child. You can only put an app in one folder so if your kids all like the same favorite app, this method of organizing your folders may not be your optimal choice.
Declutter
You can have have up to 11 screen of app icons on your iDevice. But swiping through 11 screens to peruse your apps may not be the most pleasant use of your time. By placing your apps into folders you can reduce the time you spend swiping through your screens. Congregate your apps into folders on fewer screens.
Hide Unwanted Apps
iDevices come with apps called "native" apps such as Game Center, Notes, Weather, Stocks, and Clock. You may find these useful or you may have found alternative apps that work better than native ones.
If you don't care for native apps, well, bad news, you can't delete them from your device. Instead, you can put unwanted native apps into a folder you name something like "Apps I Wish I Could Delete But Can't" to clear up your screen. Banish that folder to the very last position on your last screen.
How to Create an App Folder
Making an app folder is simple and quick. Press your finger on an app until it jiggles like a Jello cube in the cab of a tractor trailer speeding over a bumpy road. Then drag the app on top of another app.
When an app is jiggling an X in a circle appears in the upper left corner of the icon. Pressing that X will delete the app from your device. You'll be prompted to confirm your choice to delete the app so you don't delete an app by accident.
A folder will appear with a suggested title based on the category of apps. You can change the suggested title by pressing on the X in the title bar and then typing in your own title. Click "Done".
The icons will still be jiggling so you can rearrange your apps in the order you prefer. When you're done, either tap outside the folder or press your home button. You'll return to the full screen with the apps still jiggling so you can make more folders or move more apps into your new folder. Press the Home button to stop the apps from jiggling.
If you need to drag an app across multiple screens, you'll find it easier to put the app in the dock at the bottom of your screen. That way the app appears on all screens so you don't have to drag it between screens.
You can add up to 12 apps into a folder on an iPhone and iPod Touch and up to 20 apps into an iPad folder. In iOS 7, you'll be able to add an unlimited number of apps into a folder.
To change the name of the folder after you've created it, open the folder, press and hold one of the app icons in the folder. The app icons will wiggle and the title bar will appear. You can edit the name of the folder, then press the Home button when you're done.
Emoticons/Emojis
Your folder names may be fun or functional. You can use emoticons to make your folder names both fun and functional. If a picture says a thousand words, well an emoticon must say about 575.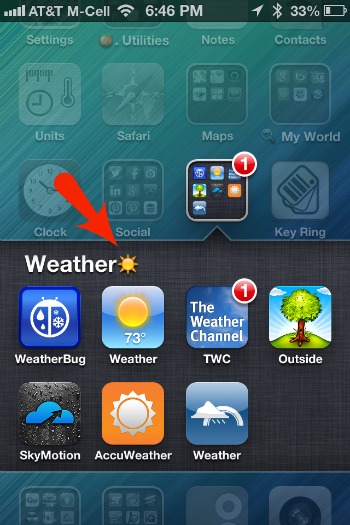 You can use a magnifying glass for search apps, a sun for weather apps, an airplane for travel apps, a guitar for music apps, a football for sports apps, etc.
See, Emoticons: To for more information on using emoticons.
App Folder Tips and Tricks
• You can drag and drop folders to move them the same way you move apps.
• You can remove apps from folders by dragging them out of the folder.
• Can't remember which folder you put an app into? Swipe the screens all the way to the right until you get to the first screen for Spotlight search. Type in the name of the app. When the app name is shown, the name of the folder in which it resides will appear.
• You can put folders in the dock so they appear on every screen.
• To delete a folder, drag all of the apps out of the folder. The folder will disappear.
• You can arrange app icons within a folder. Put your most used apps where you want them.
• You can't put a folder in a folder.
• Newstand is a native folder. You can't delete it and you can't move it into another folder.
Your Thoughts
Do you use folders to organize your apps? How do you name your app folders? Do you have any tips and tricks for organizing your apps? Let us know in the Comments section below!
_______________
Hang w/ Comes to Android
Android users can now join in the fun with Hang w/, the live video streaming service. Grab the free Hang w/ app from Google Play and start hanging with the fun Hang w/ people.
_______________
iPhone 5 Comes to Virgin Mobile
If you've been eager to get your hands on an iPhone 5 on Virgin Mobile, your wait is over. You can now get an iPhone 5 in either white or black in 3 sizes:
16GB — $549
32GB — $649
64GB — $749
The 16GB version is available at Radio Shack and at Virgin Mobile online. The 32 and 64GB models are only available from Virgin Mobile online.
Radio Shack is currently $50 off the price of the iPhone 5 if you trade in a working phone, bringing the price of the iPhone 5 down to $499 for the 16GB model.