You're watching your favorite TV show, chatting on Twitter with fellow fans, actors and the producer of the show. You pause the show to refresh your favorite beverage then press Play to resume the action. You glance at Twitter and read a tweet about a massive plot twist that just happened on your show, spoiling the episode for you.
Spoilers. They can ruin an experience for you faster than Android fans visiting a line outside an Apple store. Reading a spoiler on social media can take away the enjoyment of watching your favorite show, sporting event or reality TV episode. The thrill of finding out what happens can be blown by a well-meaning tweet or Facebook post.
Sometimes enjoying TV means avoiding social media so your fun isn't ruined by spoilers. Perhaps you're in a later time zone and are waiting patiently for a TV show to start hours after it has already aired on the East Coast. Or maybe you like to watch a show time-delayed on your DVR so you can skip through the commercials. Perhaps you are looking forward to watching the Monday Night Football game tonight but have to catch Dancing with the Stars first.
In each of these instances you may be avoiding social media because you don't want to see posts that may reveal more than you want to know. But by avoiding social, you may be missing out on the posts you do want to see.
Free services have been developed to help you enjoy social media without encountering any spoilers. Using these services can help you use social media sites without fretting about your show being spoiled for you.
Twivo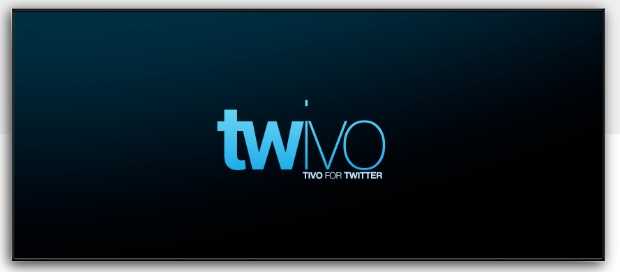 Twivo is a free extension for Google Chrome that can block tweets for you that have specific hashtags. When you're caught up on your TV watching and want to read the tweets you blocked, Twivo will display them for you.
See also, 15 Fantastic Chrome Extensions to Make Your Life Easier.
To use the extension, download it from the Chrome webstore and visit Twitter. Your Twitter stream will have a new heading:
Type in the hashtag you want to blog and click on Record. Twivo will hide tweets containing that hashtag from people you follow. Don't worry, you're not missing out on those tweets, just blocking them until you're ready to see them.
When you've caught up with your TV viewing and want to read the hidden tweets, click Play and the tweets that were hidden will now be revealed.
Twivo was developed by a 17 year old girl named Jennie Lamere who was inspired to develop Twivo due to her frustration at seeing spoiler tweets for her two favorite shows, Dance Moms and Pretty Little Liars. She solved her problem when she developed Twivo while competing in a hackathon in April. Lamere won not only her category, Best Use of Sync to Broadcast, but also won the entire hackathon, beating out professional developers.
Spoiler Shield
If you're looking to block spoilers on Twitter or Facebook using your iPhone, iPad or iPod Touch, check out Spoiler Shield, a free app in the iTunes App Store. With Spoiler Shield you can easily block TV shows and sports teams from your Twitter and Facebook feeds.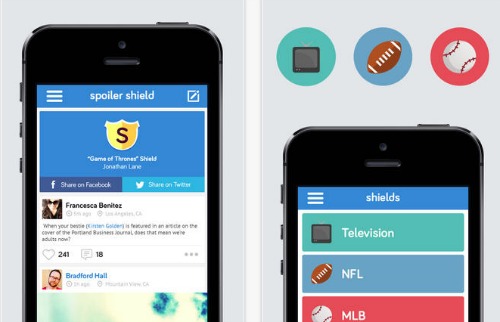 To get started, download the free Spoiler Shield app from the iTunes App Store.
Open the app and authorize your Twitter and Facebook accounts, then set your shields. You can choose from dozens of TV shows such as Boardwalk Empire, Survivor, Breaking Bad, Big Brother, Mad Men and more. You can also choose your favorite sports teams from the NFL and Major League Baseball.
Toggle your shields on when you want to block spoilers. You can then peruse Facebook and Twitter using the app without worrying about spoilers ruining your fun. When it's safe to see all tweets and Facebook posts again you can toggle your shields off or exit the app and view Twitter and Facebook from another app.
Spoiler Foiler
If you're a fan of Breaking Bad, like I am, and haven't yet finished watching the final season, like I haven't, you may fear reading spoilers on Twitter.
Good news! Netflix has you covered with Spoiler Foiler.
Head to spoilerfoiler.com and authorize your Twitter account. (You don't need a Netflix account to use Spoiler Foiler.) You can now see your Twitter feed with all tweets possibly referring to Breaking Bad blocked out.
Spoiler Foiler doesn't depend upon the people you follow using proper hashtags, it blocks any tweets it believes might reveal spoilers. Click on the tweet to reveal the blocked information.
Note that Netflix uses a very liberal approach to the words that might reveal Breaking Bad information:
Perhaps it would be easier to just catch up on the ending of Breaking Bad…
Your Thoughts
Do you hate spoilers? Are you excited to discover free solutions to spoiler tweets? Have you ever read a spoiler on Twitter? Do you wish there were ways to block spoilers on emails, text messages and face-to-face conversations? Let us know in the Comments section below!