'Tis the Season…for shopping! That's right, whether you dread or delight in shopping, this time of year will probably find you heading to the stores and/or online shopping sites. Equip yourself with the best tech tools to find the most generous deals, make your shopping more efficient, stretch your budget, and keep track of your purchases!
Coupons at Checkout
Do you ever forget to check for coupons when you shop online? You might have every intention of checking for coupons but then you find exactly what you're looking for and forget all about coupons!
Coupons at Checkout automatically finds coupons for you when you shop online. Just use the browser extension and the coupon code box will be highlighted in red when you check out at a store with eligible coupons. Click on the coupon code box and Coupons at Checkout will show you available coupon codes. This tool has often saved me from paying too much online!
See my full review for more information: Coupons at Checkout – The Easiest Way to Save Money and Time!
IFTTT
While you may be collecting recipes for your holiday meals, you can use IFTTT tech recipes to help with your online holiday shopping. IFTTT, a/k/a If This Then That, can alert you to deals, shipping and product availability via email, text message or even flashing light bulbs.
Use recipes such as:
(Okay, that last recipe had nothing to do with shopping, but I still thought it was very cool.)
Check out other online shopping recipes at IFTTT.
See my full review of IFTTT at IFTTT- Tech to Make Your Life Easier!
Mr. Rebates
Mr. Rebates pays you to shop online. Before you shop, visit Mr. Rebates website and find the link to the online store. Click through that link to start earning rebates and collect coupons for your shopping.
Choose from hundreds of online stores such as Gap, Nordstrom, Walmart and Target. Mr. Rebates even includes Amazon this year! You can also get rebates on your travel by purchasing your airline tickets and making hotel and rental car reservations using Mr. Rebates.
You get paid cash from Mr. Rebates via a check or a deposit directly into your PayPal account. So far, I've earned over $1300 in rebates from Mr. Rebates since I joined in 2005. Considering I spent 4 of the past 9 years in the UK, that's quite an impressive amount!
Earn rebates when your friends shop by inviting them to Mr. Rebates. If you join Mr. Rebates using this link to the Mr Rebates website, I'll receive a small rebate when you shop using Mr Rebates. If you'd prefer to join without using my referral link, you can click this link: Mr. Rebates. Either way you can start saving now!
Cartwheel by Target
If you're a fan of shopping at Target, then you should grab the free Cartwheel app for extra discounts. Download the app, then scan the barcode of anything you drop into your shopping cart at the store. The app will tell you whether there's an extra discount for that item. No more need to worry about leaving coupons at home!
You can collect up to 10 discounts in your Cartwheel app during each shopping trip, then get more when you earn badges. When you get to checkout, tap the My Barcode tab in your menu and a barcode appears for the cashier to scan. Bam! Your discounts are applied to your purchases.
This video shows you how Cartwheel works:
Discounts range from 5% to 50% on all sorts of items, from groceries to clothing to household items. You won't know if you'll get a discount until you scan the code!
The Cartwheel app is available free for:
Deliveries App
When you shop online you need to keep track of package deliveries. Now you no longer have to keep checking your delivery status online. The app Deliveries helps you keep track of your packages and alert you when they've been delivered. Enter the tracking number and Deliveries will show you on a map where your package is and when you can expect it to arrive on your doorstep.
The app is available in 9 different languages and for delivery services around the world, including UPS, FedEx, US Postal Service, DHL, TNT, Canada Post, City Link, Royal Mail and many more.
Deliveries is available as an app for the iPhone/iPad/iPod Touch for $4.99 and as a free widget for Mac.
A similar Deliveries app is available for Android devices for free.
See my full review at Deliveries – Your Powerful Tracking Tool.
Invisible Hand
If you want a partner in shopping who will find the best prices for you online automatically, check out Invisible Hand. This browser extension automatically comparison shops as you visit online stores. When you arrive at a retail website, Invisible Hand gets to work finding competitive prices for the same item at other websites.
You'll see a yellow bar at the top of the screen when Invisible Hand has found prices at other websites. Click on the drop-down menu to see other prices and get your best deal.
Check out my full review of Invisible Hand: Invisible Hand – For Economical Online Shopping!
The Christmas List App
Want to organize your shopping list organized? Keep track of what you've bought, what you still need to buy, remember clothing sizes, and stay on budget, all from this handy app. You'll never leave your list behind when you keep this app on your phone!
Keep this app on your phone year 'round to keep track of gifts for birthdays, Valentines Day and other holidays. Add ideas as you get inspiration or hints from loved ones.
The Christmas List app is available for $1.99 for iPhone/iPad/iPod Touch. Also check out Christmas Gift List, free for Android devices.
FastMall App
If you're brave enough to visit a shopping mall between Black Friday and Christmas, don't go unarmed. Prepare yourself by downloading the free FastMall app onto your phone. This app has floor plans for shopping malls around the world so you can navigate quickly between stores with ease.
If you're rolling a stroller, shopping cart or wheel chair during your shopping trip, you can let the app know to guide you between floors via elevators instead of escalators.
The best part of this app? Shake your phone to find the nearest restroom. Hey, when your little one needs a bathroom quickly you may not have time to type!
FastMall is available free for:
My full review of FastMall: FastMall – Shopping Made Easy with Tech!
ShopAdvisor
You could spend your waking hours trying to find when prices drop on your gift list items. Or you could use ShopAdvisor, an app that can alert you to price drops so you don't miss out on bargains.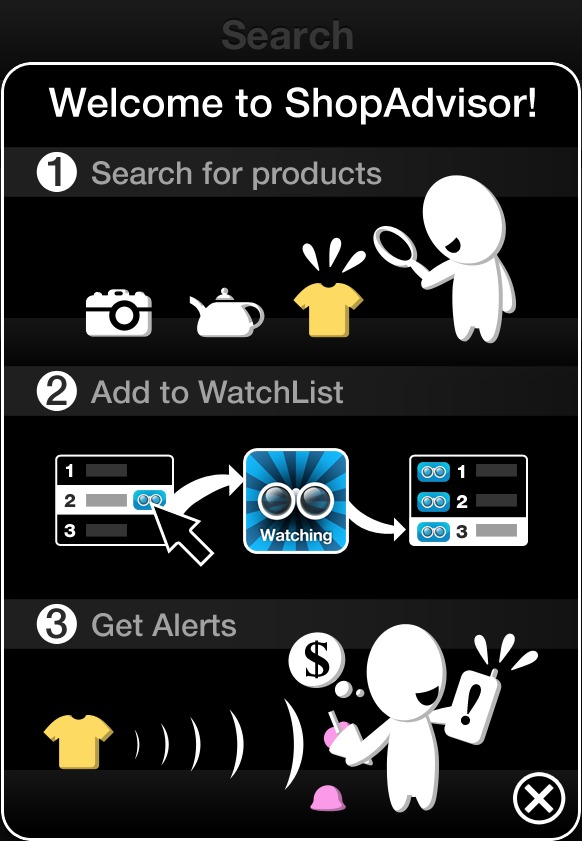 ShopAdvisor is an app and website that can track prices of items and alert you to price drops. You can also see the history of an item's pricing so you know whether now is a good time to buy.
See, ShopAdvisor – Your Virtual Shopping Assistant for more information on this app.
ShopAdvisor is free and available online at the ShopAdvisor website and with apps for:
Amazon Prime 30-Day Free Trial
You can save a lot of money on shipping with Amazon Prime by signing up for a 30-day free trial. Amazon Prime gives you many benefits, among them free 2-day shipping on all eligible items. Ship your last-minute gifts for free and avoid hefty shipping charges.
Other benefits of Amazon Prime you can enjoy during your 30-day free trial. Benefits include:
Free 2-day shipping on eligible items
$3.99 1-day shipping on eligible items
Amazon Prime Video  – free, unlimited streaming of movies and TV shows
Kindle Owners Lending Library – borrowing a Kindle book for free each month
Prime Music – free streaming of music
Amazon Lightning Deals — Prime Members get first dibs on some Lightning Deals
Who knows? You may end up keeping your membership once you get spoiled by Prime membership perks!
Remember, if you can wait a few days for your purchase, choose regular shipping. That's better for the environment and puts less stress on the system.
See, Is Amazon Prime Worth $99 for You? Here's How to Decide! for more information about Amazon Prime perks.
Note that another (new) perk of Amazon Prime is Prime Photos — free, unlimited storage of your digital photo files in Amazon Cloud. But first decide if you're keeping Prime after the 30 day trial is over. You don't want to store all of your files only to remove them (or be charged for the storage space) after 30 days. See, Free Unlimited Photo Storage for Amazon Prime Members! for more details on this perk.
Your Thoughts
Do you use tech tools when you shop? Which tech tools have you tried? Can you recommend any of your favorites? Let us know in the Comments section below!
* Shopping Woman image (edited) courtesy of iosphere via FreeDigitalPhotos.net
********************
Content Day from Verizon
Don't forget that today is Content Day for Verizon customers. Grab free content today only, courtesy of Verizon Wireless. From the company:
"Connection Day will provide free content for all, thanks to partnerships between Verizon and a variety of leading content providers, including Amazon, Condé Nast, Gogo Technologies, JetBlue, Pandora, and more. Mobile users can enjoy free wifi, books, music and more, so that travel can be a little more enjoyable and connections to all the things mobile users love can be a little easier to maintain.
Connection Day gets even sweeter for Verizon Wireless users. Starting today, MORE Everything customers who register for Connection Day are eligible to immediately receive a one-time gift of 1GB of shareable data applied to their account. Plus, they'll get another 1GB of data in their next billing cycle."
********************
Happy Thanksgiving
I wish all of you dear readers a very Happy Thanksgiving. I am very grateful for all of the support, comments, questions and sharing from my readers this past year. I hope that Thanksgiving brings you a safe and happy holiday with your loved ones.
* Photo courtesy of Sheila Yoshikawa via Flickr and Creative Commons