When you're trying to get into a festive mood, listen to holiday music to get you in the spirit! Enjoy lots of different holiday music so you can savor your favorites and discover new music. Ring in the new year by playing the best songs of 2014 and new music that will rock your 2015!
Spotify
Spotify is filled with holiday playlists for you to enjoy. You can listen for hours to holiday and New Year's playlists on your computer and using the Spotify apps.
The Christmas Music on Spotify page gives you a sample of the top holiday playlists. Also check out THE ULTIMATE CHRISTMAS PLAYLIST.
Enjoy Pure Holiday Music:
See, The 10 Real Reasons Why I Love Spotify by guest author Jens Berget to learn more about Spotify.
New Year's Music
Embibe a bit too much on New Year's? Check out a Hangover Friendly playlist at Spotify! (This actually is a very relaxing playlist even if you aren't regretting a night of overdoing.)
When need a break from holiday music, you can jam to the top songs of 2014:
Spotify Top Songs of 2014
Check out the year in music with Spotify 2014. See the most-played songs, playlists and artist. See the Most Popular Icon, Most Dedicated Fan and Happiest Day of the Year, when more happy songs were played. Find out the Most Viral Song, Most Addictive Song and the Top Throwback Song. See which songs were shared most often all four season of 2014.
Click the green Your Year in Music button at the top left corner to see what music you listened to most and other stats for you in 2014. You can even have Spotify create your own personal playlist for 2015 based on your listening stats for this year.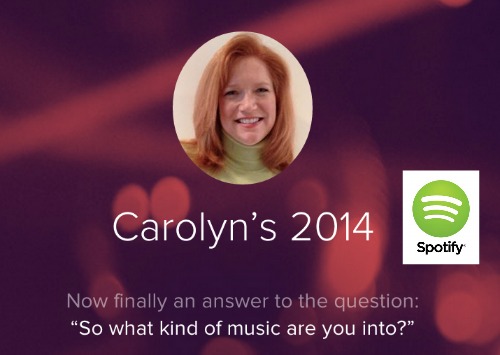 More fun from Spotify! This video gives you a behind-the-scenes peak at the top music and artists of 2014 at Spotify:
Spotify On Sale!
Spotify has a special holiday deal for you: try Spotify for three months for 99¢/month. Grab this deal at the Spotify Holiday deal page before December 31 when it goes away.
Amazon Prime Music
Amazon has a gift for its Prime members. Check out its new holiday playlist All Is Bright with 2 hours and 23 minutes of music to get you in a festive mood. All 43 songs on this playlist have been newly recorded and will play ad-free in Amazon's Prime Music app.
Amazon Prime Music is free for Amazon Prime members. For more information about Amazon Prime, check out Is Amazon Prime Worth $99 for You? Here's How to Decide!
iTunes
Want to listen to your own holiday tunes in iTunes? No need to waste time making a playlist. Just play the songs in the Holiday genre in iTunes!
Playing music in a genre is easy using iTunes. Ask Siri to "Play Holiday Music." Or, if you want to do it without using Siri, open iTunes on your computer or the iTunes App and search for the Holiday genre. On your iPhone tap the More button in the right bottom corner of the menu and then tap Genres.
In iTunes on your computer, click My Music in the top menu, then click the ∨ button in the upper left corner and select Genres.
You'll see your music arranged by genres. Click Holiday on the left side of your screen and begin listening to your favorite holiday tunes!
iTunes Radio
Enjoy streaming music on iTunes Radio with 10 different holiday stations such as Children's Christmas, Chill Out Holiday and Holiday Hits. On your iDevice open your iTunes app, tap the Radio icon in your bottom menu, then enter your search term at the top. You'll be shown a list of matching stations, songs and artists. Tap on one to begin listening and add it to your favorites.
On your computer, open iTunes, then click Radio in the top menu. Check the + sign next to My Stations. Enter your search term in the box to find holiday stations.
Pandora
Pandora has lots of holiday stations for your listening pleasure. Check out Pandora Holiday Music to find a station that suits your tastes.
Choose from 28 different holiday stations, including:
Traditional Christmas
Peaceful Holidays
Navidad Latina
Soulful Holidays
Hanukkah
Christmas Choral Classics
Hipster Holidays
Tropical Christmas
See Pandora: Music to Your Ears? for more information about Pandora Radio
SiriusXM
SiriusXM takes the holidays seriously with eight holiday stations for your listening pleasure. Listen to commercial-free music including traditional holiday songs, classical Christmas carols, country Christmas classics, contemporary holiday tunes, soul music, Hanukkah music and Latin seasonal music. Two stations are available now with more stations being added as the season continues. Listen to Holly on Channel 17 or Holiday Traditions on Channel 147 now and more stations later.
You can even listen to New Year's Music from December 31 to January 2 on Channel 3 to make the most of your festivities!
Check out the SiriusXM Holiday Page for a full list of stations and dates of availability. SiriusXM offers a 30-day free trial so you can sign up to try out the stations and see if you like SiriusXM.
iHeartRADIO
iHeartRADIO has launched its North Pole station, complete with your favorite DJ, Santa Claus! Make requests by tweeting Santa at his official iHeartRADIO Twitter account @iheartsanta or dial in your requests to (929) BIG-ELF1 and leave a voice mail for the big guy.

YouTube
Get into the holiday spirit with music and videos on YouTube. Find the music you want by searching the keywords you want such as "Classic Christmas Music", "Hanukkah Music"
You may be able to get your fill of holiday music with this three hour video titled 3 Hours of Christmas Music Classics and Holiday Scenery:
Your Thoughts
Do you like listening to holiday music? What are your favorite sources for holiday tunes? Did you check out your 2014 music on Spotify? Let us know in the Comments section below!
******************
* Christmas Music image (edited) courtesy of imagerymajestic via freedigitalphotos.net