Today, The Wonder of Tech is one year old! I started this blog last year to share my love of personal technology with others who wanted to learn about tech in plain English. I wanted to share apps, great websites, helpful hints and tech tips. During the past year, 264 articles have been published (including this one), 6200+ comments have been posted, and readers have visited from 122 different countries. The Wonder of Tech started appearing in the Business Section of The Philadelphia Inquirer website on Thursdays, beginning in October.
In honor of The Wonder of Tech finishing its rookie year, I have decided to accept the Seven Links Challenge, which was created by TripBase Blog:
to unite bloggers (from all sectors) in a joint endeavor to share lessons learned and create a bank of long but not forgotten blog posts that deserve to see the light of day again.
The rules are as follows:
A. Blogger is nominated to take part.
Oops! I wasn't nominated. But it's my blog's birthday so I get a free pass, right?
B. Blogger publishes seven links on her blog.
Okay, I've got this one covered. Here they are:
1. Your Most Beautiful Post
All Wonder of Tech posts are beautiful in my mind, but here is my favorite image I've used this past year:
2. Your Most Popular Post
My most popular post saddens me. The post that has received the most hits by far is Hack Attack! What to Do if Your Email is Hacked. I wish no one needed information about what to do when her email is hacked. But far too many people are victims of scummy hackers.
3. Your Most Controversial Post
Good-bye iPhone, Hello Android. There is nothing more controversial in the tech world than a comparison between iPhone and Android. The follow-up poll Poll: iPhone vs. Android? has been my most popular poll.
4. Your Most Helpful Post
This one perplexes me. I hope all of my posts are helpful. If you have a smartphone, the articles about apps may be the most helpful to you. If you're an online shopper, Invisible Hand might have been the most helpful to you. If you use Facebook, perhaps Your Secret "Other" Facebook Messages is the most helpful to you. So I will leave it to you, the reader, to share which post you found most helpful in the Comments section below.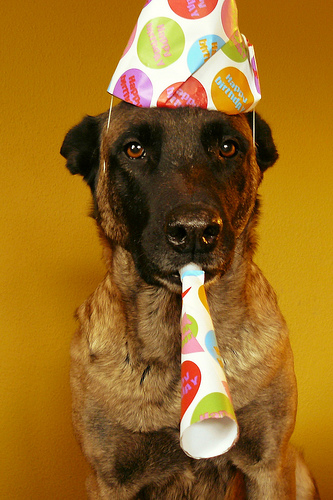 5. A Post Whose Success Surprised You
Visual Math: Making Math Fun! was a post I didn't think would be very popular because, although the app is fabulous, the intended audience is narrow. The app is designed for children ages 4-6 and is iPad only. I wrote the post because the app was really fantastic and I thought people in that narrow audience could really benefit from discovering the app. Readers and the Twitter community spread the word about that post and it became a big hit.
6. A Post That Didn't Get the Attention It Deserved
This is a tie. First, I thought the Locavore: Your Tech Tip for Farm Fresh Food! post about the Locavore app and website, showing the location of local farms that sell to the public, would be a big hit. It wasn't, so I re-published it again in my All-Stars series. Still not a hit. I'm thinking that people don't enjoy buying from farmers as much as I do.
The second one was Zoomappy: Your App Search Ally! The ZoomAppy website is an incredibly handy way to locate iTunes apps, much easier than the iTunes Store. Again, I re-published it in my All-Stars series when I went on vacation in August, but it still wasn't a big hit. Perhaps I am one of the few who spends loads of time searching for apps?
7. Post That You Are Most Proud Of
The Best App Ever! As a new blogger I made a bold statement, choosing the Best App Ever! I hadn't yet developed much of a readership nor established my credibility to make such a claim. But I believed in the app so much that I felt confident in my ability to go out on a limb. The app helps both parents and children and can transform the atmosphere of a household as well as the attitude of children.
I had no contact with the developer prior to writing the article. I had been using the app for years and it was my use of the app that prompted me to write the article. The developer has since been a strong supporter of the blog, giving me guidance, adding insightful comments to many posts, and offering encouragement along the way. Great apps don't always have great developers, but iRewardChart is a great app backed by a truly great developer.
C. Nominate Five Other Bloggers to Participate in the Challenge
1. Mike Maynard – Mike 10163's Blog. Mike writes his daily blog about every topic known to mankind so I am fascinated to see which seven links he chooses. His subjects cover Neodigital photography, politics, saving money, investing and Farmville, among others. He is engaging and instructive, and illustrates his posts with his photographic artistry.
2. Bill Dorman – Bill Dorman. Bill writes about life and social relationships online and off-line. His blog probably holds the all-time World Record for the Most Comments Per Post because he is warm, welcoming and witty at his place. If you want to know how to engage with others, visit his blog and take notes. His blog has changed a lot since he started it, less than a year ago. I am curious to see which seven links he chooses. I don't think I've missed any of his posts, so I want to see if my predictions come true.
3. Jens Berget – Sly Marketing. Contrary to popular belief, Jens's blog isn't all about pizza. Jens writes insightful posts about life, people, tech and customer service. His articles are gems, I would love to know which are his seven links.
4. Janet Callaway – The Natural Networker. Janet always inspires with her writing. She shares quotes, beautiful photos, humor and encouragement. I would be very interested to learn which are her seven links.
5. Harleena Singh – Aha-Now! Her lovely blog is full of wonderful advice and heartwarming stories. She focuses on families and positive advice to help deal with issues. I would love for her to feature her favorite posts for others to discover.
Honorable mention – According to the rules of Seven Links, I couldn't pick blogs who have already be nominated for the challenge. That rule disqualifies two of my favorite blogs, adriennesmith.net, with great tech, blogging and marketing advice from Adrienne Smith, and Thoughts on Entrepreneurship, Leadership and Motivation, a business and people-related blog by Kindle book author, Ashvini Kumar Saxena (I call him "The Professor"). Their blogs are well worth a visit.
Many thanks to everyone who has supported The Wonder of Tech this year, especially you, my wonderful readers. You have made this journey a fantastic experience. If you have been helped by an article on this blog that you think others would enjoy, please let us know in the Comments section below!
**************************
Thanks: I owe many people a debt of gratitude for their support during this adventurous year.
Thank you to the blogging community who have supported me every step of the way. Thank you for your advice, encouragement, comments, Tweets, Triberr invitations and help. I have made so many friends in the blogging community this year. I cherish these friends who never allow me to feel alone as a blogger.
Thank you to my family whose inspiration and support help me daily.
Thank you to Hai for believing in me enough to launch this journey.
Many thanks to my dear friend Rachel (a different Rachel from the one who wrote the guest post on Friday) without whose support, my blog would have looked like this:
Do you agree with my choice of posts? Which, if any, post did you find most helpful? Let us know in the Comments section below!
**************************
* Happy Birthday image by Don Bergquist
** Autumn image by Stephen Huron
*** Birthday Pup image by Barrie
**** Birthday Cake image by Omer Wazir
***** Thank You image by Kexino