Yesterday was a big day for Google fans as it was the first day of Google's two day I/O meeting. At this meeting, which was attended by over 5,000 developers, Google announced its plans for many exciting projects in the future.
One of Google's most important announcements was a new online music service, called Music Beta, offering free storage of up to 20,000 songs for its users. The project is still in beta testing so you can't join unless you get an invitation from Google. After you store your music with Google (in the "Cloud"), you can listen to your music on your computer or your Android device anywhere you have an Internet connection. (If you have a data cap with your cell phone plan, make sure to use Wi-Fi mostly and to Mind the Cap!)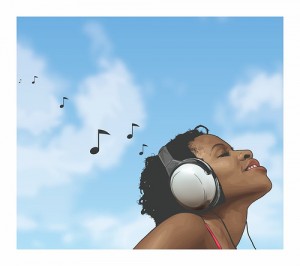 [Warning: scams popped up immediately after yesterday's meeting with fake invitations to Google Music Beta. If you get an invitation, don't click on it unless you're sure it's from Google. The invitations were given to the developers attending the meeting as well as owners of the Xoom tablet. If you don't fall into either of these categories, you will have to wait until the service is expanded.]
Google's music service is only available in the US and will not include selling songs yet, as Google could not reach agreement with the music publishers over rights. Instead, you upload your own music to Google's service to be played on your computer or Android device. (I'm hoping you have a lightning fast Internet provider if you want to upload 20,000 songs to Google, because otherwise the process could take quite a while.) Music Beta only stores music files, but Google offers Google Docs for other kinds of files.
To ensure an enthusiastic response from their audience, as well as future support for app development, Google, in an Oprah-worthy gesture, gave every attendee a Google I/O Samsung Galaxy tablet. Getting your hands on one of these might be easier than scoring an invite to Google Music Beta. 18 of the devices are already listed on eBay.

Another, though non-Oprah-worthy, gift Google presented to attendees was a t-shirt with a secret code on the back. You might think this gift isn't as precious as the Galaxy, but none of these shirts are available on eBay yet. If you want to learn what the secret code revealed, click here.
Other news from Google is that they will be offering movie rentals for Android devices. The movie library is extensive and movies can be rented for 30 days for $1.99-$3.99. Once a movie has started, you have 24 hours to finish watching the movie, similar to other online movie rental deals. A preview is available in the Android Market now and the app should be available soon.
Google also announced Android@Home which promises to provide your Android devices with the ability to control your lights, tv, appliances and pretty much anything else using electricity in your home. No word yet on when this very cool feature will be available.
The next update to the Android operating system will be called Ice Cream Sandwich and will be a unified system for both tablets and phones, which was good news for developers and manufacturers alike. No word yet on a release date.
If all of this news sounds exciting and you want to get in on the second day's meeting, well, I can't get you a ticket, but here is a link to the live stream to the meeting which begins at 9:30 am PDT. Google I/O Live Stream I'm pretty certain you won't get a free tablet by watching the live stream though.
In other Google news, Google will be offering rental of Chrome laptops for $20/month. And the Watch ESPN app has come to the Android Market. (See, Tech News and Tidbits! for more information on the ESPN app.)
Stay tuned to The Wonder of Tech for more updates on Google and other tech news!
Are you excited about the news coming from Google? Are you going to move your music to the Cloud? Let us know in the Comments section below!
* Image byJessica Finson