If you use any Google services, such as Maps, Google Earth, Gmail, search, or YouTube, you're sharing your information to help Google match you with its advertisers. That's right, all of those free services aren't really free. You pay for them by sharing data about yourself with Google, unless you opt out.
Sharing your information doesn't just help Google, it can also help you. Google uses your information to generate search results that have been filtered according to your interests. There are ways for you to search anonymously but you may not find the results to be as helpful as those tailored to your interests according to Google.
How Google Learns About and Uses Your Interests
When you search on Google, get directions from Google Maps, and watch YouTube videos, Google learns more about you. Google uses the information it learns about you to match you with advertisers who want to reach people with your interests.
You may feel that if you're going to see targeted ads from Google you may as well have them be geared towards your interests. But if you would prefer ads that are not targeted to your interests you can opt out (see how to opt out below).
Why Check Your Interests
Sometimes the information Google learns can be inaccurate.
Let's say your grandmother asks you for your favorite Pig's Head and Pickled Herring casserole recipe for the holidays. You search Google for a recipe and reply, "Yummy! I can't wait to make this!" to avoid breaking her heart with the news that you decided to become a vegan this summer. Google may also be fooled into thinking that you have a fondness for Grandma's new favorite recipe and show you ads/search results for local butchers instead of for vegetable markets.
No worries, you can delete interests that aren't a good fit for you.
How to Check Your Google History
Google learns about your interests through your history of using search, Google Maps and YouTube. Checking your Google history requires some light digging into the depths of Google, but may reveal a treasure trove of interesting information about you!
Follow these steps:
1) Go to https://history.google.com/history/.
2) Log into your Google account if you're not already logged in.
3) You'll see your search history with Google. You can also see your search history and videos you've watched on YouTube by clicking on the choices in the menu on the left side.
You may find this to be a handy resource if you want to go back and find a website you visited or video you watched on YouTube.
Search History
Search History shows you the search terms you used and which web pages you visited from the search results. You can refine this information by using the filters on the left sidebar of the page to see which searches you did for news, images, travel, shopping, etc.
You can remove items from your search history by clicking on the check box next to a search term and then clicking the Remove Items button.
Don't Miss ➠ Your Google Location History: How to See It and Turn It Off
Controlling What You Share with Google
You can turn off sharing information with Google so that Google doesn't learn as much about you. Be aware that you may find that your search results aren't as helpful if you turn off sharing.
Go to Activity Controls and uncheck any section you don't want shared with Google:
Your searches and browsing activity
Places you go
Information from your devices
Your voice searches and commands
Videos you search for on YouTube
Videos you watch on YouTube
How to Check Your Interests
From your history, Google tries to understand your interests, but may not always get it right. You can help Google learn about you by reviewing these interests and eliminating any that aren't a good fit.
From the Activities Control page, scroll down to Ads at the bottom of the page and click on it.
You'll be taken to your Ad Settings page with demographic information about you. You'll be shown a  list of interests. Click on any you aren't interested in to remove them from the list.
You can also add interests to the list to make the information more accurage.
About Google Targeted Ads
Google shows you targeted ads on its search results pages, in Gmail and in Google Maps. You can learn more about Google Targeted Ads at the Google Targeted Ads page.
Opting Out
At the bottom of the Ad Settings page you are given an option to opt out of Targeted ads.
Be warned though, you may end up seeing annoying ads that are completely irrelevant. Maybe you would prefer to see baby diaper ads when you're not a new parent, versus seeing relevant targeted ads. Know that you do have a choice of which types of ads you want to see.
You can also click Pause on your Account History page to stop location and/or search tracking.
My Results
Under Search History I learned that I have conducted a whopping 14293 Google searches and the days I search most frequently are Tuesdays and Thursdays (when I write Wonder of Tech articles).
My list of interests was fairly accurate, though it included an interest in Fiat for some unknown reason (I've never owned a Fiat and am not in the market for a new car).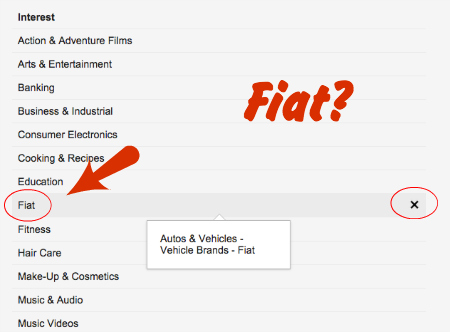 Racquetball wasn't listed as an interest, perhaps I should do more searches for racquetball or watch more racquetball videos on YouTube?
Poll
Do you prefer to see targeted ads? Vote in today's poll and tell us how you feel:
Your Thoughts
Did you check your Google history and interests? Were your interests accurate? How do you feel about Google targeted ads? Would you be willing to pay a fee to Google to use its services and avoid ads? Let us know in the Comments section below!
Want more helpful tech tips like this? Of course you do! Subscribe to The Wonder of Tech, it's free!