Google+ iPhone App
Good news! After what seemed like a long wait, the Google+ app is now available for the iPhone in the iTunes App Store. In less than 24 hours since its arrival, Google+ has risen to the top spot for unpaid apps in the App Store, providing further proof that Google+ continues to be the hottest topic in tech this summer.
The iPhone app is identical to the Android app (see, Google+: What's the Buzz About?) so the functionality is more limited than using Google+ from a computer. The Google+ app doesn't include Hangouts, there are Huddles instead, which are group text chats. You also can't re-share posts from others on the app as you can from your computer.
The first time you use the app, you are asked to sign in and whether you want to activate Push Notifications and Location Services (see, Apps: To Push or Not to Push?). After you have made your selections, you then open a home screen with choices including Stream, Photos, Circles, Huddle and Profile. You can choose to have all of your photos from your device uploaded to Google+ and sync your account with your Picassa account.
Google has made their app very useful by allowing you to see all of your stream or parts of it, such as individual circles. You can +1 a post, watch posted videos and comment. You can see all the photos your Circles have posted as well as photos from your albums and from your phone (if you have enabled these features).
But be aware that this app only works with the iPhone, not the iPad or the iPod Touch. No word yet on when the app will be available for the iPad and iPod Touch. For now, if you want to access Google+ from these devices, go to the Google+ mobile website: m.google.com/plus.
Anyone who is familiar with the Facebook mobile apps will get the feeling that Google has once again leapfrogged Facebook for user experience.
If you have been using the Google+ Web App on your iPhone, be sure to download the app today from the iTunes App Store here: Google+ in the iTunes App Store. For some reason, the app is difficult to find in the iTunes App Store so be sure to use this handy link! And stay tuned to The Wonder of Tech for information when the Google+ app comes to the iPad and iPod Touch.
iExit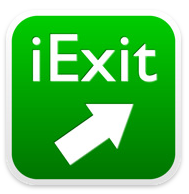 Good news for Android users. Two of my favorite apps from the iTunes App Store have arrived in the Android Market! iExit, a fantastic app for anyone planning a road trip, (see, Road Trip? iExit Is Your Must-Have App!) is free for a limited time in the Android Market. This app gives you vital information on locations of restaurants, stores and hotels at upcoming exits along your route. No more driving along the highway, wondering what's ahead at the next few exits! You can find the app here: iExit in the Android Market.
RunPee

Another of my favorite apps, RunPee, is also available now for free in the Android Market. RunPee has been enhanced from when I reviewed it previously (see, RunPee: Your Must-Have Movie Companion!). I know, you're wondering, "How could RunPee possibly get any better than it was before?" Get this, in addition to letting you know when to take breaks during movies, RunPee now includes summaries of the first five minutes of movies just in case you're running late. And who hasn't arrived at a movie late only to wonder what they missed?
RunPee isn't back in the iTunes App Store yet, but The Wonder of Tech will let you know when the app returns.
********************************************************
Are you excited about the Google+ app arriving in the iTunes App Store? Are you using Google+ on the go? Are you excited to see more must-have apps come to the Android Market? Let us know in the Comments section below!
* Image by Charlie Wollborg
** Image by cambodia4kids.org Beth Kanter