If you think driverless vehicles are the future of transportation, you may be correct. Using driverless vehicles for public transportation got a step closer to reality this month, with a self-driving pod that is being tested in the Greenwich area of London, England. This pod, called "Harry", is moving people around Greenwich to test how driverless vehicles can interact with the public.
The project is called GATEway, short for Greenwich Automated Transport Environment, and is designed to "understand how automated vehicles will fit into our future urban mobility needs and the barriers that need to be overcome before these vehicles become a reality on our roads."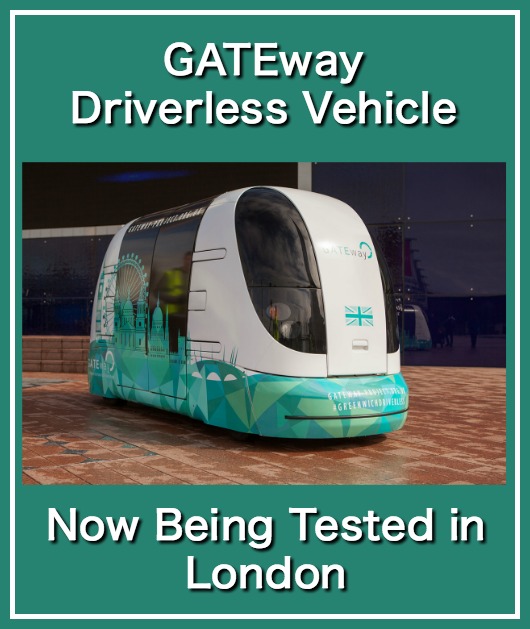 The experiment does not test new technology. Instead, it tests the way existing technology can be integrated into society.
Greenwich, home to museums for time and navigation, is one of four places in the UK where the pods will be tested. The other places where they will be tested are Coventry, Milton Keynes and Bristol.
Harry has no steering wheel or brake pedal, but navigates using sensors and a pre-loaded 3D map of the area. It has five cameras and three lasers to detect obstacles in its path. A safety steward is on board to take control of the pod in case of an emergency.
Harry holds up to four people (three passengers and the safety steward) and can travel at speeds up to 10mph/16kmh. It is being tested for the next few weeks in Greenwich on pedestrian paths, but not on roads with other vehicles.
This experiment in Greenwich is intended to see how pedestrians and cyclists may adapt to driverless vehicles. Other planned trials include pods delivering packages and pods being used on roads with other vehicles.
This video shows the pod being tested in Greenwich near the O2 Arena:
If you are in Greenwich during the next few weeks you may see the pod, but you can't get a ride in it during the trial. Passengers had to reserve a spot to be part of the experiment, and spaces filled up quickly. Over 5000 people applied to be a passenger in Harry but only about 100 were chosen.
Great response to the driverless pod trials in Greenwich this week @HHCDesign @RCA @GATEway_TRL #inclusivedesign #Driverless pic.twitter.com/4BI3Z5Z0NZ

— GATEway RCA (@GATEway_RCA) April 7, 2017
You can, however, ride in a similar pod at Heathrow Airport in London. The Heathrow pods run on tracks so are not interacting with pedestrians, cyclists or other drivers.
If the trials are successful, the first pods could be operational on the roads of the UK in 2019.
Poll
Would you like to ride in a driverless pod? Vote in today's Wonder of Tech poll to share your opinion:
Learn More and Get Involved
You can learn more about the experiment at the GATEway website. There you can add your views about where you would like to see the pod travel and share your thoughts about driverless public transportation.
You can also read comments to see what others think of driverless pods.
Your Thoughts
Would you like to ride in a driverless pod? Would you like to see these where you live? Do you think the public will accept these pods as a new form of transportation?
Share your thoughts in the Comments section below.